Marietta College helps to provide students with unqiue experiences outside of the classroom through job shadow experiences. Students travel to sporting events to work at the games and experience "the day in the life" of an industry professional. 
Past job shadow experiences include:
Columbus Blue Jackets marketing and sales
Cleveland Cavaliers in-game production
Nortre Dame Athletics
Cheribundi Tart Cherry Boca Raton Bowl
West Virginia Athletics in-game production
Akron Athletics
Pittsburgh Steelers guest services
WWE WrestleMania AXXESS
Columbus Sports Commission and the NCAA Division II Women's Elite Eight
Boca Raton Bowl and Orange Bowl
Oneof the highest sought-after internship is the Cheribundi Boca Raton Bowl, a college football post-season football game that is owned and operated by ESPN. Students work for eight days with the ESPN Events staff on the entire bowl week and bowl game activities, such as team pep rallies and press conferences, stadium setup, bowl game luncheon, etc. The students have worked at the game in 2017 and 2018, and will work at the Boca Raton Bowl again in 2019. Additionally, in December 2019, students will work at the Capital One Orange Bowl in a similar capacity. The Capital One Orange Bowl is considered one of the New Year's Six Bowl Games, one of the top six bowl games in the country.
"During my phone call for my interview for the 10-day summer program in Dublin, the Boca Bowl trip was the first thing I was asked about. After asking me to tell her a little bit about myself, she asked me to tell her about the trip. I explained how we were split into two teams and worked directly with Boca Bowl staff and ESPN to put on events for both Akron and FAU, as well as how we helped setup for the fan experience outside of the stadium, and were working in the press box during the game. She said this sounded like a great experience, and I believe it played a key part in me getting accepted into the program."
-Brandon Larsen, class of 2020, sport management major
OTHER PICTURES

Cleveland Cavaliers in-game production job shadow.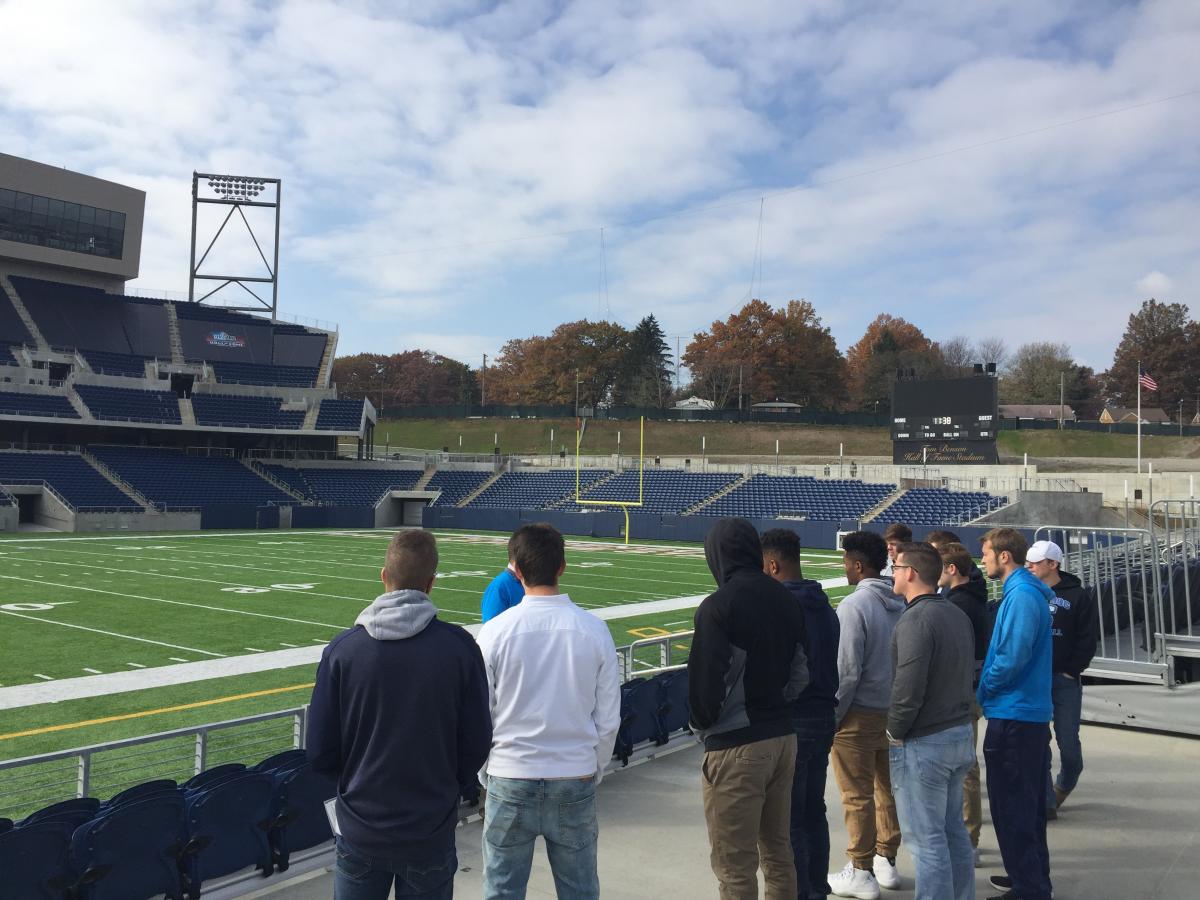 Pro Football Hall of Fame job shadow and tour.