Mother, Daughter Establish Endowment for Women Scholars Following in their Footsteps
Susanne Derr Bock '66 and her daughter Anna Bock Mullins '04 share many things:  a passion for international travel, a strong connection to a shared Biology major and the desire to leave a lasting legacy that will help future Pioneers.
"My mother, who worked as both a high school science teacher and behavioral health counselor, raised me and is still one of my greatest role models," says Anna, who received degrees in Biology and Spanish from Marietta. "My mom taught me to ask questions – and look for answers – about the world around me, so it's really not surprising that I ended up following a similar path."
Both are valued alumni volunteers who contribute to The Marietta Fund and recognize the value of encouraging more women to enter the science field. Together they established the Susanne Derr Bock and Anna Elizabeth Bock Scholarship Fund as part of their estate planning.
"I think that estate planning is far more important than many realize. Age is irrelevant," says Anna, whose husband, Cassidy, passed away in 2015 after a three-year battle with cancer. "Planned giving provides a way to support causes that are important to you with lasting impact. It's important to me that others in the future continue to have that amazing opportunity and, even though I don't have as much to contribute now as I would like, planned giving was one way that I could support the college long-term."
The fund will provide financial assistance to a female student majoring in Biology.
"STEM (science, technology, engineering, and mathematics) is very important for women," Susanne says. "I hope this scholarship will help someone who maybe wouldn't otherwise pursue their dream."
Including Marietta College in your estate planning is a great way to ensure that your assets — whether it's a bank account, retirement account, houses, vehicles or property — continue to support this timeless institution and impact the lives of future students.
"We chose to include Marietta College in our estate planning together because we felt it would be the best place for our money to go and it would do the most good here," Susanne says.
To learn more about the benefits of adding Marietta College to your estate plans, please visit giftplanning.marietta.edu or call 740.376.4446.
On Shelves Now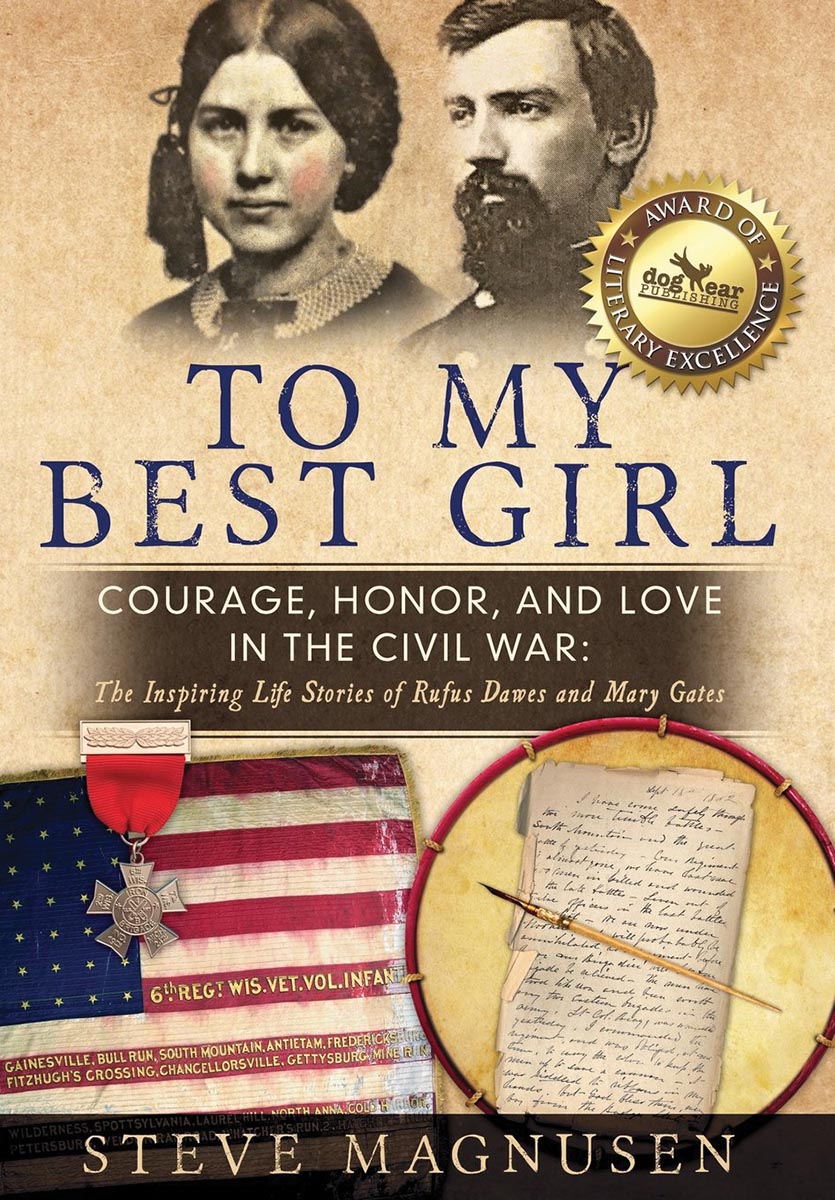 Steve Magnusen recently authored and published TO MY BEST GIRL—Courage, Honor and Love in the Civil War: The Inspiring Life Stories of Rufus Dawes and Mary Gates.
It is the true story of this fascinating couple, their equally prolific family members, and the trials they endured before, during and after the Civil War. It is written in historical fiction format but is closely based on, and quotes from many letters and diary entries never before published. The narrative is based on the couple's actual experiences and accounts. Steve says Linda Showalter, Special Collections Associate in Legacy Library, has been of great assistance throughout his research.
Marietta College figures prominently. Mary Gates lived across the street from campus in what became the Betsey Mills Club (Betsey was Mary's younger sister). President Israel Ward Andrews is mentioned and quoted. Classmates such as Greenwood, Condit, Newport and Chambers, plus school events of the day, play key roles. Of course, Rufus Dawes' brother Ephraim, Mary's brother Charles Gates, and Charles Gates Dawes (Rufus and Mary's oldest son and future Vice President) are all prominent characters.
It is a fascinating story and highlights the proud history of Marietta College and the sacrifices many of its alums made in preserving the Union.
The book can be purchased at www.stevemagnusen.com. The site also includes links to download via Amazon Kindle, Barnes & Noble and Apple iBooks.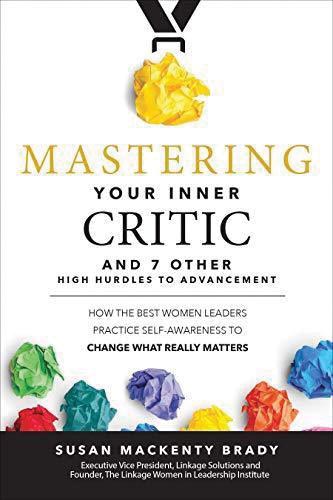 Susan MacKenty Brady '94 announces the recent release of her highly anticipated book Mastering Your Inner Critic...and 7 Other High Hurdles to Advancement. Brady is Executive Vice President at Linkage, where she launched the firm's global practice in Advancing Women Leaders. She serves as the co-chair of the company's Women in Leadership Institute™, which is now in its 18th year. Mastering Your Inner Critic offers first-hand hard-won advice for scaling the hurdles that prevent you from controlling that little voice — your inner critic — that's often loud, demanding and demeaning toward yourself and others. It's time to counter those nagging questions that torment you—with positive solutions that empower you. The book shows readers how to conquer self-doubt and clarify goals.
Readers can learn to rely on their relationships and networks to get the support needed to tackle anything. Filled with inspiring anecdotes from accomplished women at various stages in their careers, as well as proven strategies any woman can use in the workplace, this unique and self-motivating guide helps you confront your inner critic, face your hurdles head on, and achieve the goals that really matter — to you. The book is published through McGraw-Hill Education, and is available on Amazon and Barnes & Noble.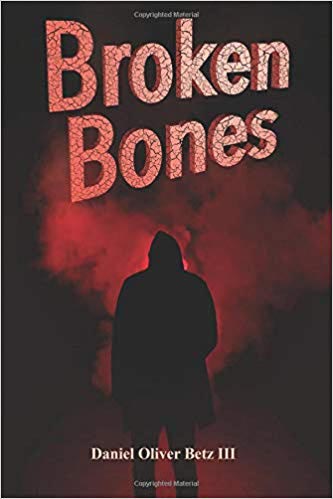 After reading the article about Tom Lane in the fall edition of Marietta Magazine, Daniel Betz '68 was inspired to share a bit of background information that led to his becoming a writer:  "Back in my preteens I was always fascinated by adventure stories and started my somewhat feeble attempt to write some myself — most fizzled out after a half dozen pages. While attending Marietta College in the mid-1960s, I took a couple of the writing classes available. Frankly, I didn't get great grades on any of my writing projects. Once moving into the work world, I seemed like I never had time to write and completely abandoned writing until I was in my early 60s. I began writing editorials, which were published in the Lancaster Co. News (Lancaster, Pennsylvania). Almost 10 years later, I have had 94 published. At age 68, I fully retired and began chasing my dream of getting a novel nationally published. That dream came true on November 16, 2018. I used a local publisher, whose website is owlpublishinghouse.com. I appear on that site. My book, Broken Bones, is now available on Amazon.com. Click onto the site and search for books by Daniel Oliver Betz, III, to locate Broken Bones."
Before becoming a writer, Betz was laid off just before his 65th birthday from his job in insurance. He took a part-time job for several years.
"At age 68 I started writing Broken Bones and have written two other novels that have yet to be published. I do expect to publish both in the near future. My life has now been transformed from a retired septuagenarian to a full-time money-making author. My email address is danbetz@ptd.net. Hope to hear from any MC graduates!"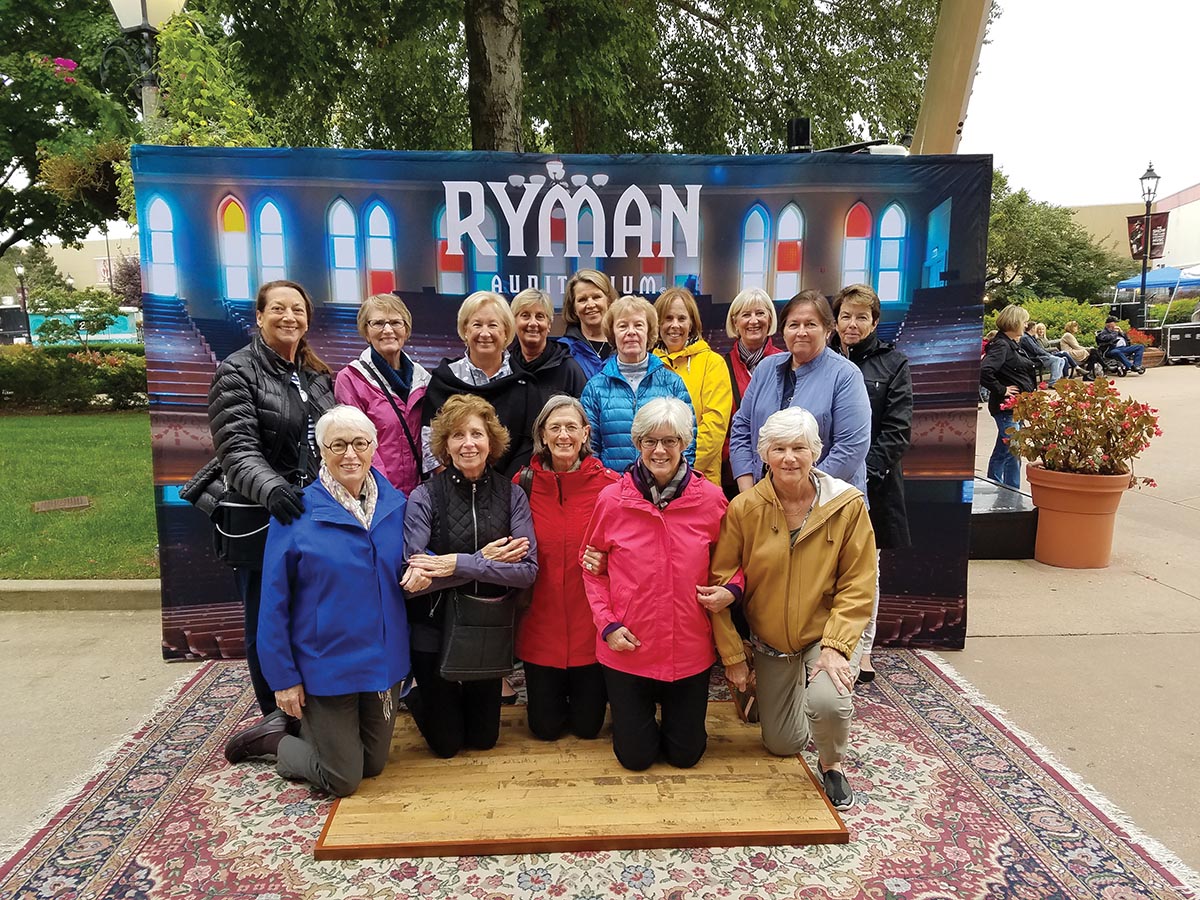 The Chi Omegas from the Class of 1970 hold a reunion at a different location around the United States every two years.  An alumna who lives close to the city chosen at the previous reunion organizes and hosts the event. For 2018, the chosen city was Nashville, Tennessee, and the organizer and host was Lynn Berry Stokes. Her husband, Van Stokes '70 (Alpha Sigma Phi), chauffeured many Chi Os back and forth to the airport during their visit. These 15 ladies met October 11–15, 2018. They toured the city by trolley, visited the Grand Ole Opry and the Gaylord Opryland Hotel, walked down Broadway, listened to artists at The Listening Room and the Station Inn, visited an art exhibit at the Frist Museum and ended the weekend learning line dances at the Wild Horse Saloon. Planning has already begun for their next reunion in two years — 50 years after they graduated from Marietta College. Top row (left to right): Buff Langacher Crouch, Lynn Berry Stokes, Becky Rice Harold, Jackie Pinotti Langel, Nanci Roten Target, Cindy Buck Wilson, Bev Ullom Pratt, Val Roelse Abbott, Barb Woodhull and Liz Morgan Baird; bottom row (left to right): E. Haning Sorensen, Marg Rejdak Rohlik, Jane Kershner Siebeneck, Jane Anderson Wise and Chris Tarr Gabreski.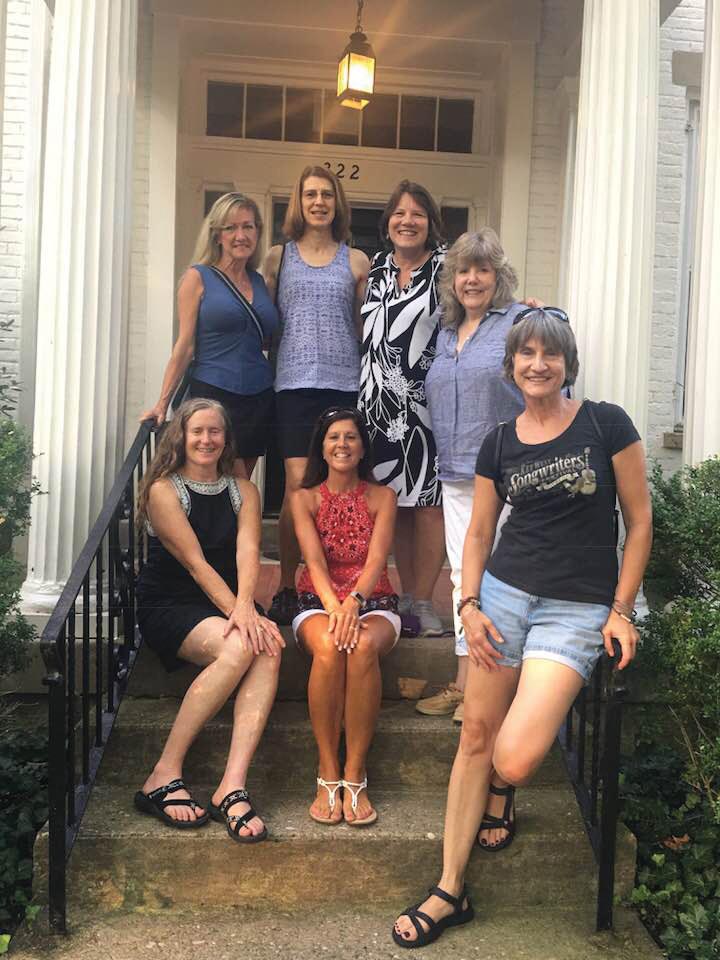 Alpha Xi Delta sisters from the 1980s rented the sorority house for a weekend in August 2018. Pictured are clockwise from back left: Debbie Blackman '86, Diane Keenan Spreitzer '83, Ann Boston Timm '84, Kathleen Sutphin '83, Tari McCormick Bergoine '85, Denise Tucci Spinell '83 and Maria Currier Santoferraro '85. Not pictured is Lisa Brown Twardzik '83.
During its annual meeting on September 25, 2018, the North Dakota Petroleum Council was pleased to announce the induction of Terry Kovacevich '78 into the NDPC Hall of Fame.  Craig Smith, the 2017 Hall of Fame inductee, presented Terry with his Hall of Fame award. Terry started with Marathon Oil Company in 1978. During his 37½-year career, he held various positions, including: Operations Manager, Asset Manager and Regional Vice President. This included nine years working on international assignments. The last 10 years of his career were spent in North Dakota leading Marathon's Bakken activity. Terry's worldwide experience was a tremendous benefit in managing Marathon's Bakken assets in western North Dakota.
Travis Thornton '99 has joined Lakeland Polymers LLC in Marietta as a sales manager for the Southeast Division.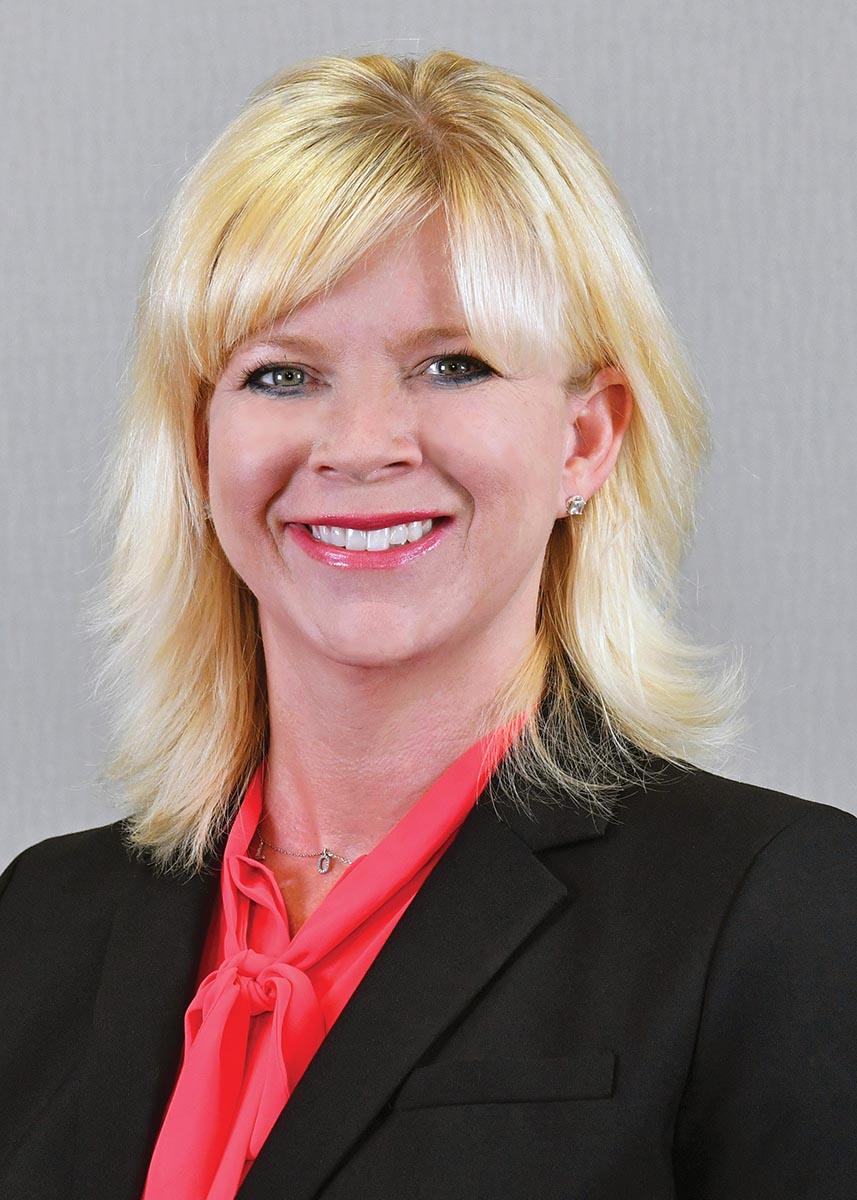 Samantha Steelman '94 has joined Reminger Co., LPA's Fort Mitchell, Kentucky office. Over the course of the past 20 years, she has practiced primarily in the areas of workers' compensation and domestic relations. An experienced litigator, Samantha is skilled in the development and execution of strategic plans that are mindful of her clients' goals. She enjoys solving challenging issues and figuring out the most efficient and effective way to litigate cases and navigate through difficult challenges. Samantha strives to provide practical advice and guidance by leveraging her extensive background in organizational leadership and administrative oversight. Prior to being in active practice, Samantha worked in government relations and association management. Her responsibilities included overseeing the daily operations of a multi-association management firm, creating and managing human resources policies and data technology efforts for a multi-office professional services firm, and organizational restructuring for the non-profit sector.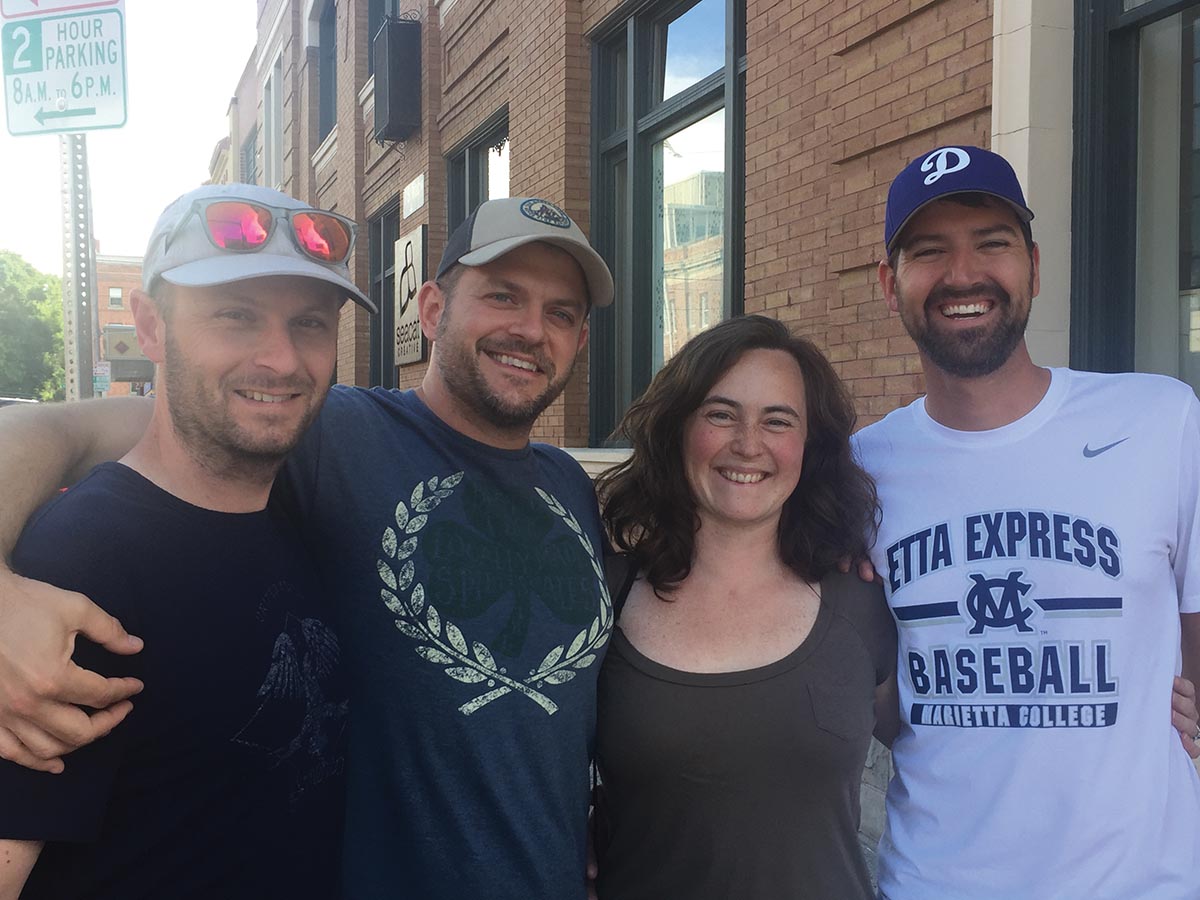 Patrick Hunter '01, Jamie Kendrioski '01, Corey Smith '01 and their spouses visited and road-tripped with Jenny Hershberger '01 in Montana this summer.
Melany Kotlarek Fontanazza '02 was among six McGlinchey Stafford PLLC attorneys named to Ohio Super Lawyers 2019. Melany was named to "Rising Stars" in the area of business litigation. She represents banks, lenders and other financial institutions in consumer financial services litigation. She handles various types of business litigation and insurance defense cases at the trial and appellate levels. She has worked as an adjunct professor at the University of Akron School of Law, teaching Legal Writing & Research. After earning a Bachelor of Arts in Accounting from Marietta, Melany earned a Juris Doctorate from the University of Akron, where she participated in Law Review and received the Ernest Karam Award for Academic Excellence upon graduating in 2005.
Mary Ann Pennock '04 was recently named Client Executive for Strategic Markets at Elavon, Inc., a financial services company based in Atlanta, Georgia, and a division of US Bank.
After 11 months with Central Ohio Primary Care (COPC), Khrista Halaiko Achtermann '08 was promoted to Director of Continuous Improvement. Prior to her promotion, Khrista was a project manager for the Westerville, Ohio company. She joined COPC after nine years with Nationwide Children's Hospital.
Larrissa Keiser Becker '08 was promoted to Associate Director of Campus Recreation, Business Development & Engagement at Ohio University in September 2018. Larrissa started at the Athens, Ohio–based university in 2012 as the Assistant Director of Campus Recreation, Marketing, Communications & Member Services.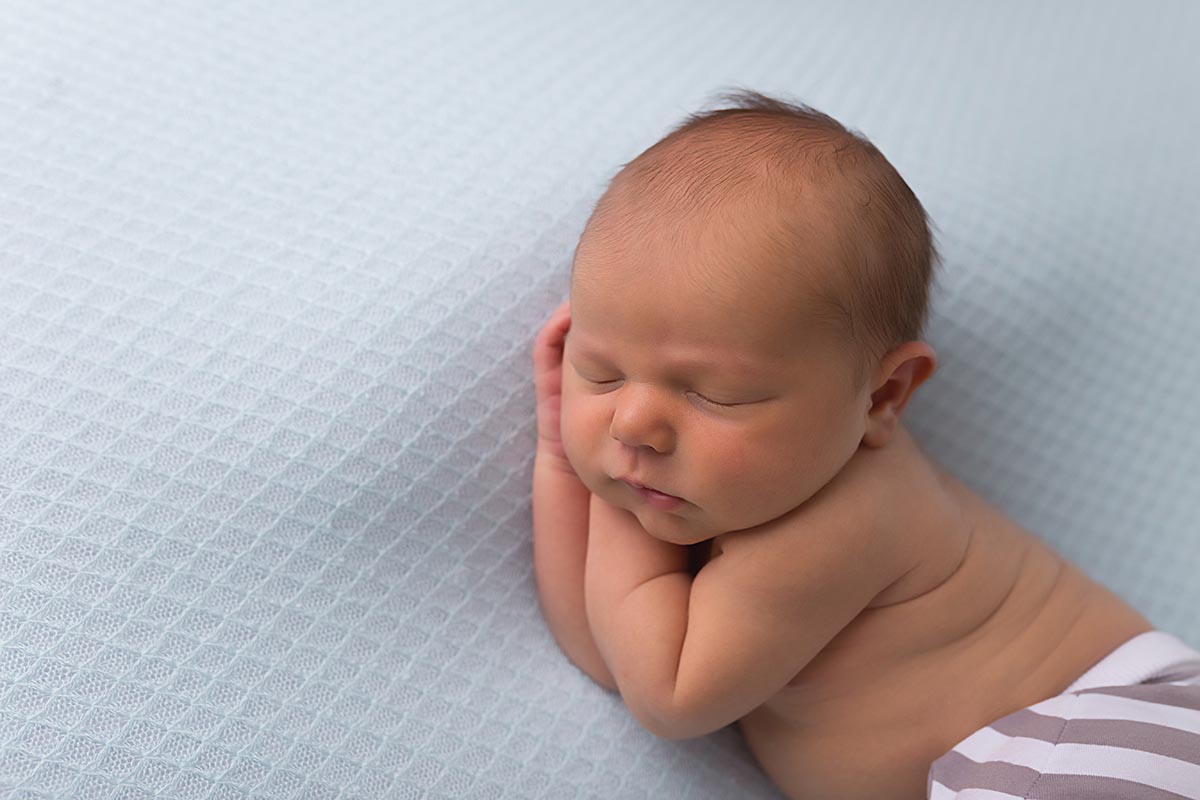 Ashley Deas Plummer '07 (Alpha Xi Delta) and James Plummer '07 (Lambda Chi Alpha) welcomed their second son, Levi Douglas Plummer, on May 23, 2018. Levi joins big brother Nolan. Ashley works for The Ohio State University Comprehensive Cancer Center – James Cancer Hospital and Solve Research Institute as a digital content specialist. James is the business development manager for Two Labs Pharma Services.
Amanda Griesser '09 and Joshua Wilkins, PA-C, were married Aug. 12, 2018, in Hazleton, Pennsylvania. Kelly Park '11 was a member of the bridal party. The couple lives in Harrisburg, Pennsylvania.
Jackie Hartle '11 received her Master of Business Administration from the University of Notre Dame's Mendoza College of Business this past May. She continues to work in US marketing for the McDonald's Corporation in Chicago, Illinois, recently assuming the role of Brand and Menu Strategy Manager for the fast food giant's McDelivery business.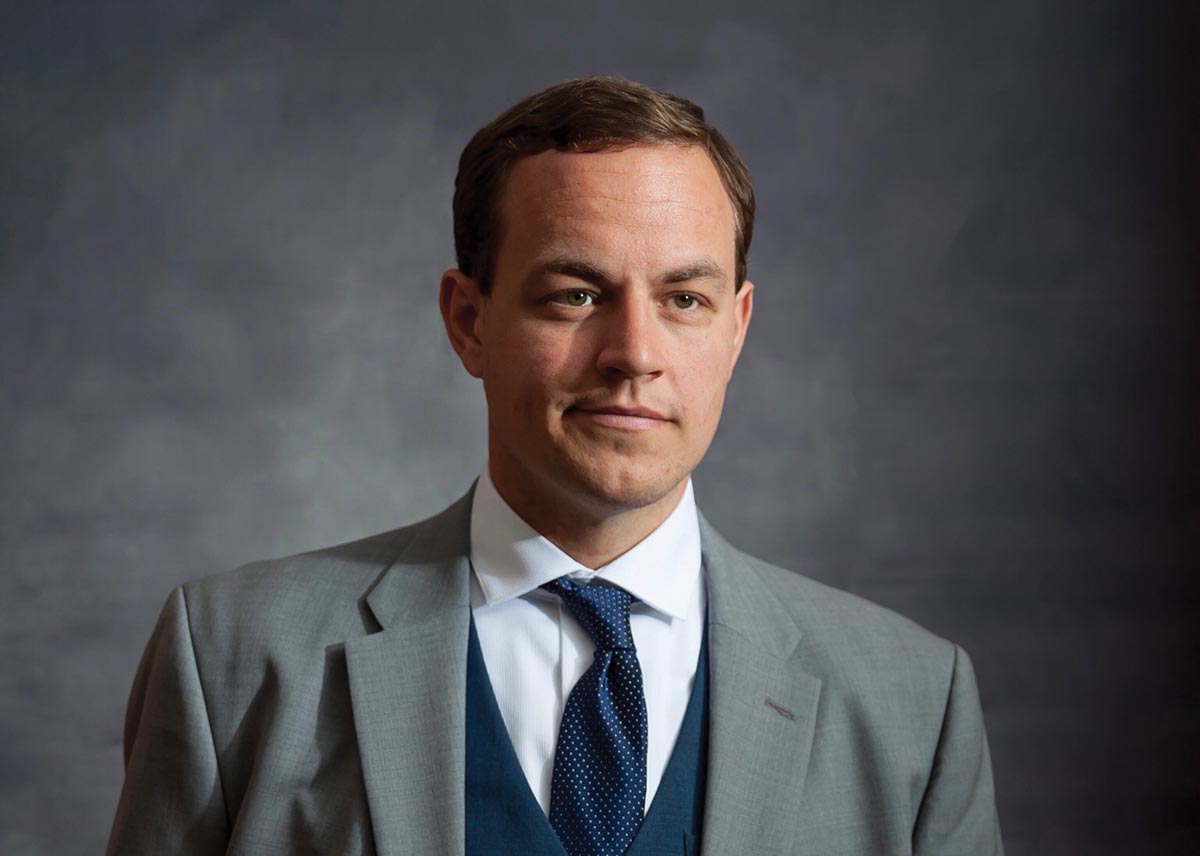 Chris Law '10 was named Vice President-Director of Marketing at Peoples Bank in Marietta in November 2018. Prior to that, Chris was a marketing senior associate in consumer banking with Chase in Columbus, Ohio.
Ashley Fouss Eschbaugh '10, PA'13 joined First Settlement Orthopaedics in Marietta as a physician assistant in January 2019.
Sara Harp Stasko '12 was promoted to Associate Director for Graduate School & Pre-Health Advising at Denison University in Granville, Ohio, in December 2018. She started at Denison in June 2016 as the Assistant Director for Pre-Health & STEM Professions. Since graduating with a Bachelor of Arts in Political Science at Marietta, Sara has earned a Master of Education in College Student Personnel from Ohio University (2014).
Andy Guimond '12, MAP'13 joined George Washington University in November 2018 as a Student Services Specialist.
Following a one-year clerkship with Judge James Gwin of the U.S. District Court for the Northern District of Ohio, Ben Reese '13 is now an associate at Cleary Gottlieb Steen & Hamilton LLP. Reese, a 2016 graduate of the University of Michigan Law School, also clerked for Chief Judge Ed Carnes of the U.S. Court of Appeals for the 11th Circuit in Montgomery, Alabama, during the 2016–17 term.
Gretchen Reimer '13 started a new position as TB Specialist with Quest Diagnostics after Oxford Immunotec was acquired by Quest.
Josh Schott '13 is now a technical writer with Veeam Software in Columbus, Ohio.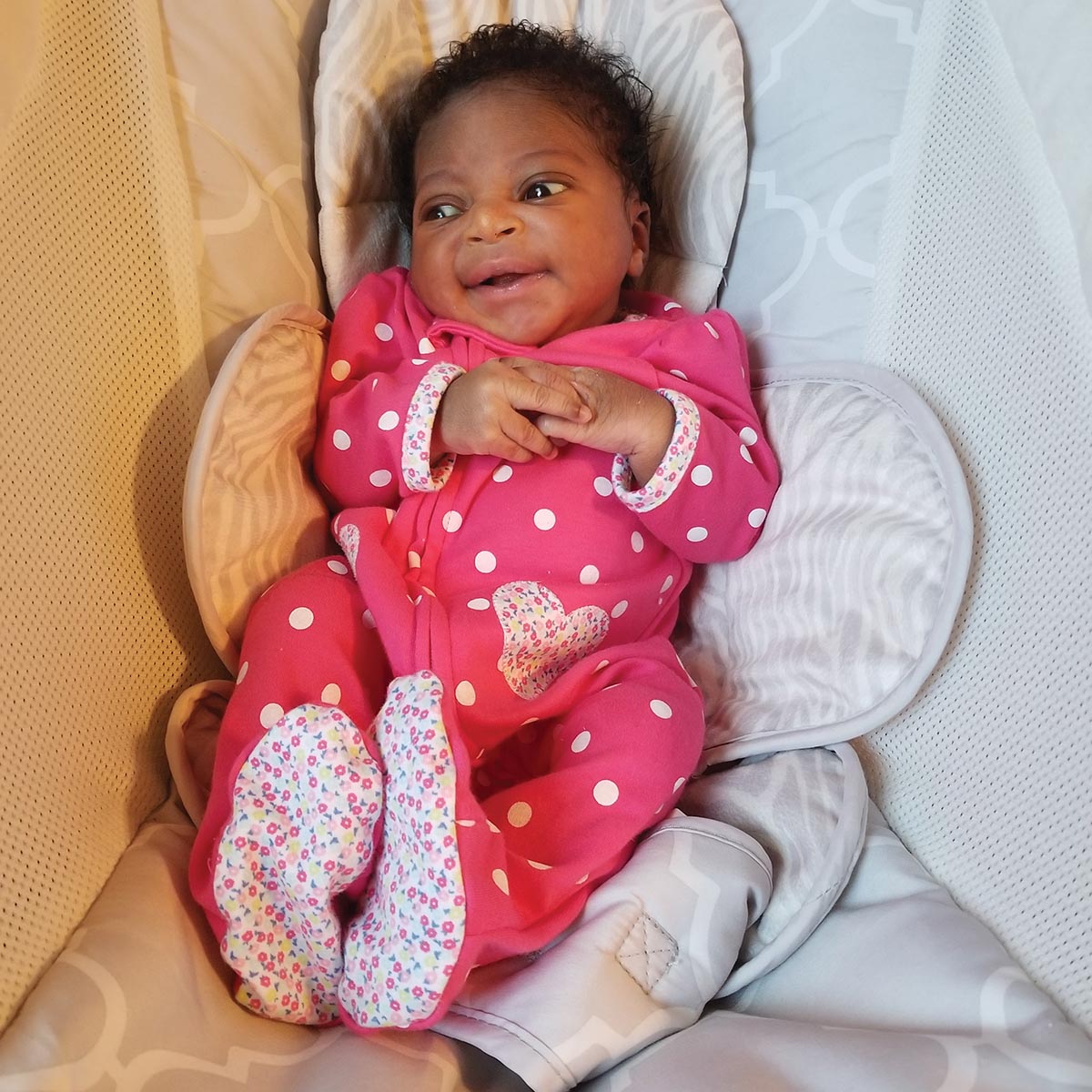 Ashley Thomas '14 welcomed new baby Sevyn Cottrell on September 25, 2018.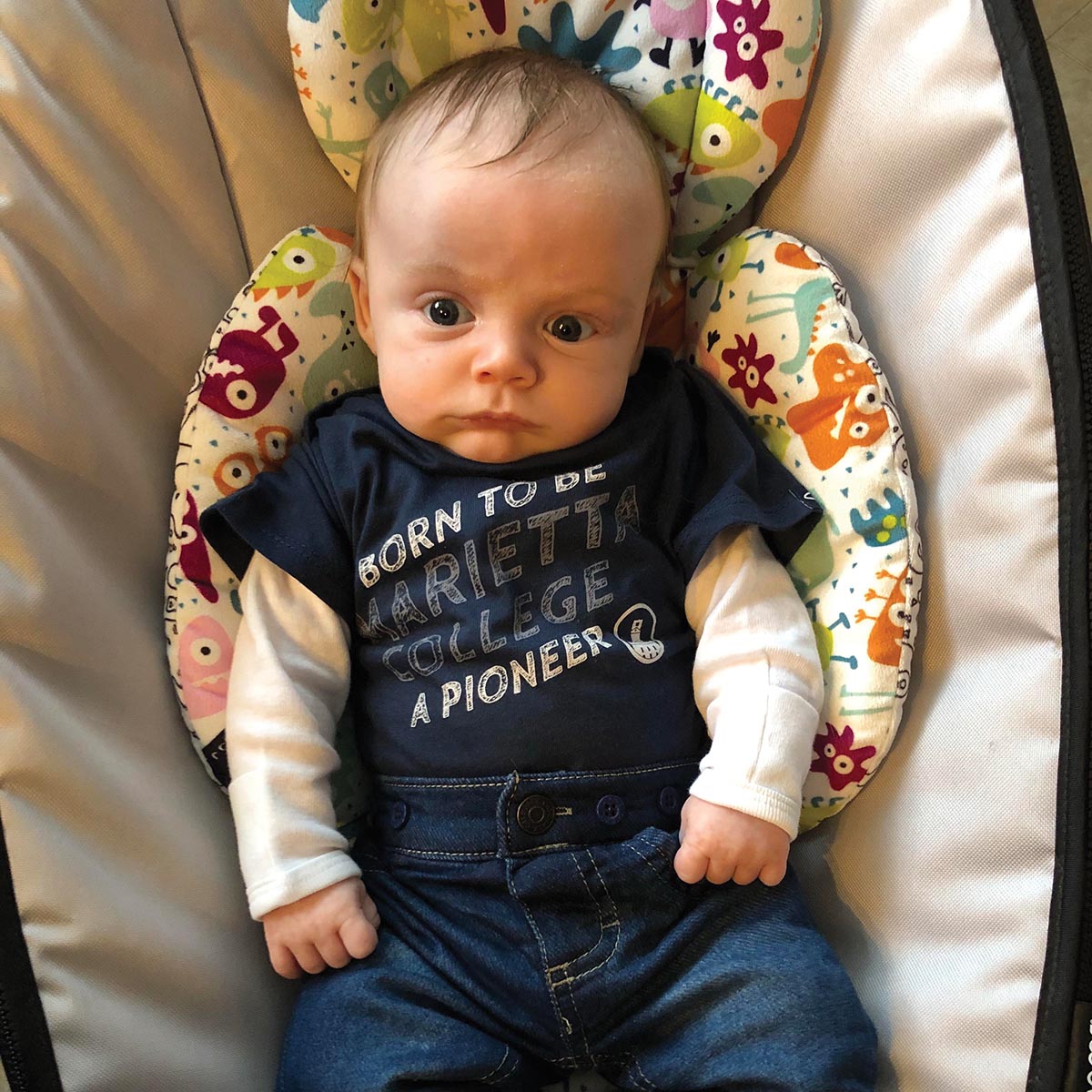 Attending his first Homecoming this past October was Thomas Joseph Stewart, who was born on August 22, 2018, weighing in at 6 pounds and 11 ounces. His parents, Brandon '15 and Hayley Montgomery Stewart '15, submitted his photo.
Molly Dunlap '18 joined United Bank Inc. in Vienna, West Virginia, as a sales associate in January 2019.
Michael Johnson '18 is working as a Clinical Research Assistant with The Ohio State University Wexner Medical Center in Columbus. Prior to moving to Columbus, Michael worked as a Patient Care Technician at Marietta Memorial Hospital for 10 months.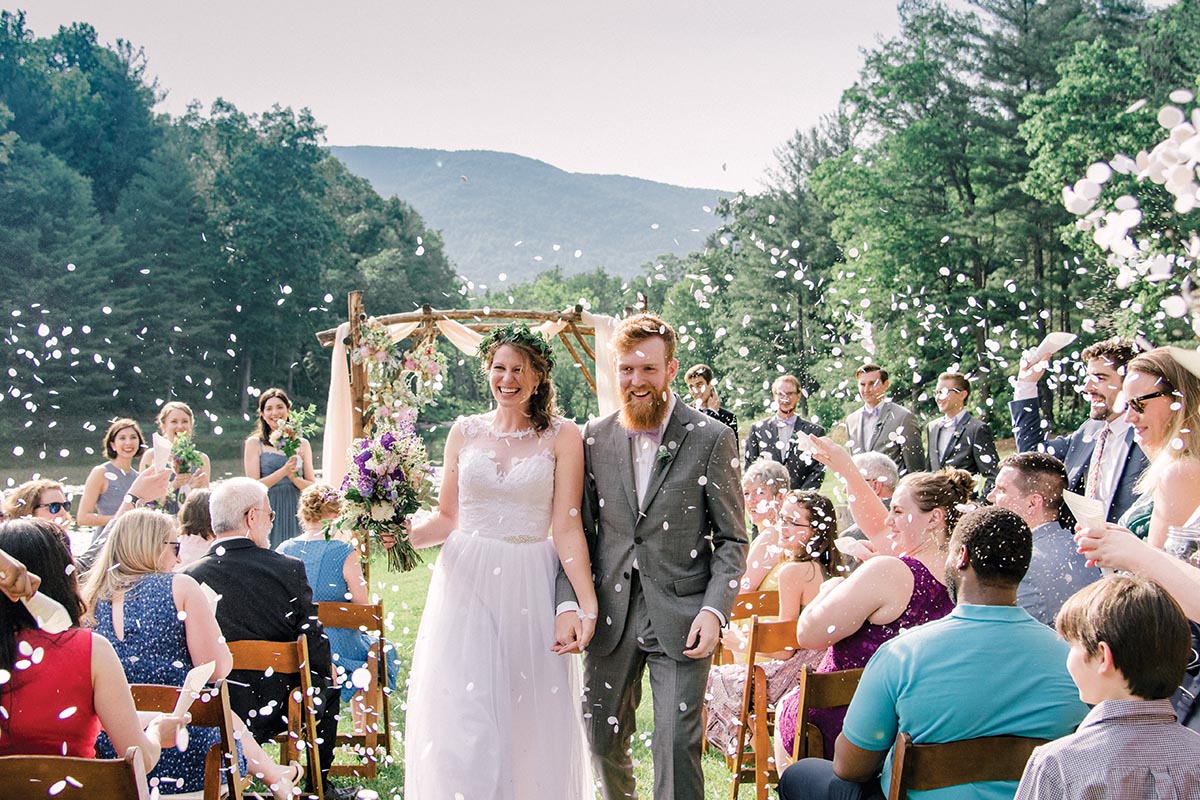 Nicole Holstein '12 and Benjamin Keller '14 were married on June 8, 2018, at Montfair Resort Farm in Crozet, Virginia. Their dog, Obi, was their ring bearer, and Luke Miller '14 (Alpha Tau Omega) was a groomsman. Pioneers in attendance included Derek Hennan '12, Anna Gill '12, Kayden Manning '12, Megan McGregor '12, Nick Giebel '11, Claire Murphy '13 (Omicron Chi Theta) and Bryan Murray '14 (Alpha Tau Omega). The couple live in Richmond, Virginia, where Nicole is pursuing a Master of Science in Ecology at Virginia Commonwealth University. Ben, who attended Marietta from 2010 to 2012 and was an ATO during his first year, is working as a malware analyst for The Media Trust.
In Memoriam
> 1940s
Betty E. Hewson O'Neill '42 (Chi Omega) of Columbus, Ohio (10/13/18).
Elsie Dickson Barks '45 (Beta Theta) of Chicago, Illinois (12/8/18).
Stephen Antkiw '47 (Lambda Chi Alpha) of Ridgefield, Connecticut (12/28/18).
Sara E. Ward Corbett '48 (Phi Beta Kappa) of Charleston, West Virginia (10/21/18).
Beryl I. Jackson Cole '49 (Chi Omega and Phi Beta Kappa) of Athens, Ohio (7/19/18). Survivors include a son, Jeffrey F. Cole '73.
John L. Cannon '49 of Piketon, Ohio (10/10/18).
R. Reed Keadle '49 (Lambda Chi Alpha) of Fairfield, Virginia (10/20/18).
> 1950s
Joseph A. Fanale '50 (Lambda Chi Alpha) of Danvers, Massachusetts (11/23/18). Survivors include a son, Steven M. Fanale '87.
Irene F. Witham Horner '52 of Malta, Ohio (1/20/19).
Richard B. Sines '52 (Alpha Tau Omega) of Daytona Beach, Florida (12/13/18).
Martin B. Kaye '53 (Delta Tau Delta) of Delray Beach, Florida (11/28/18).
Ruth E. Masters Runkel '53 of Somerset, Ohio (1/13/19).
Mary R. Collings Fredrick '55 of Pattersonville, New York (10/8/18).
Ronald R. Starcher '55 of Safford, Arizona (11/17/18).
James D. Henrie '56 of Crescent, Pennsylvania (12/14/18).
Alan B. Smith '56 of Flemington, New Jersey (12/8/18).
Ray O. Hanlin '59 of Sistersville, West Virginia (1/3/19).
David Y. Redford '59 (Delta Upsilon) of Denver, Colorado (12/17/18).
> 1960s
John S. Casper '60 (Alpha Sigma Phi) of San Antonio, Texas (10/6/18).
Mary A. Markowitz '60 of Bradford, Pennsylvania (1/1/19).
Ronald D. Sharkey '61 of Sherman Oaks, California (9/29/18).
Charles E. Daley '62 of Vienna, West Virginia (10/25/18).
Larry H. Wright '62 of Naples, Florida (11/26/18).
William D. Castle '65 (Alpha Sigma Phi) of Mansfield, Ohio (10/19/18). Survivors include his wife, Elizabeth E. Castle '65.
Richard P. Claypoole '65 of Pittsburgh, Pennsylvania (11/10/18).
Ronald A. LoSasso '65 (Alpha Tau Omega) of Vonore, Tennessee (10/9/18).
William L. Lothes '65 (Alpha Tau Omega) of Dayton, Ohio (10/7/18).
Frederick L. Chisholm '66 (Tau Kappa Epsilon) of Bunnlevel, North Carolina (10/2/18).
Thomas F. Wright '66 (Tau Kappa Epsilon) of Kirkland, Washington (10/17/18).
Therese F. Boyle Schroeckenstein '69 of Conneaut Lake, Pennsylvania (12/28/18).
> 1970s
David R. Amos '70 of New Matamoras, Ohio (6/27/18).
Kenneth G. Baracca '72 (Alpha Tau Omega) of Iselin, New Jersey (5/2/18).
William M. Wheeler Jr. '72 (Lambda Chi Alpha) of Tarrytown, New York (9/27/18).
John L. Moor '74 of Lima, Ohio (1/12/19).
Christopher J. Richard '78 (Delta Upsilon) of Grand Rapids, Michigan (6/27/18).
> 1980s
Abner O. McDaniel '80 of Mesopotamia, Ohio (12/18/18).
> 1990s
LeEllen H. Moore '94 of Beverly, Ohio (10/31/18).
Darrell S. Cochran '96 of New Matamoras, Ohio (12/7/18). Survivors include a daughter, Stephanie L. Cochran '03.
---
Marietta College mourned the passing of alumnus and longtime professor Dr. Arthur L. Buell '58, who passed away on Jan. 15, 2019, at the age of 87. He was a Professor of Speech and Communication at Marietta for 17 years.
Among Dr. Buell's survivors are his wife, Betty, and son, Michael Buell '75.