Dianne Wehrs Vezza '61 attended the 2019 Pritzker Military Museum and Library's 2019 Liberty Gala at the Hilton Hotel in Chicago. Dianne's second book, Letters Home: George Butler Turner and the 92nd Ohio Volunteer Infantry, Marietta, Ohio to Missionary Ridge, Tennessee, July 1862 to November 1863, published by Little Miami Publishing Company, was judged, accepted and archived at the Pritzker Military Library.
On October 19th, 2019, seven Alpha Xi Delta sisters met at the beach house of Kathy Williams Marks '67 on Holden Beach, North Carolina, for four days of fun and reminiscing. "We graduated in June 1967 and have been getting together every few years since our 25th Reunion (including our 40th and 50th). In 2021 we will gather again in New Hampshire," Marks says. Pictured from left to right: Mary Jo Cignetti Panucci, Cyndy Allen, Carol Knapp Adelaar, Julie Frederick Sarton, Kathy Williams Marks, Marty Toby Gooze and Judy Cook Buehler.
Corey Boby '94 was recently recognized as a winner of the Presidential Award for Excellence in Mathematics and Science Teaching. This is the highest award given by the U.S. government to K-12 teachers of mathematics and science (including computer science). Prior to his role as the Mathematics Instructional Specialist for the Dawson Education Cooperative, Boby taught 10th- through 12th-grade Algebra II and Advanced Placement Calculus at Benton (Arkansas) High School. He is a frequent workshop presenter and trainer for Teachers Teaching with Technology and The College Board. He serves as a reader for the AP Calculus exam.

Jennifer Terchek '97 shared a photo of her friends' annual Marietta College Girls Weekend in Folly Beach, South Carolina. Every year they pick a new location to meet up and share old memories and make new ones. "We have been doing this since 2006 and have no plans to stop!" Pictured (from left to right): Kathy Wilcox Lentner '97, Alison Dwyer Bean '97, Leah Coyne '97, Diane Spada Manhas '97, Keena Jelinek Drummond '97, Jennifer Terchek '97, Amy Dillon '96, Anna Ziegler '97 and Jennifer Ward Mitchell '96.
Paula King Pitasky '96 started her own company, Encompass Marketing, in October. The company was established to help organizations grow through brand strategy and design. She would love to hear from other alumni. She can be reached at paula@theencompass.com.
Marc Ponchione '96 joined Debevoise & Plimpton LLP as a partner in the Investment Management Group in the Washington, D.C., office. He will focus his practice on advising financial services ,firms on various regulatory, compliance and transactional issues arising in the asset management industry. Prior to his arrival at Debevoise, Marc was a partner at an international law firm.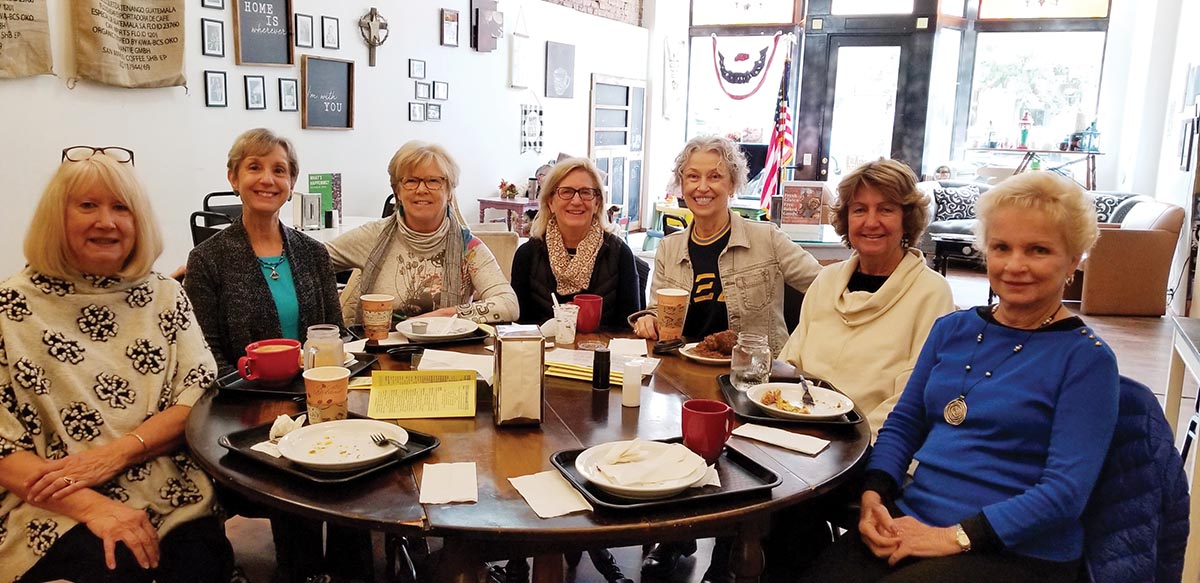 A group of Alpha Xi Deltas returned to campus to celebrate Homecoming 2019. Joan Oxenham Pyne '69 shared a photo of the group, which included (from left) Jean Anderson Jory '68, Roz Curtis Hoagland '69, Joan Pyne, Cathy Hackett Jelinek '69, Bobbi Whitford Schwarz '69, Dianne Gottesman Ronshagen '69 and Sue Spinney Conklin '69. "It was a great weekend with wonderful events and cherished friends," Joan says.
Jason Hoane '97 was promoted to Director of Sales, Footcare and Orthopedics with Remington Products Company. Jason lives in Medina, Ohio, with his wife, Jennifer, and their son, Tyrus.
Amy Jantz Templeman '00 joined the Alliance for Strong Families and Communities as the Director of Impact, Safety and Resilience in the Washington, D.C., area.
Tony Holguin '01 was promoted to MCBU Unconventional Operations Strategy Lead with Chevron, a company he has worked at for more than 18 years.
Nathanael Long '01 is the co-owner and Clinic Manager at Options Medical Weight Loss in New Albany, Ohio. He says, "Our primary focus and mission is to provide affordable and sustainable weight loss solutions to the communities we live in."
Stacey Gentile Urdiales '01 joined Matco Tools as a Project Manager in December. Matco Tools manufactures, distributes and services premium-quality automotive equipment, tools and tool storage for professional technicians.
Melany Kotlarek Fontanazza '02 has been named a "Rising Star" in the 2020 edition of Ohio Super Lawyers — a distinction given to only the top 2.5 percent of lawyers in the state who are 40 years old or younger, or who have been in practice 10 years or less. Fontanazza is Of Counsel in the Cleveland office of McGlinchey Stafford PLLC and practices in the commercial litigation section.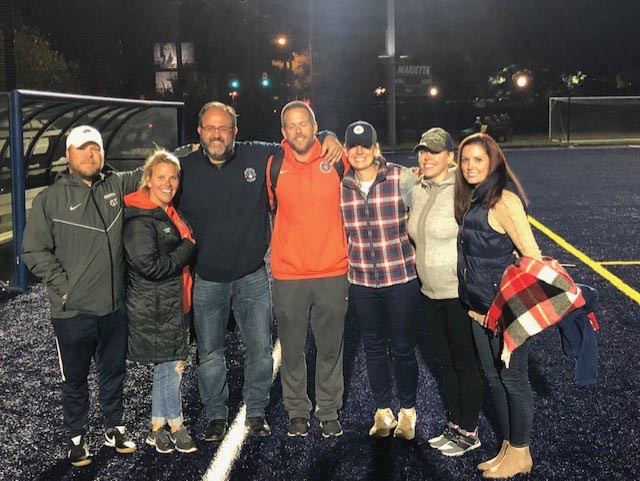 Following a home women's soccer game in the fall, Marietta College alumni George Threatt '98, Amy Lehosit Spell '06, Mark Lane '01, PA'04, Nick Spell '03, Bethany Blahnik Brennan '06, Emilee Knowlton Andrianos '06 and Tia Knowlton Lane '98, MALL'02 reunited for a quick photo.
Lori Milner Pointer '02 is working as a Registered Sales Assistant/Associate Financial Advisor at Hazlett, Burt & Watson, Inc.
Shawn Work '03 joined Universal Wellhead Services as Northeast Regional Sales Manager.
Craig Gliva '07 has transitioned to be a Category Strategy Manager with Kroger in the Cincinnati, Ohio, area. He is responsible for innovation and category strategy for Our Brands Cookie, Cracker and Snacks. His wife, Emily Mattson Gliva '10, also works in Kroger's marketing department. Prior to his new job, Craig worked in a variety of roles for P.L. Marketing, Inc. for more than seven years.
Michelle Lund Mercuri '07 is working as the Lead Global Talent Management Specialist at Mylan, a pharmaceuticals company in Canonsburg, Pennsylvania. Michelle and her husband, David, welcomed their second child, Ted, on August 23rd. They have a daughter Grace, who is almost 5.
Erik Pedersen MA'07 joined Detroit, Michigan-based JR Automation-Esys as Account Manager and New Business Development.
Erin Carlin '08 joined MARC USA as a Public Relations Account Executive in July 2019. She helps plan, coordinate, and direct public relations and social media campaigns for agency clients. MARC USA is one of the largest privately owned marketing communications agencies in the country, with offices in Boston, Chicago, Miami and Pittsburgh and more than 200 employees. When she isn't working, this Chi Omega alumna travels often to visit with sisters and helps to advise the Nu Theta chapter at West Liberty University.
Joe Ropp '09, who has worked at Cincinnati Bell for more than five years, was promoted to Director of Commercial Sales. Joe also completed his MBA at Xavier University in 2018.
Katy Black Beach '10 is an Intervention Specialist for the Northridge Local School District in the Johnstown, Ohio, area. After serving with Teach for America for two years, Katy continued teaching in Louisiana for another four years, earning a master's degree in Curriculum and Instruction from Louisiana State University in 2016.
Chad Byers '10 joined Alcon as a Senior Systems Engineer in May 2019. Alcon is a global leader in eye care, offering products to enhance sight.
Blakely Dye Brandon '11 was promoted to National Account Manager with Airgas, a leading U.S. supplier of industrial, medical and specialty gases, in June. She has been with the company since 2015.
Branden Chambers '11 joined Boxer's Meds and Fixits in Belpre, Ohio, as a Practice Manager in August. Branden had recently served as Marietta College's interim Student Career Services Specialist.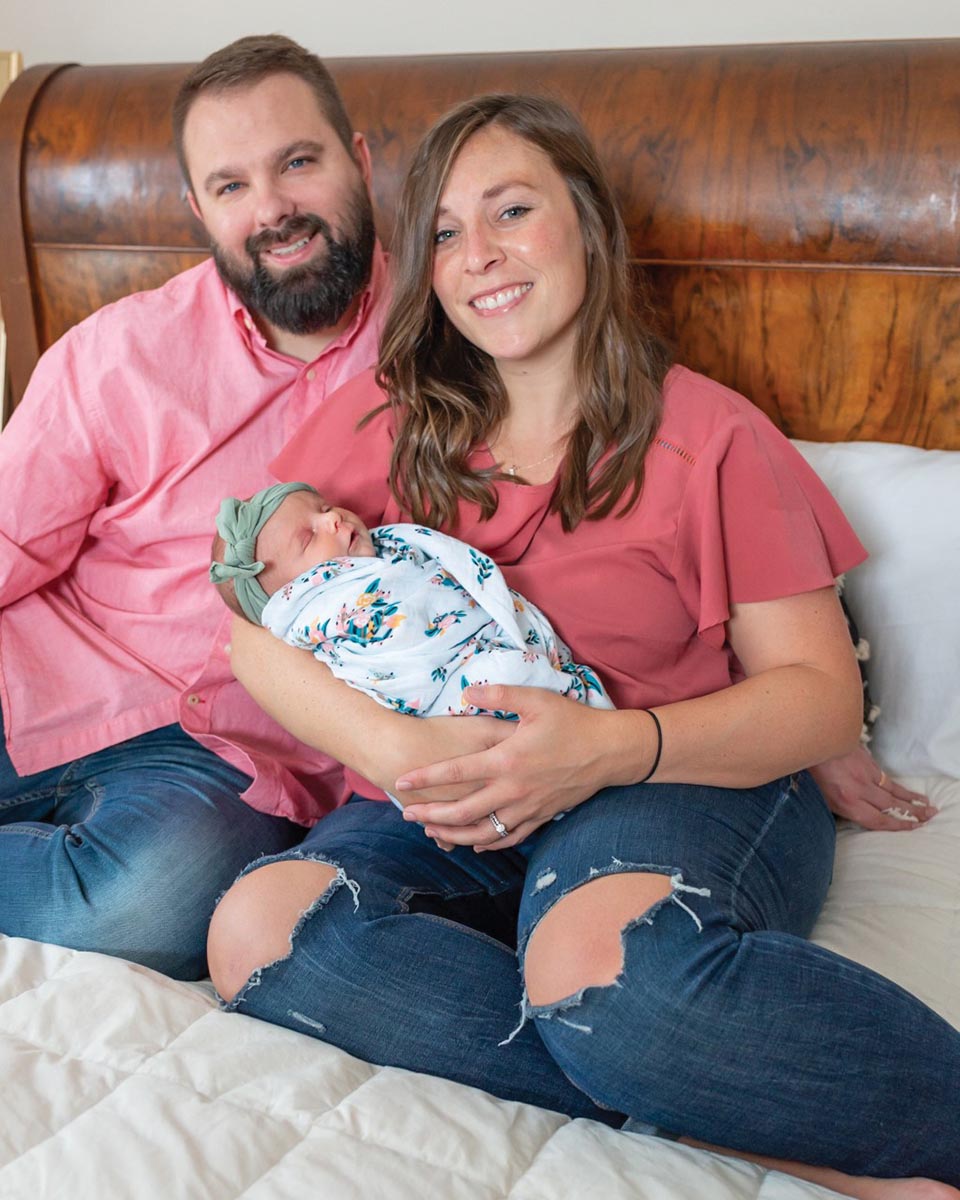 Lyndsay Offenberger Monk '10 and Jason Monk '10 have lived in North Canton, Ohio, since 2012. "We were married in Marietta in 2016, and our daughter, Audree Nichole Monk, was born on August 12, 2019, at 8 pounds, 3 ounces. She is the happiest baby and the first grandchild on both sides, so of course both sets of grandparents are smitten. She spends a lot of time in Marietta visiting my parents, Lee and Jennifer Roach Offenberger '86. Audree is also the first great grandchild for my grandparents, Linda and Phil Roach, 2013 MC Hall of Fame inductee."
Patrick Hahe '11 is working as a Technology Coordinator with Speed51, which allows him to coordinate new technology between the company and employees. With this new position, Patrick will be covering short track racing across the country.
Rachel Harper '09 is the executive director of the French Art Colony in Gallipolis, Ohio. Harper studied Studio Art at Marietta.
Rene Nikolopoulos Rivers '11 was promoted to Human Resources Manager with Elior North America, which employs 20,000 people over a family of companies that provide culinary innovation.
Austin Blaski '12 was promoted to Commercial Account Manager after spending the past two years as a Field Account Representative with Grainger.Austin, his wife, Jesse, and their two children recently moved to Charlotte, North Carolina.
Andrew Keller '12 was promoted to Purchasing Manager for Wolseley Industrial Group in Austin, Texas. He manages a team of seven buyers supporting both manufacturing and facilities maintenance needs in Austin and Chandler, Arizona, for his customer, NXP Semiconductor. He has worked at Wolseley since joining the company in 2012 as a Buyer/Operations Trainee in the Cincinnati area. Most recently he was an Operations Manager in Houston, Texas.
Claire Lauderman McCarus '12 was promoted to a Senior Benefits Sales Representative in September with Group Management Services, Inc., in Charlotte, North Carolina. She has been with the company for more than three years.
On behalf of the American Association of Drilling Engineers (AADE) Appalachian Basin organization, AADE President Josiah Fryman '13 and Board Member Josh Doak '04 presented a $50,000 donation to Children's Hospital of Pittsburgh. Throughout the year, AADE holds fundraisers and networking events for certain charities throughout the region. Josh and Josiah are both graduates of the Marietta College Petroleum Engineering program and have served on the AADE board for four-plus years. Josh is employed as the Director of Drilling at Range Resources. Josiah is employed as an engineer at Cabot Oil and Gas.
Sean Munfield '13 is working in Enterprise Business Development for Salesforce, a customer success platform that utilizes social and mobile cloud technologies, in New York City.
Elizabeth Oswalt '13 was promoted to Supervisor of Contract Review at Sunrun, a residential solar company, in Denver.
Shaylyn Allen '14 was promoted to Tech Analyst with Mast Global in Reynoldsburg, Ohio. She joined the company in February 2019.
Charles Dixon Jr. '14 is working as an Account Manager and Recruiting Specialist at Accurate Staffing in Wadsworth, Ohio.
Brooke McMillin '14 is a Graphic Designer with Alcon in Fort Worth, Texas. She spent 11 months as a contract graphic designer with Alcon before joining the company full time in August 2019.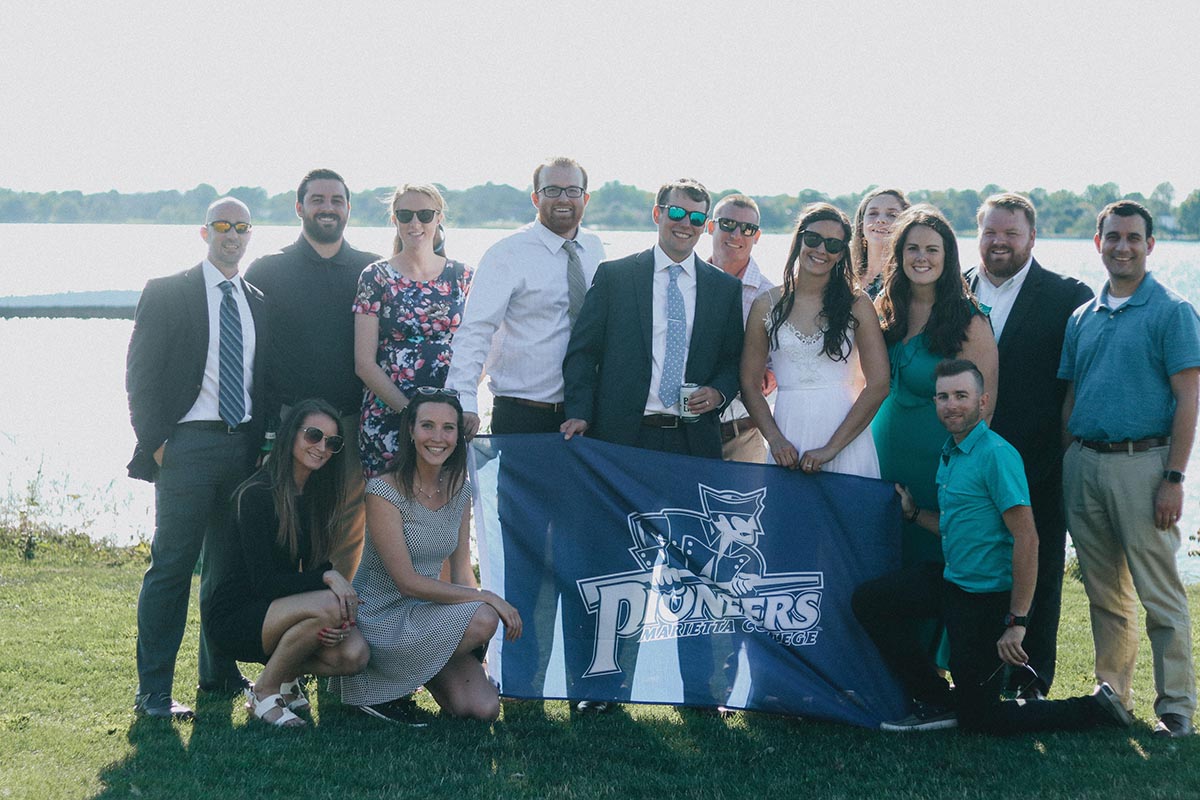 Elizabeth Robbe '12 and Michael Cute '11 tied the knot on August 31, 2019, in Buffalo, New York. The bride, a four-year varsity volleyball player for the Pioneers, and groom, a four-year varsity rower, met at Marietta College in 2009. Several alumni were in attendance who were former rowers, volleyball players and friends: (front row) Leyna Chovan '12, Meredith Storey '12 and Tom Daugherty '12; (back row) Christopher Pucella (former rowing coach), Drew Williams '14, Alex VanGundy Williams '13, Steve Little '10, Michael Cute '11, Mike Flanagan '10, Elizabeth Robbe Cute '12, Liz Bratton '12, Jackie Bergey Bratton '12, Dan Bratton '11 and Ray Costa (former Marietta volleyball coach). A reception was held at the West Side Rowing Club overlooking the Niagara River, Black Rock Canal and Lake Erie.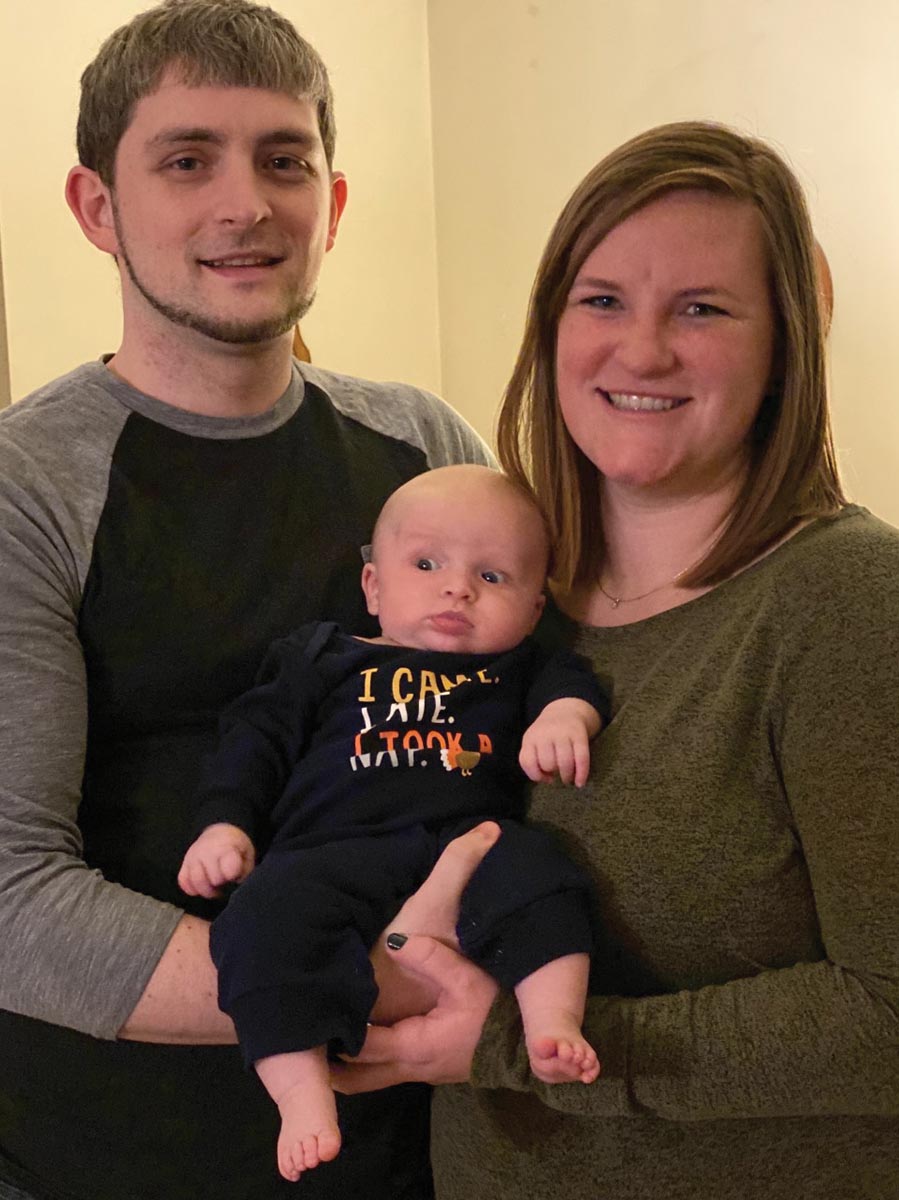 Sarah Brunner Askew '13 and Josh Askew '13 welcomed their son, Theodore, into the world on September 11, 2019.
Jennifer Rohrig '14 joined SmithGifford, a marketing and advertising firm in Falls Church, Virginia, as a Senior Account Manager.
Matthew Bergene '15 is now a Process Optimization Engineer at BP in Anchorage, Alaska. He has been with the company for more than four years.
Brett Burns '15 was promoted to Advisory Manager with Perry & Associates, Certified Public Accountants in Marietta.
Taylor Myers '15 is working as an Admissions Officer at Johns Hopkins University in Baltimore, Maryland. He is responsible for recruiting students from southern Ohio and western Pennsylvania, as well as all of Tennessee, Kentucky, Indiana and Wisconsin.
Jenna Skoglund '15 recently accepted a new job as an American Sign Language teacher for Gahanna Jefferson Public Schools in Gahanna, Ohio. She previously worked as an English teacher and American Sign Language teacher for Hilliard City Schools in Hilliard, Ohio.
Ryan Turnewitsch '15 graduated from Bastyr University in Seattle, Washington, in June with a Doctorate of Naturopathic Medicine (ND). He joined the Yellowstone Naturopathic Clinic in Billings, Montana, as a Resident Physician specializing in Naturopathic Oncology. Ryan also works at the St. Vincent Frontier Cancer Care Center and rotates through the Billings Clinic Hospital system.
Kennedy Clyde '16 was promoted to Associate Athletic Director at Gilmour Academy, a college-preparatory school in Gates Mills, Ohio. She is also the freshman volleyball coach.
Chanel Cornett '16 graduated from Howard University's School of Law in 2019 and works as a graduate legal assistant for the California Department of Justice in Sacramento.
Nicole Hannaway '16 was named Senior Public Relations Account Executive with Marcus Thomas LLC, a full-service advertising agency in Cleveland, Ohio. Nicole was most recently working as a PR Specialist with The Adcom Group.
Katie Talkington '16 was promoted to Compensation and Benefits Specialist with Hino Motors Manufacturing USA in Mineral Wells, West Virginia. She has been with the company since May 2016.
Katie Williams '16 has recently started two new jobs in the Cleveland, Ohio, area. In July, she joined Tech Elevator as a Digital Designer and Marketing Coordinator. In September, Katie became a seventh- and eighth-grade graphic design teacher for St. Ignatius High School. Her role with Ignatius is due to a Marietta College connection — Christian Sanders '14 — who is the Director of Diversity and Inclusion at St. Ignatius.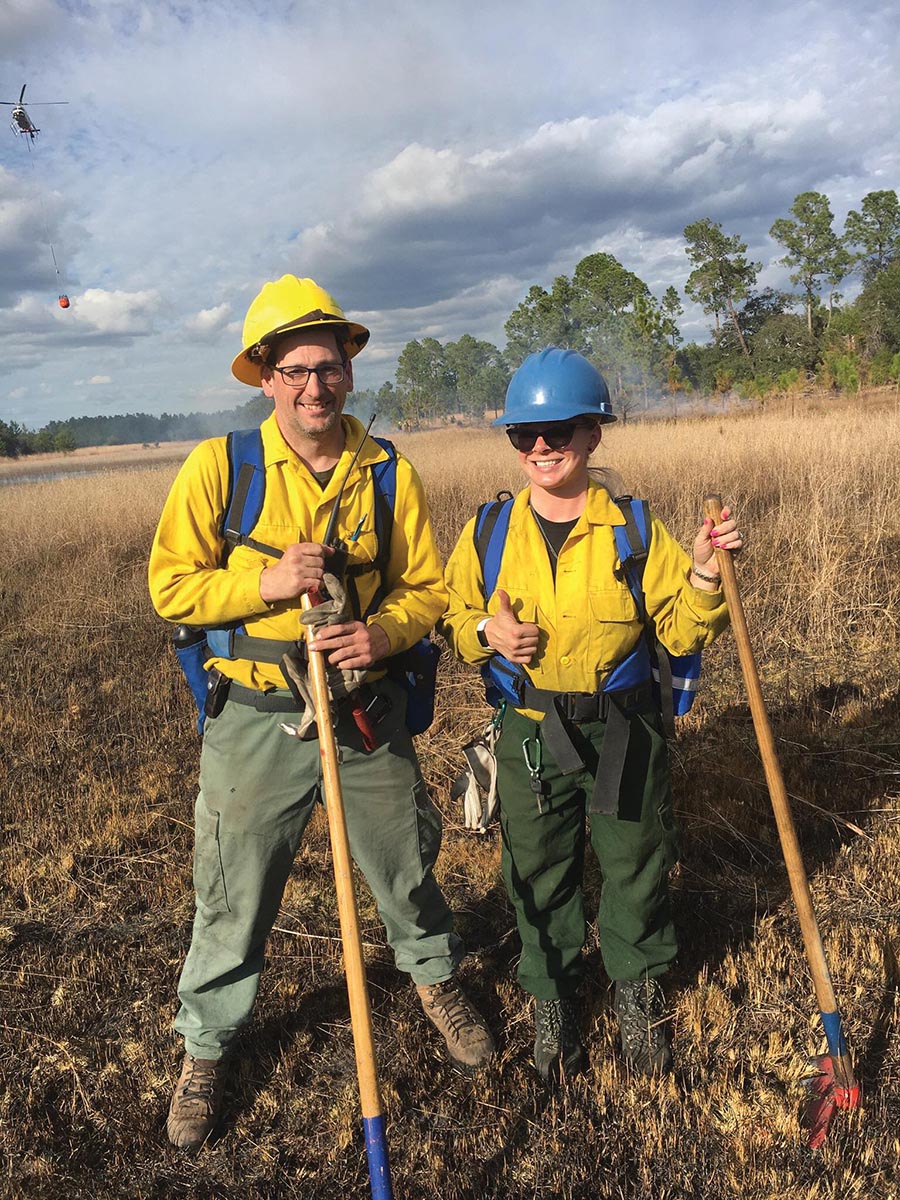 Ben Reed '16 and Maggie Bordas '17 met up by chance in in January. Maggie is working with the U.S. Forest Service in Ocala, Florida, and Ben is working in the Marietta area with the Wayne National Forest. Maggie was assigned to a fire in Florida in the Juniper Prairie Wilderness, and Ben was sent from Ohio to assist, and they met on the fire line.
Megan Wrbas '16 joined Citizens Investment Services in Pittsburgh, Pennsylvania, as a Wealth Concierge/Investment Sales Assistant.
Haley Bibbee '17 is working as an insurance agent for Bankers Life in the Portland, Oregon, area.
Jonathan Hinson '17 was promoted to Drilling Engineer with Chesapeake Energy and is living in Oklahoma City, Oklahoma.
Zachary Janus '17 was promoted to Rig Engineer II with Schlumberger. He is working on integrated drilling projects that combine cutting-edge hardware, automation and drilling optimization software.
Jordanne Light '17 is now the Lead Graphic Designer for Adventures on the Gorge in Lansing, West Virginia.
Rosemary Raths Pinkerton '17 has been working as an Executive Assistant at Buhrig Funeral Home and Crematory in Succasunna, New Jersey, since December 2019.
Grace Stein '17 received an early promotion to Sales Specialist with Cintas in Atlanta, Georgia. She was recruited specifically out of Marietta College to join Cintas' Management Training Program — a two-year rotational program.
Bryan Tran '17, who has worked for Diamond Offshore for more than two years, was recently promoted to Operations Engineer.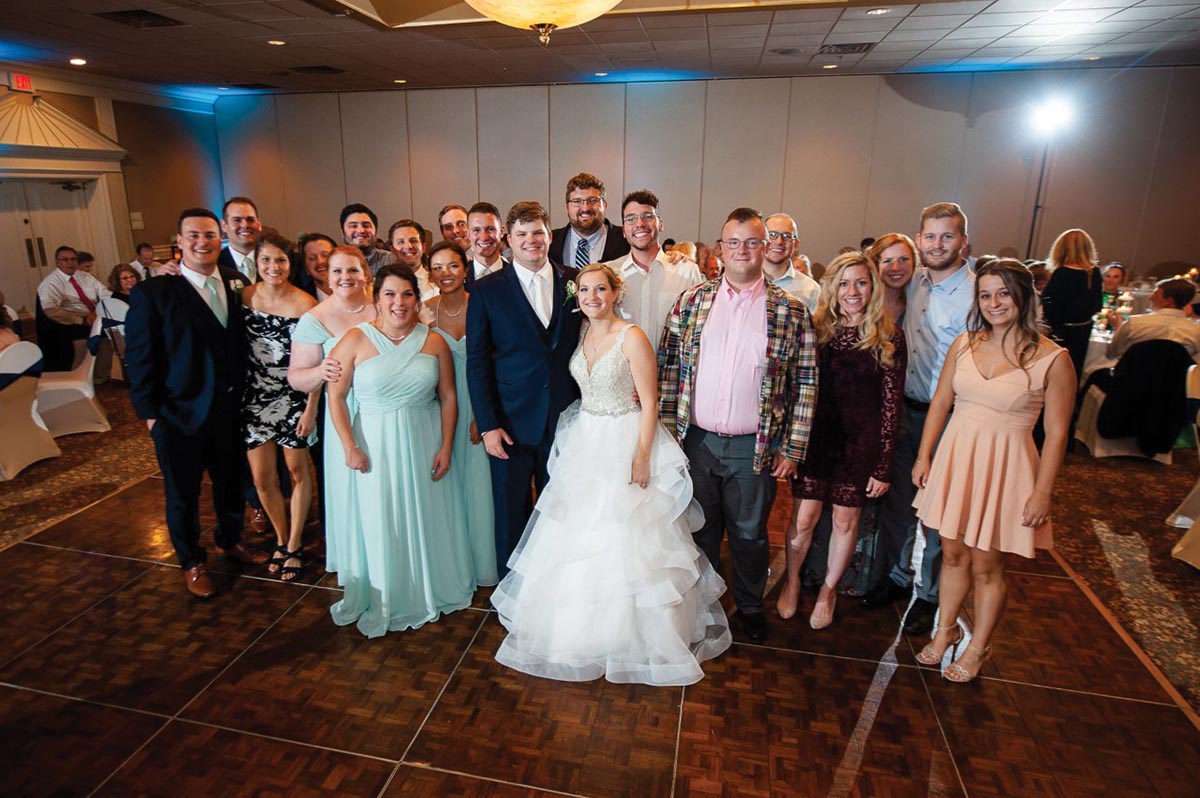 Ashley Griemsmann '17 and Joseph Pieper '16 were married on September 14, 2019, at The Chadwick in Wexford, Pennsylvania. In attendance were Samantha Hood '16, Emily Lang '17, Megan Ray Robb '14, Justin Robb '11, Shelby Preston Smith '15, Cameron Smith '15, Devon Everett '16, William Blandford '16, Jack McKarns '16, Matt Faraone '16, Sean Betker '16, Wesley Jordon '16, Max Marhulik '17, Peter Lundstrom '16, Theodore Browning '16, Emily Schemrich '17, Rachel Thompson Rothermel '17, Eric Rothermel '17 and Annie Kubala '17.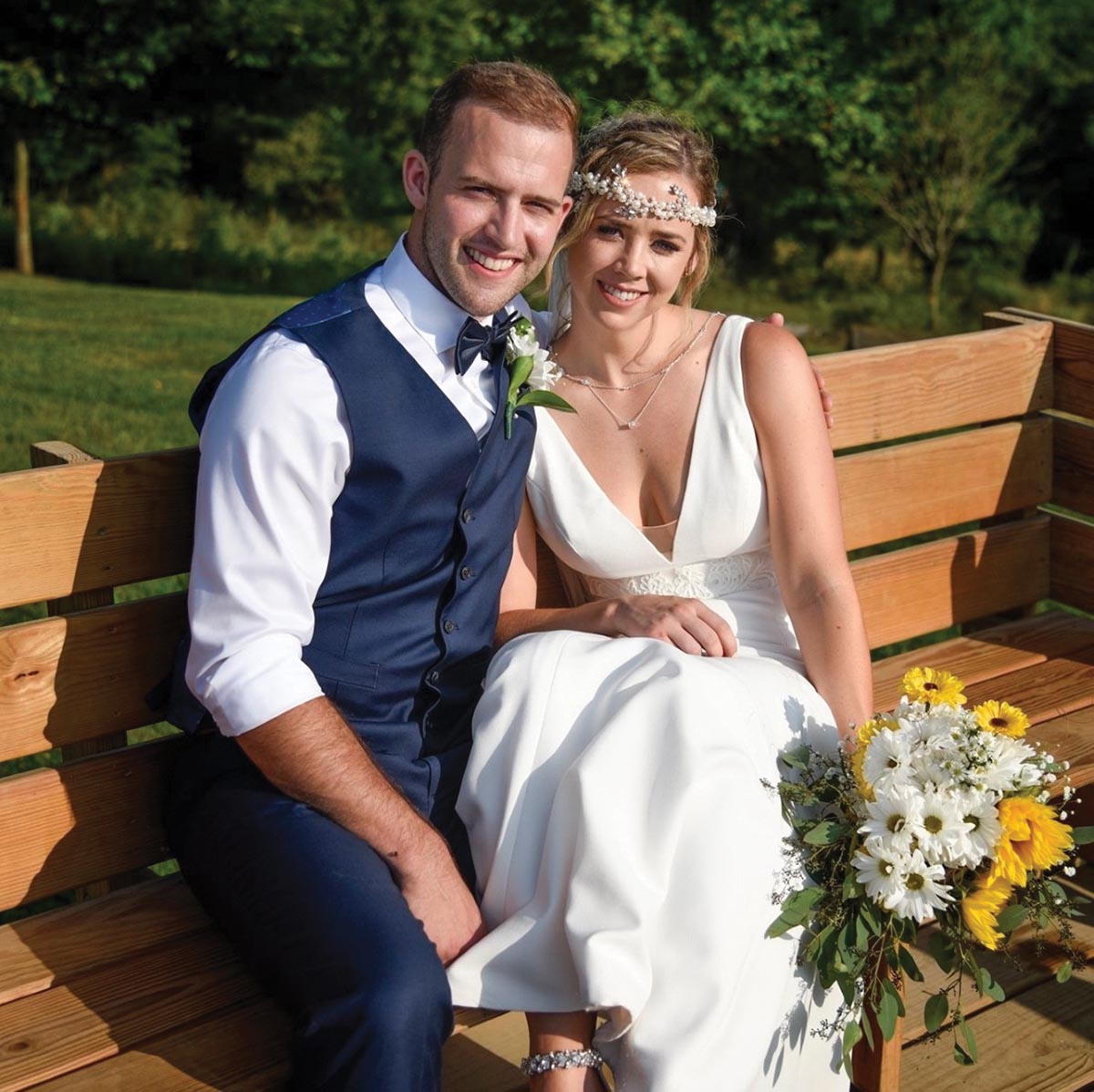 Stacy Blake PA'17 and Case Edgar '16 were married on July 20, 2019, and are living in Greer, South Carolina.
Whitley Trusler '17 started working as an Administrative Assistant with the Office of Gender & Sexuality and Multicultural Student Affairs at Denison University.
Lucy Welles '17 moved to Portland, Maine, in September to become a news producer at WGME-CBS 13.
Courtney Wentz '17 has been promoted to Associate Director of Annual Giving at Marietta College. Courtney joined her alma mater as Assistant Director of Alumni Engagement soon after graduating with a Bachelor of Arts in Organizational Communication.
Guy Wharton '17 was promoted to Senior Associate, Deal Advisory with KPMG U.S. in October.
Isiah Barbra '18 recently joined Charles Schwab working as a Client Relationship Specialist in Fairlawn, Ohio.
Brandon DeCicco '18 joined Amrock as an Associate Examiner in Pittsburgh, Pennsylvania. Prior to his new job, Brandon was a Title Examiner with Western Land Services for nearly two years.
Molly Dunlap '18 joined WesBanco in Parkersburg, West Virginia, as a personal banker in November.
Garrett Legraen '18 is a Full Line Sales Representative at Stryker Three Rivers Orthopaedic and Spine Inc. in Parkersburg, West Virginia.
Helen Moore '18 was promoted to Senior Business Account Manager with Wayfair in Brunswick, Maine.
Jessica Lucas '19 is working as a Child Behavior Specialist Aide at Positive Leaps in West Chester, Ohio.
Maria Mudre '19 is excited about starting her first full-time job as a graphic designer with Harvey-Cleary Builders in Bethesda, Maryland. Maria started her new position in August.
Taylor Pennock '19 is working in UPMC's Finance Management Rotation Program. Based in Pittsburgh, Pennsylvania, UPMC is a $20 billion health care provider and insurer.
In Memoriam
1940s
Jane K. Havens Johnson '40 (Chi Omega) of Haverford, Pennsylvania (10/24/2019).
Percy A. Staats '43 of Oak Ridge, Tennessee (11/19/2019).
Loma C. Ringbloom Thore '44 of Woodstock, Georgia (12/14/2019).
Corinne Whitaker Morgenstern '47 (Sigma Kappa) of Marietta, Ohio (8/21/2019). Survivors include sons Steve L. Morgenstern '76 and Mitchell Morgenstern '81.
John D. Armor '49 of Marietta, Ohio (10/30/2019). Survivors include a son, John D. Armor Jr. '74.
1950s
Jack L. Iams '51 (Alpha Sigma Phi) of Marietta, Ohio (11/7/2019).
David B. Smart '51 (Associate Trustee) of St. Louis, Missouri (8/31/2019).
Nicholas Spondike Jr. '51 (Alpha Tau Omega) of West Monroe, Louisiana (9/10/2019).
Sarah King Walther '51 of Albany, Ohio (6/27/2019).
Elinor V. Purinton Weisberg '55 (Chi Omega, Phi Beta Kappa) of Winter Springs, Florida (8/2/2019).
Sharon L. Weihl Buckmaster '57 (Alpha Xi Delta) of Tucson, Arizona (11/29/2019). Survivors include her husband, Alan B. Buckmaster '59.
Arthur L. Mackey '57 of Marietta, Ohio (9/23/2019).
Charles E. Plymale '57 (Alpha Tau Omega) of Whitehouse, Ohio (12/12/2019). Survivors include a brother-in-law, Robert R. Rankin Sr. '61.
James R. Roberts '57 (Alpha Tau Omega) of Hainesport, New Jersey (8/6/2019). Survivors include a niece, Moira L. Roberts '91.
Jane Lundeen Taylor '57 (Sigma Kappa) of Cape Elizabeth, Maine (10/3/2019).
Wayne B. Wagner '57 of Canal Winchester, Ohio (11/20/2019). Survivors include a niece, Ashley C. Wagner '10.
Donald Cruse Jr. '58 of Avon Lake, Ohio (11/30/2019). Survivors include his wife, Marialice Stuck Cruse '57, and a son, William C. Cruse '84.
Patricia S. LaFaber Hutchinson '58 (Sigma Kappa) of Marietta, Ohio (1/1/2020).
John P. Miller '58 (Alpha Tau Omega) of West Chester, Ohio (10/7/2019).
Joseph F. Barletta '59 (Associate Trustee) of Napa, California (10/28/19).
1960s
Richard L. Deem '60 of Ocala, Florida (12/6/2019).
Richard C. Ford Jr. '60 (Alpha Tau Omega) of Lexington, Virginia (11/11/2019).
Franklin O. Johnson '60 (Alpha Tau Omega) of Jackson, Wyoming (10/17/2019).
Hugh Platt Jr. '60 of Denville, New Jersey (5/15/2019).
Richard G. Wilson '60 (Alpha Tau Omega) of Bemus Point, New York (9/24/2019).
Robert L. Weber '61 (Lambda Chi Alpha) of Camp Hill, Pennsylvania (12/15/2019).
David E. Eylers '62 of Harwinton, Connecticut (10/19/2019).
Lucinda Churchman Hathaway '62 (Chi Omega) of Longboat Key, Florida (8/28/2019).
Richard S. Kiser '62 of Parkersburg, West Virginia (9/15/2019).
Barbara L. Bateman '63 of Eugene, Oregon (10/22/2018). Survivors include a brother, George R. Bateman '63.
Janet K. Bryner '63 of York, Pennsylvania (1/7/2020).
Thomas N. Erb '63 of Blountville, Tennessee (8/29/2019).
John L. Gregory '64 (Alpha Tau Omega) of Houston, Texas (12/22/2019).
Thomas J. Kraus '65 (Alpha Tau Omega) of Broadview Heights, Ohio (12/18/2019).
Andrew C. Overpeck III '65 (Alpha Tau Omega) of Boone, North Carolina (12/6/2019). Survivors include his wife, Sally Hickernell Overpeck '67.
Nancy Hoyt Lord '66 of Brunswick, Maine (1/10/2020).
Janice M. Chernev Minion '66 of Cranford, New Jersey (10/10/2019).
Stephen M. White '66 (Alpha Tau Omega) of Fort Collins, Colorado (10/23/2019).
Dennis D. Broud '67 of Wheaton, Maryland (12/26/2019). Survivors include his wife, Patricia Mitchell Broud '68.
Norman D. Pape '68 of Marietta, Ohio (12/21/2019).
Christopher E. Sheldon '68 of Dorset, Ohio (10/27/2019).
Gregory M. Savino '69 (Delta Upsilon) of Rancho Cordova, California (8/20/2019). Survivors include his wife, Barbara Ross Savino '69.
Martin L. Vickers '69 of Delray Beach, Florida (10/25/2019).
1970s
Howard F. Blessing '70 (Tau Epsilon Phi) of Walla Walla, Washington (11/1/2019).
Dennis L. Groboske '70 (Tau Kappa Epsilon) of Sugar Land, Texas (9/14/2019).
Donald L. MacKie '70 (Tau Epsilon Phi, Phi Beta Kappa) of Avon, Connecticut (11/4/2019).
Naomi Goldberg Wright '70 of Garnet Valley, Pennsylvania (9/29/2019).
Phillip L. Crane '71 of Waterford, Ohio (1/12/2020).
Roger A. Eddy '71 of Marietta, Ohio (12/23/2019). Survivors include his wife, Linda Hall Eddy '71.
Eunice Karnes Knight '71 of Nottingham, Maryland (12/7/2019). Survivors include sons John G. Knight II '77 and Warren B. Knight '77, and a daughter, Valerie J. Knight '80.
Floyd Tomé Jr. '72 (Lambda Chi Alpha) of Marietta Ohio (10/5/2019).
Zetta A. Thrash Sarver '73 of Walker, West Virginia (9/11/2019).
Alrick S. Thedwall '73 of Indianapolis, Indiana (12/31/2019).
Patricia E. Wilkin Heier '76 of Columbus, Ohio (9/13/2019).
Jack L. Ballard '78 of Painesville, Ohio (8/3/2019).
1980s
Charles T. Hardy '80 of Galion, Ohio (12/31/2019).
Mary L. Middleton Richards '80 of Vienna, West Virginia (10/2/2019). Survivors include a son, James M. Richards '71.
Russell des Cognets II '81 (Delta Upsilon) of Denver, Colorado (7/10/2019).
Stephanie J. Kimball '86 (Chi Omega) of Waterford, Vermont (9/8/2019).
1990s
Kimberly A. Burwell Phillips '91 of Powell, Ohio (11/15/2019).
Frances P. Higgins Lane '93 of Cutler, Ohio (1/27/2020). Survivors include grandchildren Jessica Lane Mudrick '03 and Patrick D. Lane '10.
Debra J. Douglass '94 of Bridgeport, West Virginia (1/26/2020).
Stephanie A. Conner Close '95 of Maineville, Ohio (12/7/2019).
2010s
Jazmine A. Edwards '11 of Cincinnati, Ohio (11/6/2019).
---
Joe McDaniel
(July 2, 1934 - January 27, 2020)
Marietta's all-time winningest Football coach and former Athletic Director, Joe McDaniel, passed away on January 27, 2020. Coach McDaniel was inducted into the Marietta College Athletic Hall of Fame in 1989
Dr. M Jeanne Tasse, Emerita Professor of Art
(March 25, 1925 - January 12, 2020)
The College is mourning the loss of Dr. Jeanne Tasse, who passed away on January 12, 2020, in Marietta. Dr. Tassee taught art, history of art, calligraphy and applied art at Marietta College for about 17 years and later took the lead in the College's Instigute for Learning in Retirement.