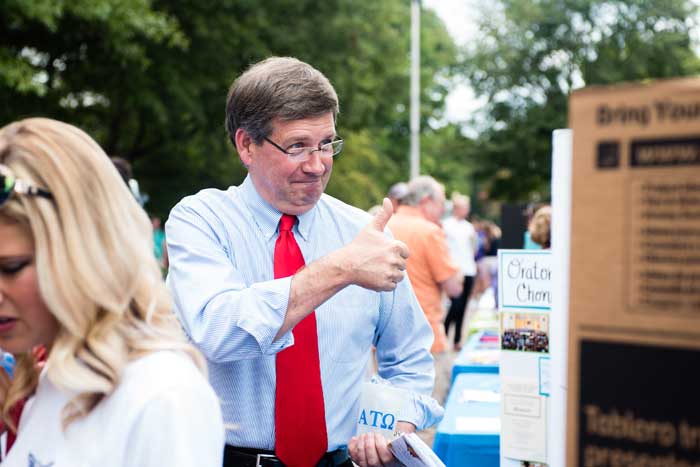 Dr. William N. Ruud is among the nation's most prominent leaders in higher education after revitalizing two campuses in Iowa and Pennsylvania. On July 3, 2016, Ruud became Marietta College's 19th President. On October 11th, 2018, the Board of Trustees unanimously voted to give President Ruud a two-year contract extension through June 30, 2022. 
President Ruud established his leadership goals early on, and they include putting students and their experience at Marietta first, as well as establishing the brand recognition of Marietta College as one of the top contemporary liberal arts institutions in the region.
Born in North Dakota, Ruud graduated from the University of North Dakota with a B.S. in Public Administration and Hospital Administration and earned an MBA and Ph.D. in Organizational Behavior/Management from the University of Nebraska-Lincoln. President Ruud also served in the U.S. Army as an Armor and Adjutant General officer from 1978-81.
Prior to joining Marietta, Ruud served as the 10th President of the University of Northern Iowa in Cedar Falls, Iowa, from 2013 to 2016. During his three years at UNI, the institution reversed a downward enrollment trend and experienced increased donations more than $50 million.
Marietta is Ruud's third presidency, as he was the 15th president at Shippensburg University in Pennsylvania from 2007-13. During his time at Shippensburg, Ruud implemented a facilities master plan in connection with the university's strategic plan and led the university's development of an Academic Master Plan. President Ruud has assisted in a variety of leadership capacities at colleges and universities across the U.S. He has used his wealth of experience to lead universities to academic excellence and achievement, as well as ensure they fulfill their essential role in the region and state. He began his academic career teaching business courses at Northwestern Louisiana State University in 1978. From 1979- 81, he conducted his research in leadership assessment at the U.S. Army Research Institute in Washington, D.C.; he also taught management theory and organizational behavior courses at Central Michigan University from 1980-81. From 1981-93, Ruud taught management, organizational behavior, strategy, policy, and ethics courses at the University of Toledo, and was awarded tenure in 1987. He served as an Assistant Dean of Undergraduate Studies, coordinated the MBA program as an Associate Dean, served as Associate Vice President for Student Affairs, Assistant Director of the University Honors Program and eventually served as Interim Dean of the College of Business Administration while at Toledo. In 1993, President Ruud was appointed Dean of the College of Business & Economics and Professor of Management at Boise State University. He was then promoted in 1998 to Vice President for Institutional Advancement. At Boise State, he led a successful a $12.5 million campaign for a new engineering facility, established faculty fellowships and created endowments to support student research.
From 2000-03, he took leave as an Executive-in-Residence and served as the Chief Education Policy Advisor for Idaho Gov. Dirk Kempthorne. He worked with the State Department of Education and State Board of Education on all pre-K through higher education issues. In 2004, Ruud was named Vice President for Development/University Relations and Professor of Management at California State University, Stanislaus. He achieved record fundraising levels, doubled membership in the alumni association, raised more than $10 million for student scholarships and increased community partnerships.
He continues to research institutional leadership and organizational behavior topics.
Ruud and his wife of 40 years, Judy, reside in the President's House with their cockapoo, Fuzzy.