Majoring in Biology
Biology majors at Marietta College are easy to spot. 
You won't find them tethered to their desks in huge lecture halls — but you will find them in research labs, collaborating on projects with their professors, and gathering water samples from nearby streams.
The Biology Program at Marietta offers students the time and the space it takes to explore the many opportunities this major offers its graduates. Faculty challenge students to apply their liberal arts education to research, so they can approach challenges, find solutions and then discuss their work with their peers.
Marietta's faculty lead research trips to areas such as the southwest United States to study paleontology and desert ecology; Thailand to study the impact of the shrimping industry; and Costa Rica and Belize to study ecology and conservation in Central America. Every Biology major conducts research. Every major completes either a tutorship or an internship. Every major presents the results of a capstone research project during All Scholars Day in April. And that work is celebrated.
This rigorous and broad-based approach garners respect among research facilities, graduate programs, and science-related industries.
Requirements
In addition to a liberal arts core curriculum, Biology majors prepare for careers and graduate school with a selection of in-depth courses taught by skilled faculty.
Major
Requirements for a major in Biology.
Minor
Requirements for a minor in Biology.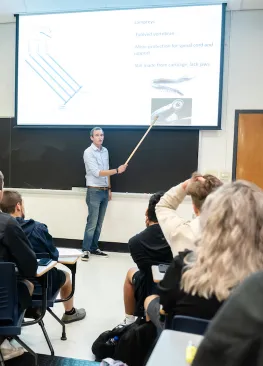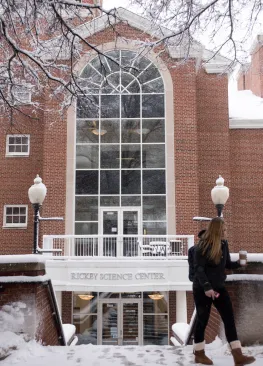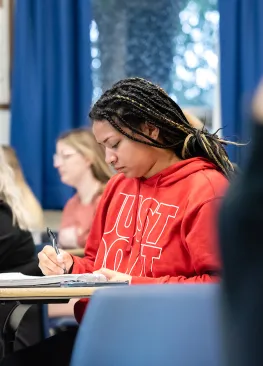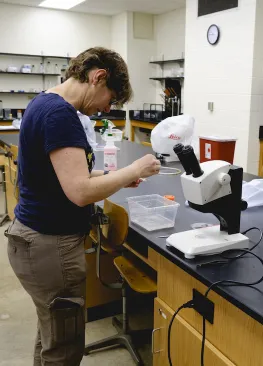 What You'll Learn
At Marietta, students enter the lab to address complex questions from their first introductory courses. Biology majors have opportunities like field research in Costa Rica, service learning at the local humane society, attending physician rounds at Marietta Memorial Hospital, presenting at the Ohio Natural History Conference, and camping with the Biology Club. The hands-on experience students gain, combined with the breadth of the liberal arts core curriculum, will prepare students for graduate school or immediate entry into a career as a lab technician, medical sales manager, health educator, and more.
More Info
An undergraduate degree in Biology from Marietta offers diverse career opportunities and also is excellent preparation for graduate or professional school. The increased interest in biotechnology and synthetic biology offers career opportunities unheard of just a decade ago.
Outcomes — Graduate Programs

Marshall University — Medical School
Miami University — M.S. in Zoology
Xavier University — M.Ed. in Educational Administration
Brown University — M.S. in Environmental Science
San Diego State University — Ph.D. in Evolutionary Biology

Outcomes — Internships

Marietta Memorial Hospital (Marietta, Ohio)
National Aquarium (Baltimore, Maryland)
Smithsonian National Zoo (Washington, D.C.)
Ohio Valley Veterinary Hospital (Marietta, Ohio)
German Leprosy Hospital (India)
Sea World (Orlando, Florida)

Outcomes — Professions

Physician
Physical Therapist
Attorney
Bioinformatics Specialist
Forester
Teacher
Veterinarian
Dentist
FAQs
Does the department accept AP credit toward the major?

The department recognizes the accomplishments of students who have AP credit in biology. Any student who scores a 4 in AP Biology will get credit for BIOL 100C.

Will Biology majors learn by using a human cadaver?

Yes. To graduate, Biology majors must pass Biology 401: Advanced Human Anatomy, which includes a human cadaver in the lab.

Will I be required to complete an internship to graduate?

No, but we encourage all Biology students to explore the Research Experiences for Undergraduates (REU) program through the National Sciences Foundation (NSF). The staff in our Career Center are here to help you explore these opportunities, as well as our faculty.