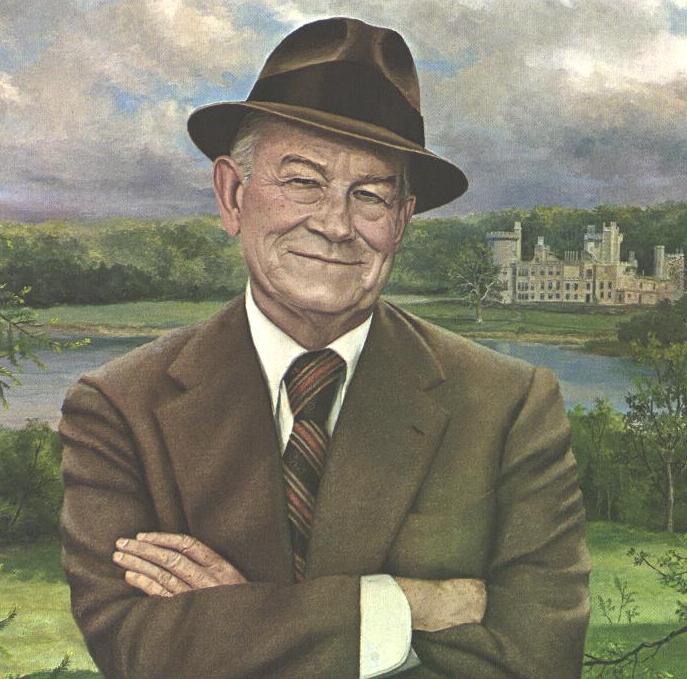 The Center is named in honor of Bernard P. McDonough (1903-1985), a self-made industrialist and entrepreneur who ran wide-ranging global business interests from his Marmac Corporation headquarters in Parkersburg, West Virginia. From humble beginnings, he built an industrial empire after World War II with diverse holdings, including concrete plants, construction companies, shoe factories, marine barges, lawn and garden tool factories, and sand and gravel operations.
In 1986, through a generous $5.5 million gift from McDonough's wife, Alma McDonough, and the McDonough Foundation, Marietta College established the Bernard P. McDonough Center for Leadership and Business. Drawing from a liberal arts curriculum, the Center began offering one of the first comprehensive undergraduate leadership programs in the United States. The Center welcomed its first cohort of undergraduate leadership students in the fall of 1987. In 1988, the McDonough building was dedicated on campus — offering state-of-the-art facilities.
As a reflection of Mr. McDonough's entrepreneurial spirit, the Center has maintained its focus on cutting-edge leadership studies initiatives, including the Global Leadership Studies Major, the Teacher Leadership Certificate, and the Engineering Leadership Certificate. Aside from these innovative tracks, the Center also offers a Minor and a Certificate in Leadership Studies, which can be combined with any major at Marietta College.