Get Connected with Marietta
Economists, financial and market analysts, attorneys … economics graduates rank in the top quarter of the highest salaried professionals.
Economics majors at Marietta College don't want to be pointed and pushed in one direction — they want the panoramic view of the relationship between business and the economy. A Marietta College Economics degree gives them OPTIONS.
Talented faculty teach students the theoretical side of economics and the mathematical and statistical techniques they need to be successful in the field. The Business & Economics Department offers an internship program that helps enrich students' educational experiences by exposing them to the business environment.
During the four years at Marietta, Economics majors conduct serious research projects — either individually or with fellow students or faculty mentors. This research is presented at professional conferences and on campus every year during All Scholars Day.
Our graduates possess the ability to apply abstract principles to practical matters — and this skillset makes them highly sought after by employers and graduate programs.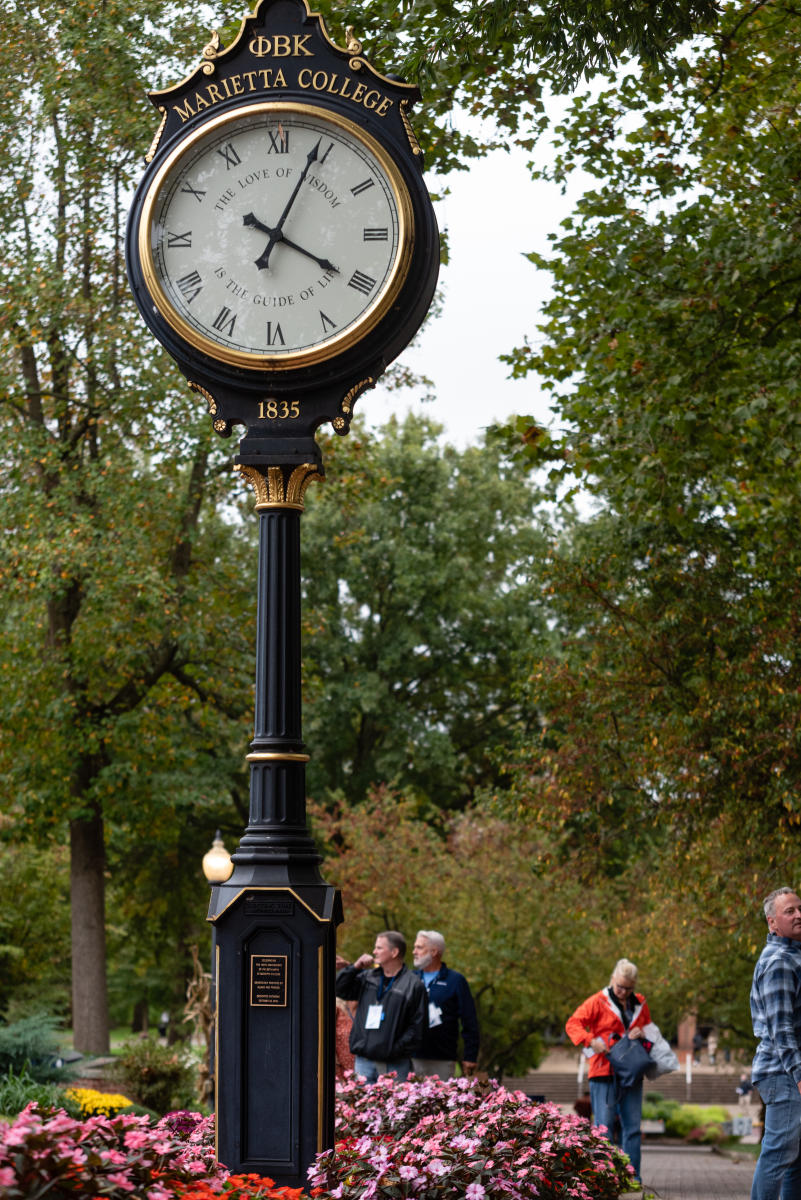 The Economics Major
At Marietta College
Marietta's economics program teaches you to look at the big picture and study the relationship between business and the economy. At the same time, we stress the theoretical side of economics and the mathematical and statistical techniques you'll need. Economics examines how we use limited resources, which means economists deal with all kinds of real-world problems: the budget deficit, the war on terrorism, the environment, unemployment, education.
You will gain valuable experience through your senior research project as well as internships with our local, national and international networks. Students work closely with faculty to produce scholarly research papers; many have presented their work at conferences and competitions.
Earning an Economics Degree
Interested in Economics
Contact this Undergraduate Program
Dr. Greg Delemeester • 740.376.4630 • delemeeg@marietta.edu
PROFILES OF PIONEERING SPIRIT
I, Pioneer
Blazing New Trails
Read stories of people who are committed to making an impact in their professions, their communities and beyond.
Our pioneers have the knowledge, the passion and the courage to pursue change for the greater good, to make a difference in the lives of others, and to pave the way for generations to come.
What You Can Do With an Economics Degree
There are many internship opportunities for students in the major, and even more job possibilities. Marietta's faculty have strong connections in the industry and they help students with introductions and they provide references. The College also offers the Robert Evans Internship Endowment, which awards one student every summer $5,000 to one qualified rising junior or senior who participates in an approved internship in a for-profit organization, specifically a major national or global organization.
Types of Careers You Can Expect
Market Research Analyst
Economics Consultant
Compensation and Benefits Manager
Credit Analyst
Actuary
Policy Analyst
Financial Planner
Attorney
Recent Graduate Programs
University of Michigan-Law School
George Washington University-Ph.D.
The Ohio State University-Law School
West Virginia University-Ph.D.
University of Chicago-Public Policy
University of Hartford-MBA
Washington University-Ph.D.
Valparaiso University-Law School
Related Programs
See More of Marietta