Get Connected with Marietta
The Graphic Design program at Marietta College supports the conceptual and creative development of the modern designer with a curriculum that covers the many facets of the design field. Graduates will leave the program with confidence that they will succeed at pursuing a career in graphic design.
A College of Graphic Design
Through classroom projects and work with real clients, you will become well versed technically and well practiced in design thinking, business practices and professional relationships. You will be mentored by faculty artists who have exhibited nationally and boast national clients. Our graduates have an exceptional job placement record and are web and print designers, creative directors, art directors and creative services managers across the country. You will train in fundamental studio art mediums, then translate those skills to a digital workflow using industry standard equipment, such as Macintosh computers and a host of contemporary tools housed in the Graphics Design Lab in Hermann Fine Arts Center. Additional courses in painting, printmaking, art history and research will introduce you to a variety of ideas and methods.
Student Expectations
Portfolio: Students do not need a portfolio to be accepted into the Graphic Design program. Prospective students who do have a well-developed portfolio of Studio Art or Graphic Design may wish to apply for the Art Scholarship. There is a formal review of student work during the sophomore year. This student presentation to the Studio Art and Graphic Design Faculty serves as a critical assessment of the student's progress, and is aimed at evaluating the student's success, commitment, and future potential in the program.
Dedication: A dedication and commitment to personal development is also expected of students majoring in Graphic Design. Unique and original ideas are encouraged and fostered in the program. Students who are able to make time outside of the classroom to develop their skill, craft, and own independent sensibilities and styles will benefit the greatest.
Technology: Students do not need to invest in their own personal computer — up to date hardware and software is offered and accessible to all enrolled students. Its use is encouraged for all underclassman. Upper class students who have gained both an understanding of Macintosh Computers and a dedication to graphic design may wish to acquire their own machine, as their academic demands grow.
My experiences at Marietta, especially in my Graphic Design classes, helped prepare me for my internship experience and the jobs clients were asking me to complete.
clay mastin '22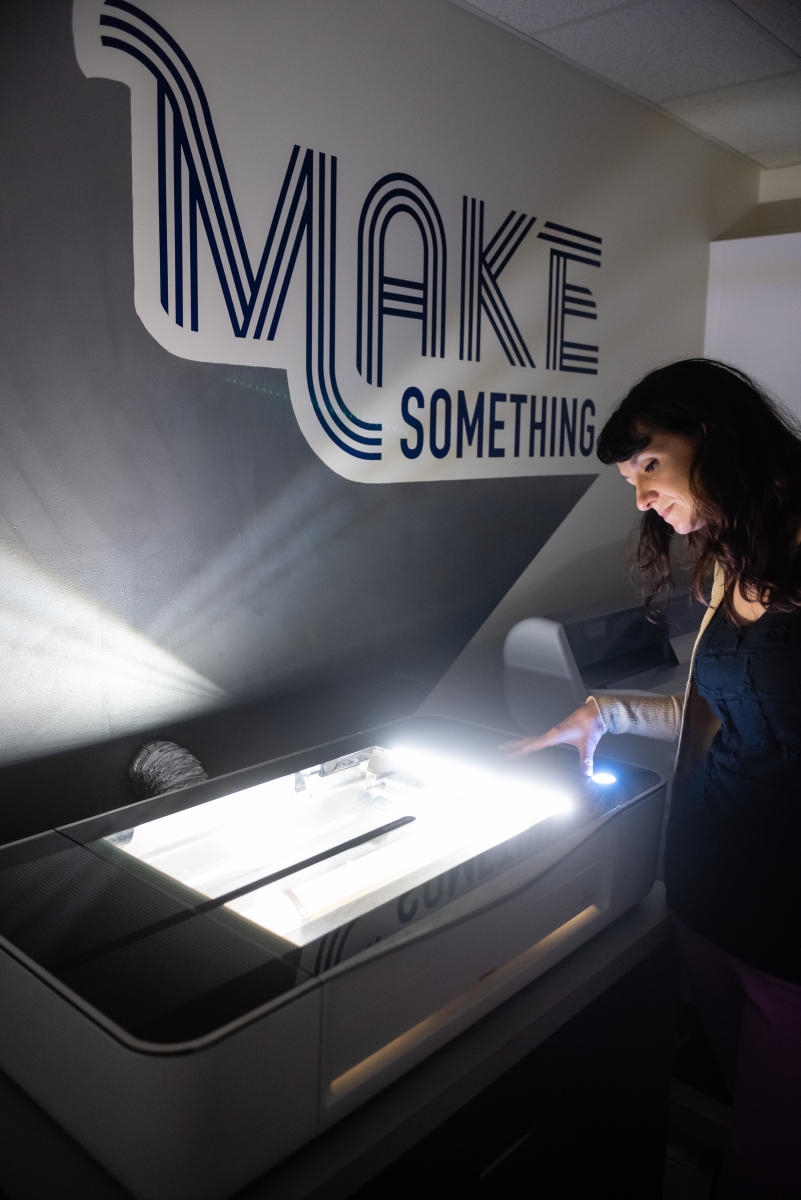 The Graphic Design Major
At Marietta College
Connect your desire for originality with the skills necessary to build a successful and rewarding career. Marietta College's Graphic Design program prepares students to tell visual stories — blending their creative vision with design skills to connect content with a message.
Guided by talented professors, students are trained in fundamental studio art mediums and learn to use those skills to excel in digital workflow. Marietta puts a modern spin on the classic liberal arts education. Our students hone their communication and critical thinking skills in the classroom — and they also complete extensive hands-on learning through research, professional opportunities, and integrated leadership training.
Students have access to industry-standard equipment, including Macintosh computers with the latest design software programs. A new addition to the Art Department is the Deem Design Center, which provides students access to photographic equipment, as well as high-quality large format printing, vinyl cutters, and laser cutters to bring a student's idea into reality.
Design students also have access to studio spaces for painting, printmaking, photography, and drawing and a large exhibition gallery to show and discuss their work. Majors build portfolios that show potential employers their experience in advertising, marketing, promotions, print production, and business.
Interested in Graphic Design
Contact this Undergraduate Program
Z Comer • 740.376.4694 • enz001@marietta.edu
PROFILES OF PIONEERING SPIRIT
I, Pioneer
Blazing New Trails
Read stories of people who are committed to making an impact in their professions, their communities and beyond.
Our pioneers have the knowledge, the passion and the courage to pursue change for the greater good, to make a difference in the lives of others, and to pave the way for generations to come.
What You Can Do With a Graphic Design Degree
In the Graphic Design program, you learn to address such a range of topics and design problems, that you gain a variety of skills that are applicable across disciplines. Those skills include:
Branding & Brand Management: Creating a visual identity that effectively communicates the "vision" of a company, and/or managing the public perception of all visual communication within a brand
Design Strategy: Implementing user-centered "Design Thinking" strategies to solve any type of problem
Art Direction: Leading a team to achieve an effective and cohesive product
Illustration: Developing custom visual graphics for a variety of applications and types of media
Information Design: Development of visual graphics that result in the effective communication of a complex subject
Publication Design: Development of graphic organizational systems that result in visual interest and consistency across media platforms
Interaction Design: Developing interface designs across media platforms that encourage user interaction, while effective communicating objective of product
Advertising Design: Developing unique visual graphics that effectively communicate an objective, whether it be to purchase a product, attend an event, or agree with a point of view
Project Management: Coordination of all project components, including project creation, proposal process, client communication and product production
STUDENT SUCCESS
Reese Worship '23
Marietta College's Graphic Design classes and professors push Reese to tap into his creative side — and he is up to the challenge every day.
Related Programs
See More of Marietta