Get Connected with Marietta
Marietta's Psychology program sparks curiosity about human behavior and transforms it into a career that can change lives
Marietta's Bachelor of Arts in Psychology program prepares students for a variety of careers. The beauty of a degree in psychology is its flexibility. You might decide to conduct scientific research that helps explain human behavior and thought processes. You might choose to apply your psychological knowledge to improve people's lives. Or you might join the business world — understanding human behavior can lead to groundbreaking changes in the global business world.
While at Marietta, you'll work with award-winning professors who are passionate about psychology and who teach it through close, mentoring relationships with students. Psychology majors have the opportunity to collaborate with faculty and graduate students in our Social-Cognition Lab, conduct their own projects, present their work at professional psychology conferences, and compete for summer research fellowships.
Whatever path you choose, earning a Bachelor of Arts in Psychology at Marietta will give you the intellectual and professional skills that you'll need for advanced graduate training or to immediately enter a meaningful career.
My experience at Marietta was strongly shaped by my Psychology professors. When I was looking at colleges, I chose Marietta because it felt like a place where the professors truly cared about their students and where you wouldn't just be a random face. 
- MEGAN HENDRICH '17, MAP'19, MEMBER AND PROGRAM MANAGER, RESEARCH MANAGER AT IPSOS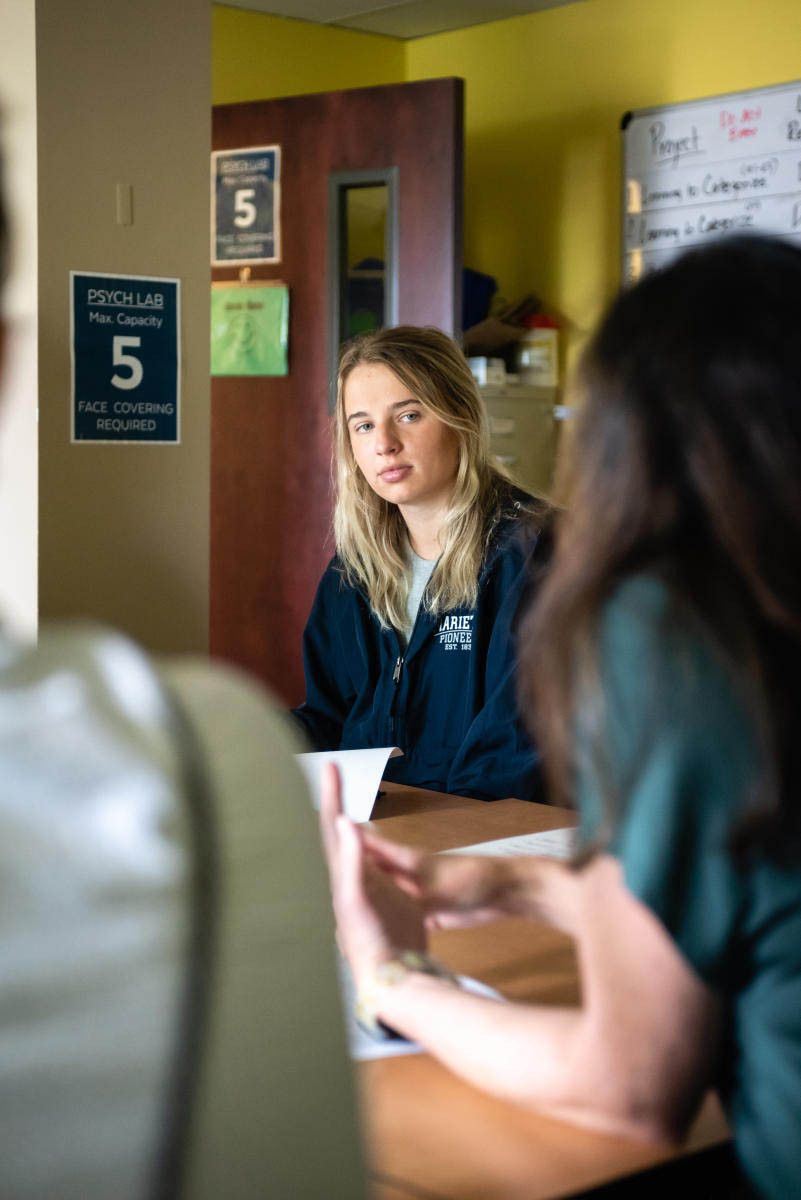 The Psychology Major
At Marietta College
We believe that psychology is a space for inspiration. Our goal is to enable students to boldly approach the challenges inherent in the study of human behavior, explore new intellectual terrain, and discover new ideas.
Our psychology students seek out a challenge and are unafraid of intellectual puzzles. From the very first year, students in the Psychology program uncover the fascinating intricacies of the human mind through classes on human sexuality and the psychology of sport.
As students advance, they are encouraged to follow their passion through a wide array of challenging elective courses that focus on topics such as the psychology of good and evil. In the final year of the program, students are encouraged to seek answers to their most burning questions through directed research.
Our robust internship program allows students to explore their curiosity through real-world experiences that build skills for future career paths. Recently, our students have interned at Westbrook Health Services, Marietta Middle School, and the County Prosecutor's Office. Faculty and advisors work with students to help them find the right internships to meet their aspirations.
By graduation, psychology majors will be fully equipped to turn their passion for human behavior into a fulfilling life path through either advanced graduate research or by stepping immediately into their careers.
Earning a Degree in Psychology
The B.A. in Psychology at Marietta College combines a spirit of adventure with a dedication to exploring the deepest challenges of human behavior to create an experience that can inspire a fulfilling future career. See what your class schedule may look like with the table below.
BA/MA Program @ MC
The Marietta College Master of Arts in Psychology (MAP) Program offers an academic curriculum in general psychology, as well as offering students the opportunity to pursue research in the areas of: clinical, cognitive, social, physiological or developmental psychology. The primary goal of the program is to provide students with a strong graduate-level foundation in general psychology. The program is designed to prepare students to pursue further education in psychology at the Ph.D. level or to seek employment at the master's level in a related field.
The program is designed for successful completion over the course of two academic years. Additionally, a five-year combined Bachelor/Master of Arts degree program is offered. The program consists of thirty-six hours of courses composed of: A twenty-four-hour core of traditional academically oriented graduate courses in psychology, six hours of experiential electives related to a professional experience in psychology, six hours of empirical thesis research, including a successful thesis defense to a two-member committee.
Interested in the 5-year BA/MA Program? Please discuss it with your faculty academic advisor, and contact Dr. Mary Barnas, Director of the MAP Program, with any questions.
Interested in psychology
Contact this Undergraduate Program
Dr. Alicia Doerflinger • 740.376.4975 • ad001@marietta.edu
PROFILES OF PIONEERING SPIRIT
I, Pioneer
Blazing New Trails
Read stories of people who are committed to making an impact in their professions, their communities and beyond.
Our pioneers have the knowledge, the passion and the courage to pursue change for the greater good, to make a difference in the lives of others, and to pave the way for generations to come.
What You Can Do With a Psychology Degree
Marietta's psychology majors approach their careers with an adventurous spirit. This degree is flexible by nature, so you can mold your skills to fit your dreams. Our graduates create change across the globe, blazing new trails at international organizations and giving back to their community as clinical social workers and licensed therapists. The psychology program promotes a spirit of creativity and curiosity that opens the door to an entire world of options.
Students interested in further graduate study will find they have the course requirements and faculty support necessary to pursue master's and Ph.D. degrees in psychology, as well as other graduate programs in business, law, and the humanities.
Careers You Can Expect
Psychologist
Law Enforcement
College Professor
HR Specialist
Mental Health Supervisor
School Guidance Counselor
Attorney
Victims Advocate
Recent Internships
Westbrook Health Services
Marietta Middle School
County Prosecutor's Office
Family & Children First
Eve Inc.
Marietta Memorial Hospital
Child Protective Services
AMAZING FACULTY
Dr. Charles Doan
As a student, you will get the chance to work with amazing faculty like Dr. Charles Doan, who was part of a team that conducted a large-scale experimental investigation into how people process relational information.
Related Programs
See More of Marietta