After careful review, the College has decided to phase out the Vocal Performance major over the next few years. No new students will be admitted into this program. The College will continue to offer a Bachelor of Arts in Music.
Majoring in Vocal Performance 
Performance opportunities abound for Marietta's Vocal Performance students, who work in a close, collegial relationship with their professors. Our Music faculty are renowned regionally, nationally, and internationally as performers, scholars, and dedicated instructors.
The Bachelor of Music in Vocal Performance is designed to allow students to pursue in-depth professional study within a supportive liberal arts environment. The curriculum is designed to guide each student to a better understanding and mastery of their vocal instrument in an environment that provides the individual attention needed to develop both technical and interpretative skills. It will also help each student to develop a broad understanding of the field of music and the factors that influence its role in the United States and abroad. The program also includes a strong emphasis on the study of vocal pedagogy (the teaching of singing) and other skills necessary to develop and manage a successful portfolio career as an artist. In addition to the core music courses, students find many opportunities in both solo and ensemble settings and elective courses organized to help students prepare for continued study at the graduate level. Marietta's elite program is accredited through the National Association of Schools of Music.
 
Requirements
The education at Marietta College is based in the liberal arts, which means our students gain a foundation of knowledge that prepares them for success.
Major
Requirements for a major in Vocal Performance.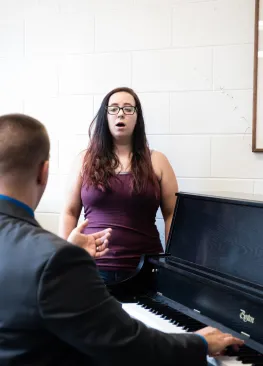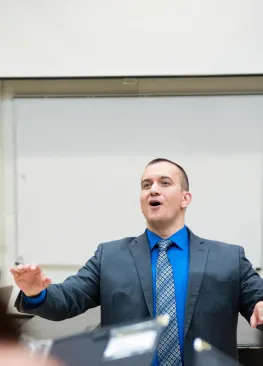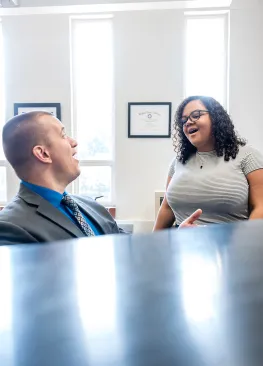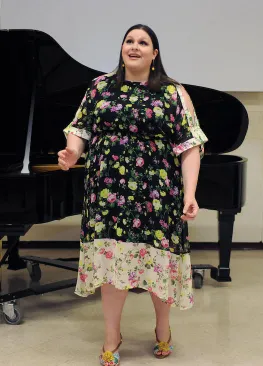 What You'll Learn as a Vocal Performance Major
The major requires a broad range of courses designed to prepare students for graduate school and work in the profession. In addition to its core music courses, performance students lay a foundation for their future careers through multiple courses in foreign language diction, vocal literature, acting, and a sequenced study of vocal pedagogy, that concludes with supervised teaching in our community music program. Students are given numerous opportunities to develop their performance skills through frequent recitals, an opera workshop program, full-stage productions, and multiple choral ensembles.
Designed to allow you the opportunity to explore your own unique creative impulse, the major also builds technical skills and musical knowledge in a highly personalized environment. Admission each year is based on previous academic success, a performance audition, a music résumé, a teacher recommendation letter, and a personal interview. At Marietta College, you will find a community within a challenging liberal arts environment that includes frequent individual contact with active performers and scholars, abundant performance opportunities to help you become a successful musician, coursework that provides an in-depth knowledge of the vocal mechanism and its pedagogy to help you become a successful educator, and the skills and tools you need to become a leader in the music profession.
The World Needs More Pioneers
FAQs
Do I need to audition to be a Vocal Performance major?

Yes, auditioning is part of the application process for this major.

 

Are there specific scholarships for Music-related majors?

Yes! Students interested in majoring in Vocal Performance can sign up to audition for one of Marietta's Fine Arts Scholarships.