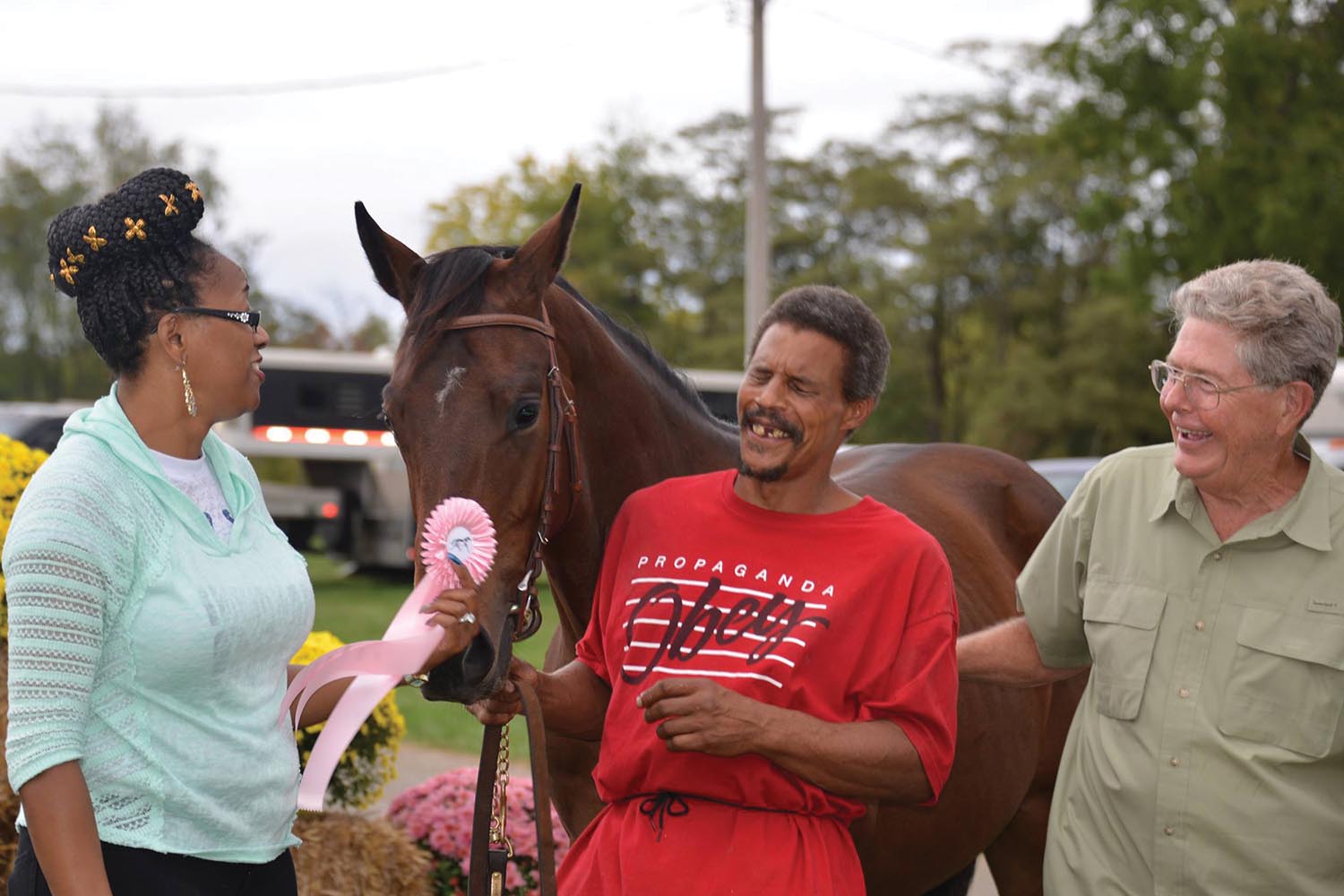 Shortly after his horse, Lunar Prayer, took first in the 4 ½ furlongs in 54.04 seconds at Charles Town Races in West Virginia, Dr. Richard Knapp '63 reflected on how his passion for thoroughbred racing began more than 60 years ago.
"I started going to the racetrack when I was in high school because I was working at a country club in Torrington, Connecticut, which is where I was raised, with a golf pro and a variety of other people," he says. "On Mondays, the kitchen was closed where I was working and caddying at the golf course, so we would all go to the racetrack."
After graduating from Marietta and earning his doctorate at the University of Iowa, he kept up with racing but didn't have the means to be involved with thoroughbreds. As he began prospering in his career at the Association of American Medical Colleges, his involvement in racehorse ownership began to take off. Knapp now owns eight horses outright — two of which are pregnant mares — and has a one-third ownership in eight others.
Being at the racetrack is a throwback to when we were a much more rural country and a lot of people were around animals," he says. "The most interesting people I've met in my life, I've met at the racetrack. There are no uninteresting people at the racetrack — they're all a little different and I enjoy those folks. I'm also fascinated in trying to pick a winner, trying to find the right sire for the right mare, to produce a fast horse, and I've made a lot of friends around the country.
Knapp admittedly picked a winner when he chose Marietta College after a recruiter visited his high school. His high school classmate, Jim Zeller '64, also planned to attend Marietta, so their mothers drove the two students to campus in 1959.
"I had an advisor named Jack Prince, who was a prince — he was like a father to me," Knapp says. "I had no idea what I was going to do. I was a liberal arts major and I went to see Dr. Prince one day and I told him I got three job offers as a salesman. One for the Scott Paper Company, one for the Connecticut General Insurance Company, and one for the Wheeling Steel Company. He said, 'Richard, you'll do fine. You'll be a great salesman and you'll make a lot of money, but you won't be very happy.' Of course, I didn't understand that."
Prince told Knapp about a new field called Hospital and Health Administration, and recommended that he attend graduate school. He chose the University of Iowa because it cost $165 per semester for out-of-state students.
"I wanted to do something different, and so I was offered a job at the Association of American Medical Colleges, and it was the lowest-paying job that I was offered but it looked like the most interesting, so I decided to go there, stay a couple of years and see what would happen," Knapp says. "I stayed there for 40 years and ended up executive vice president for the last 15 or 16 years. I had a wonderful career there; every day was different for me. I knew every medical school dean in the country and a lot of the major teaching hospital CEOs. It was a very interesting and fine job to have."
Now retired and living mostly in Reston, Virginia, he also spends multiple weeks in Sarasota Springs, New York, and in and around Palm City, Florida, and visits his horses in Charles Town, West Virginia, and Goshen, Kentucky.
"Won some nice races," he says. "At age 79 it keeps me occupied and mentally alert. I've been retired since 2009. Golf, horse racing, reading, seeing friends and travel is what I do."
- Gi Smith