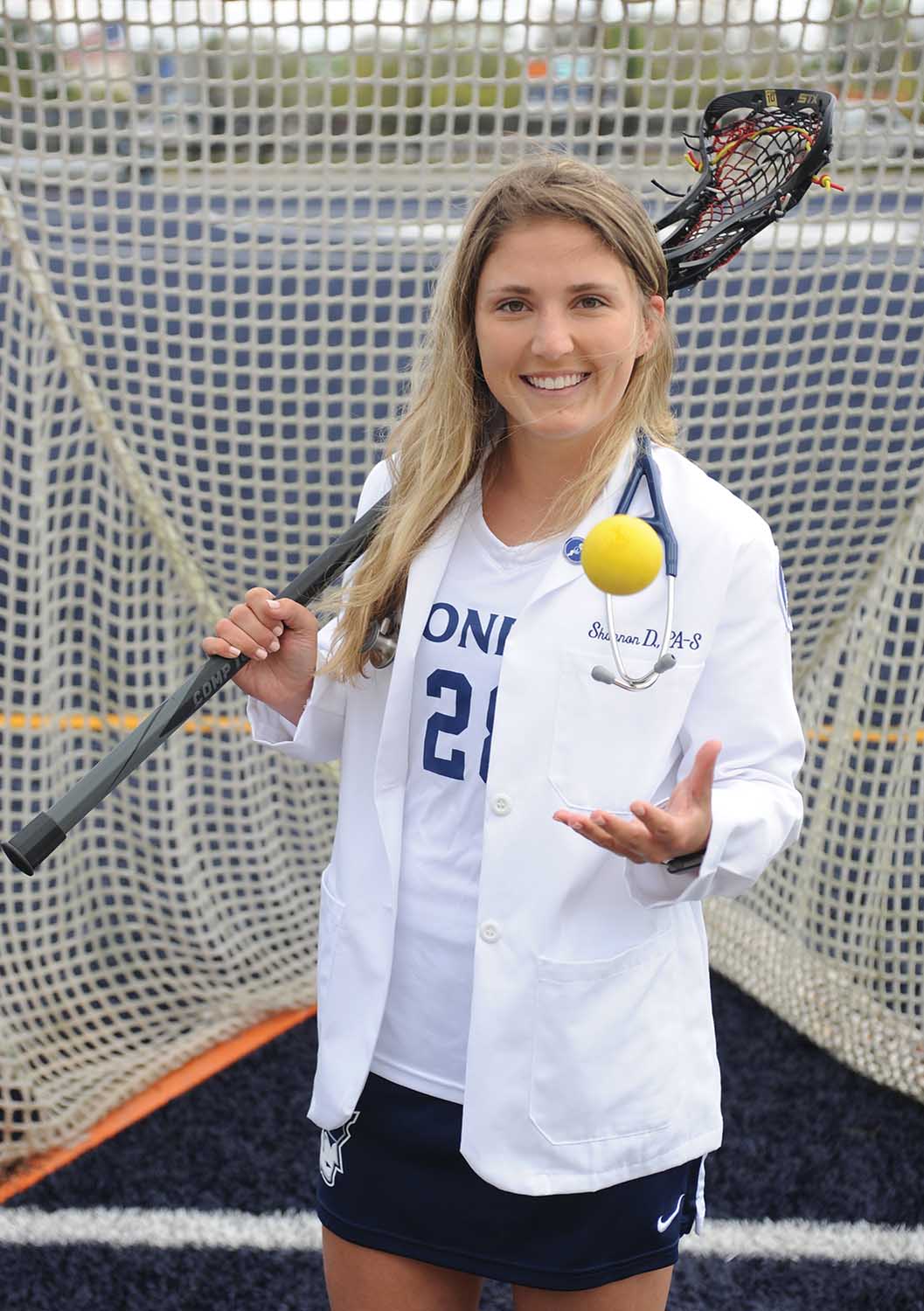 There was a silence on the charter bus that is typical when game time gets close.
Shannon Doyle PA'22, along with her Central Michigan University teammates, was starting to focus on the lacrosse game she would be playing in about two hours against Kent State. Driving on Interstate 80 and with about 40 minutes left in their five-hour drive, Shannon got the stunning news that her career was over.
"We were ready to play a game that day and then we were supposed to play Akron two days later, but we were told to turn around. The season was over because of COVID," Shannon says. "There were a lot of tears, and it took me a while to process it, but I just wasn't ready to be done."
She had the option to return to CMU for the 2021 season, as the NCAA granted all spring athletes another year of eligibility. But Shannon was already committed to enrolling in Marietta College's Physician Assistant Studies graduate program.
"I interviewed for Marietta's program in October (of 2019) and had my decision a couple of weeks after that," she says.
Well aware of the academic rigor of the PA Program, Shannon knew she wouldn't have much free time. But she had this nagging desire to play lacrosse for one more season. Undeterred, she contacted Marietta Coach Malory Nadrah and Miranda Collins, the College's former Director of the Physician Assistant Program, to see if there was any way she could play for the Pioneers.
"I had been warned about how intense it was going to be in the PA Program, but I wanted to give it a try," says Shannon, who also starred at Mars Area High School in Pennsylvania. "I figured the absolute worst-case scenario is it doesn't work, and I don't get to play."
It worked out well for everyone and Shannon became the first Marietta College PA student to play a varsity sport. And she helped the Pioneers to a 7-10 record and first appearance in the postseason.
"I didn't give it much thought at first, but now that the season is over, it is a cool thing I was able to do," Shannon says. "Now I hope there are other PA students who are able to do it in the future."
Nadrah was on board after their initial conversation. She spoke with Shannon regularly and that helped make everything work so well.
"Going into this situation, I knew how important and time consuming her graduate program was. I didn't want lacrosse to hinder her studies whatsoever, but I also wanted to give her an opportunity to play," Nadrah says. "We were on the same page, and I also made the team aware of this as well. They knew from the get-go she was not a traditional student like they are; her expectations had to be different. Shannon's personality, work ethic, and talent as a player and a student made this all work. She always asked what was needed of her, and made sure she knew the game plan. When her cleats were on, she went all out for us."
Shannon competed in every home game and made two road trips: a regular-season game at Baldwin Wallace and a first-round Ohio Athletic Conference tournament game at Capital. In the tournament game, Shannon led the Pioneers with five goals, four draw controls and two caused turnovers. Playing in 11 of Marietta's 17 games, Shannon led the Pioneers with 29 goals, 29 ground balls and 17 caused turnovers.
"Let's be honest, Shannon is a stud," Nadrah says. "She is an incredibly well-rounded player. She was able to contribute on every part of the field. While she is talented, her work ethic and hustle are the most impressive."
Shannon was named first team All-Southern Conference her sophomore year and second team her junior year. She was also a preseason first team selection her senior season. She was also named Academic All-Southern Conference her final three seasons with the Chippewas.
"I think my new teammates were receptive to my experience and my knowledge of the game. I tried to help in any way I could," Shannon says. "If coach wasn't as flexible and open to it as she was, there was no way I could have done this. If it had been any person other than Malory Nadrah it wouldn't have happened."
"Shannon fit to our team like a puzzle piece. This spring was only our third season; our players are still developing and gaining important experience. Her seasoned play really inspired our younger players on the field during tight games."
— Malory Nadrah, Head Coach, Women's Lacrosse
Shannon also needed the support of Collins and the PA Department. Collins was hesitant at first.
"Knowing the rigor and demands of the program, I honestly wasn't sure it would be possible, but I also felt bad that COVID cut her athletic career short," Collins says. "After talking with Shannon and Coach Nadrah, it became clear that we could make this work. In addition to being a strong student, Shannon's time management skills and dedication to her studies allowed her to accomplish a healthy work/life balance."
In sort of a role reversal, Shannon says playing lacrosse gave her a few hours a week to completely forget about her studies.
"As a Division I athlete, you sometimes are looking for something to take your mind off your sport," Shannon says. "Without lacrosse this year, all I would have been doing is going to class and studying from 9 a.m. to 10 p.m. Being able to play gave me that competitive outlet I needed and the closure I needed."
She also filled an experience void on a Marietta program that was in its third season of varsity competition.
"Shannon fit to our team like a puzzle piece. This spring was only our third season; our players are still developing and gaining important experience. Her seasoned play really inspired our younger players on the field during tight games," Nadrah says.
Despite her concerns, Collins is thrilled that the arrangement worked.
"I am extremely grateful that Coach Nadrah understood Shannon's school demands and provided the flexibility she needed to prioritize her studies and future career," Collins says. "I am in awe of Shannon's determination to do it all. She is an amazing student-athlete, and the PA Program could not be prouder of her accomplishments both on the field and in the classroom."
Shannon is now ready for her final year in the PA Program, doing clinical rotations, and she was able to get the closure she needed.
"I recently went back to CMU for Senior Day. They invited all of us back from last year and it was great to see everyone again," Shannon says.
"However, I'm very glad I came to Marietta and found a way to play one more season. It's very different from CMU, but a good different. I wouldn't have been able to compete like I did at CMU. This was a good end of my career. I had fun and made a lot of great friends."
- Tom Perry