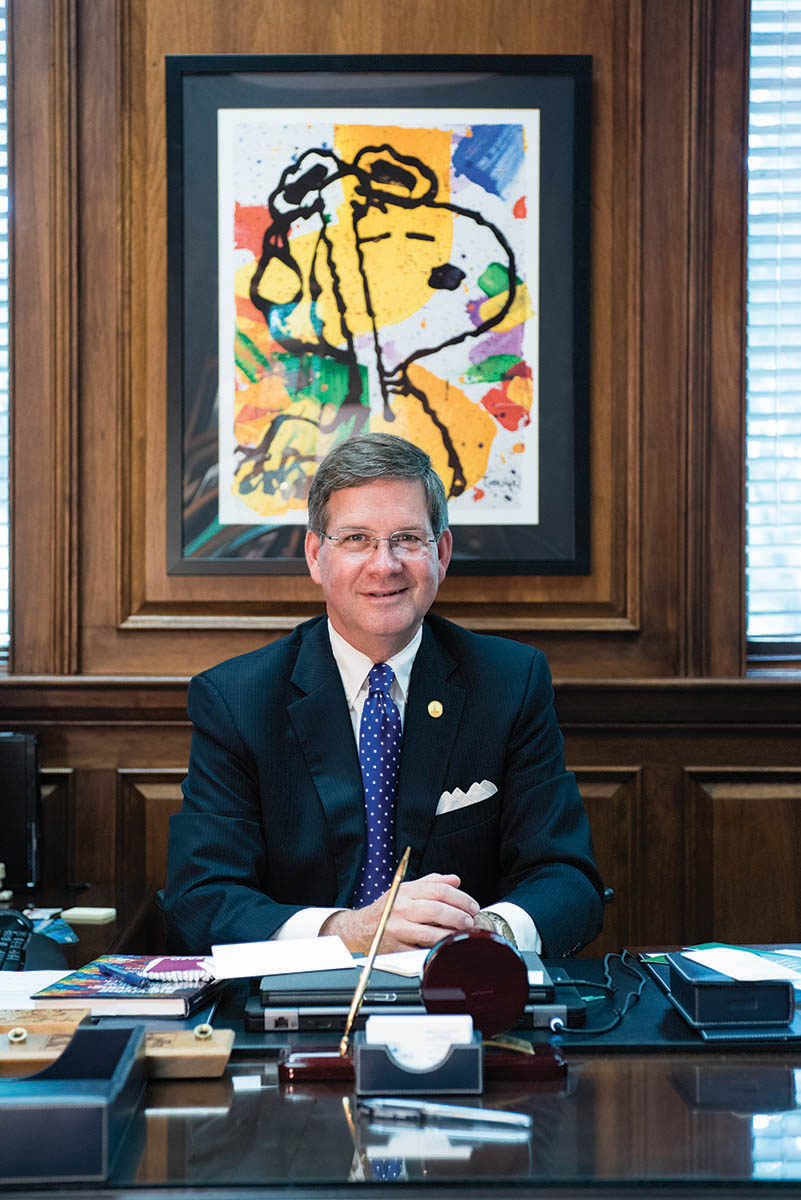 Hello VIPs – Very Important Pioneers! Have you booked your hotel reservations yet? Well, let me give you some advice: you had better do it soon if you are coming back to campus for Homecoming Weekend 2021.
After taking a year off because of COVID-19 restrictions, you will NOT want to miss this year's celebration. Of course, we will be celebrating the Class of 1971's 50th anniversary, but we are also excited that the Class of 1970 asked (and, of course, we enthusiastically said yes) to return to celebrate their Golden Anniversary as well. We did our best to celebrate virtually, but that just was not good enough. We are going to have two classes ready to party 1970s-style on campus and along the banks of the Ohio River.
We are still working on some of the finer points, but I can tell you that no matter when you graduated, you will want to be here from October 21–24.
In what has become a tradition and the unofficial kickoff to Homecoming weekend, the Lambda Chi Pig Roast will be held on Thursday, October 21st. If you cannot get here on Thursday, then I encourage everyone to be here by Friday to make your way to The Christy Mall and mingle with alumni from all eras during the All Alumni Welcome.
Naturally there will be some affinity group gatherings, including an anniversary dinner for the Alpha Tau Omegas at the Lafayette Hotel and an Alpha Sigma reunion at the Marietta Country Club.
On Saturday, you can hear some amazing stories about your fellow Pioneers as the MCAA Board honors alumni with a variety of awards, including the induction of individuals into the Hall of Honor. I know we are all planning for a perfect fall day in Marietta, so we should have a packed crowd for the football tailgate and the game against John Carroll at Don Drumm Stadium.
More groups will gather on Saturday, including the 150th anniversary gala for rowing, the reunion dinners for the Classes of 1970 and 1971, and reunion celebrations for Tau Kappa Epsilon and Alpha Xi Delta.
As we continue to make plans and prepare for our largest gathering of alumni back on campus for the 2021 Homecoming Weekend, we should all remember the significant role our graduates play in the continued success of Marietta College.
Members of The Long Blue Line are making a positive impact in organizations and communities throughout Ohio, our nation and the world. Marietta College alumni are executives in health care, CEOs of Fortune 500 companies, authors, entrepreneurs, medical professionals, actors, teachers, scientists and so much more.
As our alumni take on important leadership roles in a variety of industries, I'm proud to say many of them give back to their alma mater by mentoring undergraduate and graduate students. We saw this even more this past year as alumni connected with campus through Zoom presentations, or simply to share some insight into potential employment or internship opportunities.
Of course, our alumni make up a substantial segment — about 75 percent — of the nearly 4,000 donors who have helped us raise around $5 million this year.
We are blessed to have such generous and dedicated alumni who are making a positive impact on future generations of Marietta College students. All of us on campus look forward to welcoming you back to campus in October for what I know will be the most amazing Homecoming celebration we have ever hosted. Bring Forth a Pioneer!
Bring forth a Pioneer!

---
Follow the President Online
twitter.com/President_Ruud
instagram.com/presidentruud
facebook.com/MariettaCollegePresident