Get Connected with Marietta
The Art History minor at Marietta College allows students to explore a variety of time periods, art movements, and cultures, including the study of Asia, preparing students to engage with an increasingly interconnected world.
Marietta's Art History minor allows students to explore the concepts embodied in works of art in relation to a global framework of ideas. The program includes a course in museum practices, which provides hands-on training for work in galleries, museums, or other arts institutions. As part of the course, students research Marietta College's permanent art collection and propose and design exhibits for display in the art galleries on campus. The program also offers exciting possibilities for international travel and study — and Marietta College offers a robust financial aid program for students who plan to study abroad.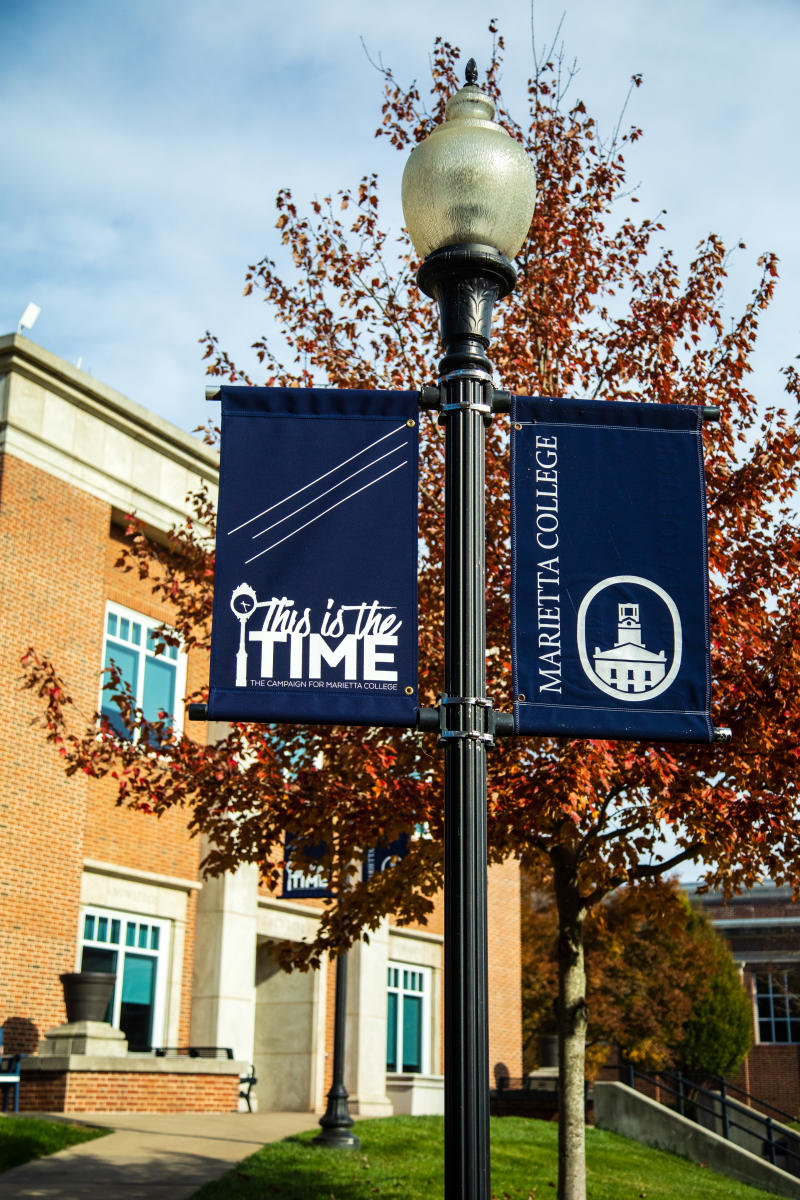 The Art History Minor
At Marietta College
The Art History minor at Marietta College complements any major because it helps develop students' critical thinking and communication skills. The minor also allows students to engage in a variety of cultures by studying meaningful art pieces in terms of their historical significance.
Earning an Art History Minor
Interested in Art History?
Contact this Undergraduate Program
Z Comer • 740.376.4694 • enz001@marietta.edu
PROFILES OF PIONEERING SPIRIT
I, Pioneer
Blazing New Trails
Read stories of people who are committed to making an impact in their professions, their communities and beyond.
Our pioneers have the knowledge, the passion and the courage to pursue change for the greater good, to make a difference in the lives of others, and to pave the way for generations to come.
Permanent Art Collections
The Marietta College Permanent Art Collection features works ranging from Pre-Columbian artifacts to abstract serigraphs. The College also has built the collection through patron donations of many individual works and collections over the years and from purchase awards granted to artists through national juried exhibitions. The collection features prints from master artists including Rembrandt Harmenzs Van Rijn, Kathe Kollwitz, James Abbott McNeill Whistler, Georges Rouault, and Henri de Toulouse-Lautrec.
Other purchased works featured in the collection originated as part of Mainstreams, the Marietta College Crafts Regional, or the Marietta College Crafts National - juried exhibitions formerly hosted by the Art Department. Many pieces were purchased from individual artists and added to the Permanent Art Collection including sculpture, textiles, oil and watercolor paintings, and jewelry. Over the years, many of the artists who participated in these exhibitions have received wide acclaim, including sculpturist David Hostetler, furniture artist Christopher L. Weiland, sculpturist Tom Deady, and painter/alumnus Charles L. Peterson '51.
The College's Pre-Columbian and African Collections originated from gifts of 24 separate donors beginning in 1974. This part of the Permanent Collection includes ceremonial masks, tapestries, bowls and other terra cotta vessels, figurines, jewelry, and hunting and cooking tools. Many of the artifacts are rare and bare detailed engraving or pigment markings.
In 2003, Marietta College received the donation of four-color serigraphs from Paul Koether by Portsmouth-born artist Clarence Holbrook Carter. Purchased from the artist in 1978, these serigraphs have been featured in museums along the east coast of the United States, including Harvard University's Fogg Museum of Art.
Related Programs
See More of Marietta