Paul Adams '69 doesn't remember the first time he met Gerald "Jerry" Evans, the late Professor and Chair of Marietta's English Department, nor can he identify any "aha" moment when a flood of memories about his mentor came rushing back. In fact, Adams knows very little about Professor Evans's personal life.
"Jerry Evans was a private man. … There was a lot of turmoil on the Marietta College campus during those years and, to this day, I have no idea if Jerry was a Republican or a Democrat, whether he was in favor of or against the Vietnam War, or how he stood on any issue during that time," Adams says. "He never spoke about those things; whereas many other professors on campus were very open about where they stood on those issues, particularly the ones that were critical of our involvement in Vietnam."
It was Evans's professionalism, the passion he had for literature and the utmost respect with which he treated his students that formulated a lasting image of Professor Evans. It was that enduring impression that led Adams to help rally support from an anonymous 1967 graduate to endow the Gerald Evans Scholarship.
Evans was hired by President W. Bay Irvine to replace Dr. Earl Russell Jr., who was joining Mount Union College's faculty. Evans, a native of Wheeling, West Virginia, was still a doctoral candidate at the University of Minnesota when he began teaching during the 1959-60 academic year. Though he taught freshman-level English, which was required for all students, Evans also taught advanced courses such as medieval literature and grammar to students in the major.
"He was not like a father figure, nor was he a chummy kind of guy," Adams says. "He was slightly on the formal side; in fact, he called all of his students 'Mr.,' 'Miss,' or 'Ms.' And he treated every one of his students with a level of respect that I had never encountered in high school."
As a shy kid from New England, Adams recalls that he felt unprepared for the rigors of being an active participant in Evans's grammar class until the day he raised his hand to offer some sort of response to that day's discussion. Adams recognizes that the manner in which his professor taught his courses — without relying on notes or scripted and recycled lectures — proved that he was an authority in his subject as well as a passionate and talented teacher.
"He referred to my comment two or three times during the rest of the class," Adams says. "When class ended and students were filing out, he looked at me and waved me over with his hand, and said, 'Mr. Adams, can I speak to you for a minute?' and I thought, oh great, what did I do now? I didn't think that I had misbehaved, but he drew me up and said, 'I just want to tell you how much I appreciated your contribution.' And I think, because I had been fairly quiet in that class, he said, 'I think you really have a feel and an understanding of this. Your contribution was very helpful. Don't be reluctant to do that again, to speak up again.'"
From that day, Adams says, he felt valued for his mind and began to develop a closer bond with his professor through their shared affinity for literature. During his time at Marietta, Evans earned the rank of full professor, served as Chair of the Department, and was an avid fan of the baseball program. The Harness Fellow Professor of English continued to teach for several years after he retired in 1992. He passed away in Marietta on January 4, 2000, at the age of 70, and was survived by his wife, Lyn, three daughters, Robin, Lori and Vicki, and one son, Paul, plus grandchildren and his siblings.
"I remember walking out of Erwin Hall one day, walking toward the center of town, and he wanted to get home to his young son. We had just walked out of class and we were talking about poets and poetry and how some poets were unrecognized in their own time but celebrated after they died," Adams says, recalling how the two discussed Robert Frost as falling into that category.
Evans told his student that he had considered writing something on that topic and submitting it to a literary journal. He also suggested that Adams consider tackling it in a special project or Honors submission.
"After a couple of minutes, he had to go, he was in a sort of a rush," Adams says. "I was thankful to have that moment with him. It was an opportunity for me to engage him in a way outside of class, and it struck me that he was what good professors are or do — and that he was thinking about his profession, not just when he was standing in front of a class, but all the time."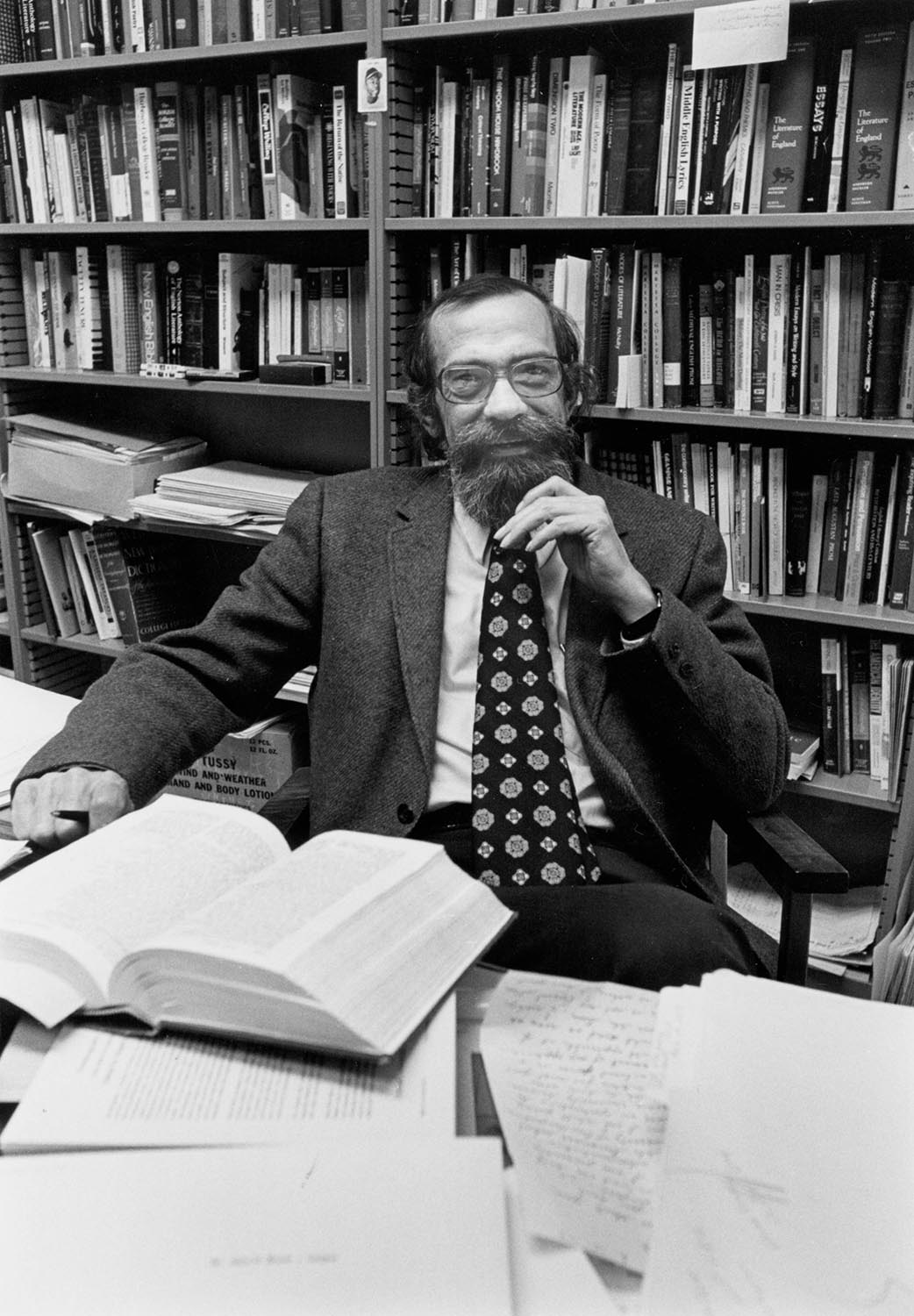 The Gerald Evans Scholarship is a four-year renewable scholarship awarded to a student with good academic standing who is pursuing a degree in the Humanities such as English, History, Philosophy, Religion, Modern Languages and Political Science. Last year's scholarship provided $1,100 to the selected student, but that number varies on the fund's investment returns. Email Kathryn Gloor (skg004@marietta.edu) to help support this endowed fund.
Do you have a defining Marietta Moment you would like to share?
Send us a description of your experience. Email: marketing@marietta.edu
Mail: Editor, Marietta Magazine, Office of Communication and Brand Management, 215 Fifth St., Marietta, OH 45750