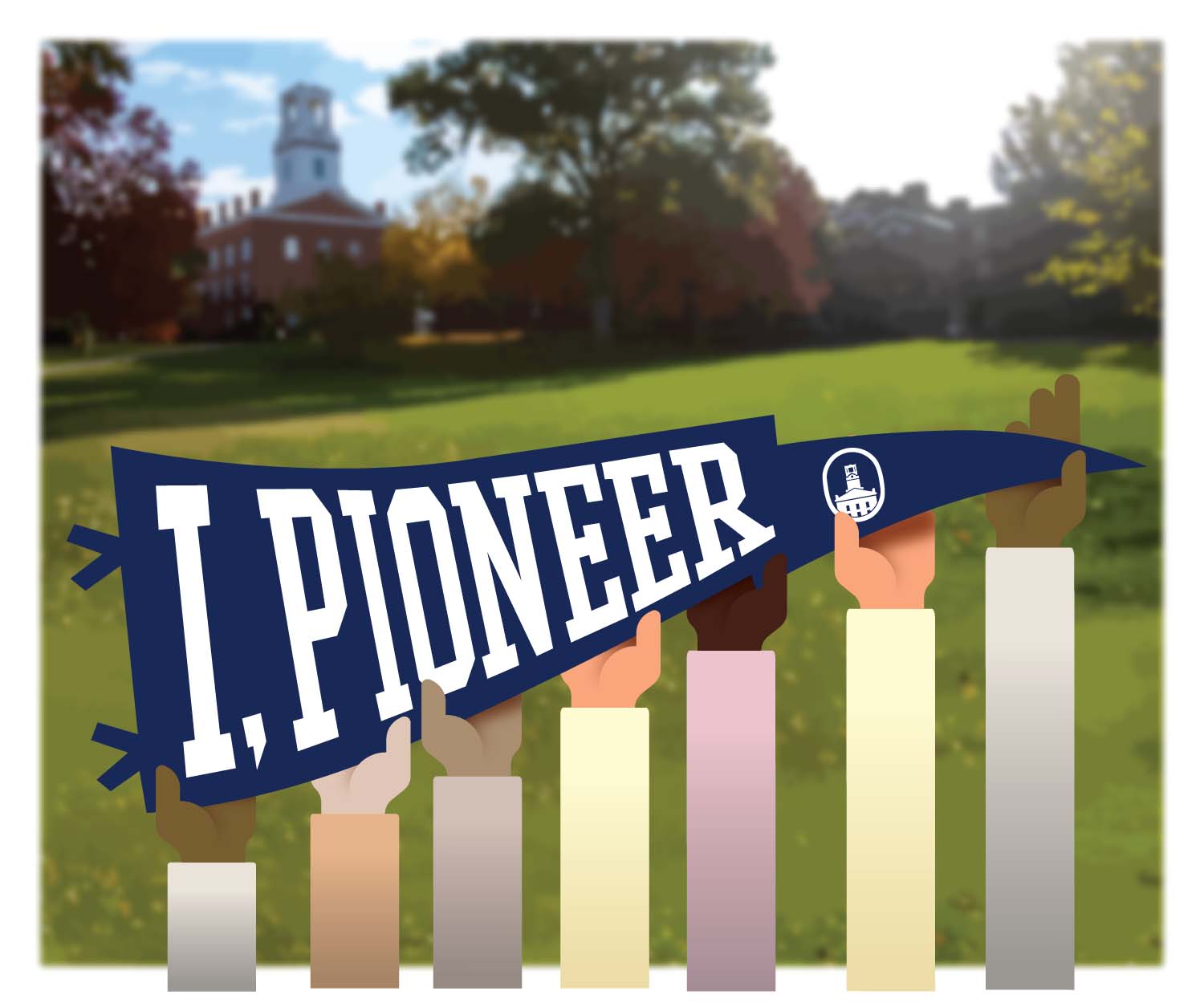 How Marietta College's Community has
Evolved the Pioneer Image
Not long ago, Marietta College made a bold call to action to students, alumni, faculty and staff: Bring Forth a Pioneer.
But what makes a pioneer? Is it a status that is finally achieved at the end of a long career filled with record-breaking accomplishments? Is the title reserved for someone who makes a life-changing discovery or reaches a level of fame in their profession that everyone else aspires to achieve?
Yes, of course, landing in any of those categories makes you a pioneer — but those aren't the only benchmarks. Marietta's pioneers are people who commit themselves to making their industries and their communities better, and who pave the way for future generations to take up the task and continue to push forward.
Marietta College has seen its fair share of clear-cut trailblazers — NASA astronaut and surgeon Dr. Story Musgrave '60, acclaimed author Joy Williams '63 and the late medical researcher and Assistant Surgeon General Dr. Richard Krause '47, to name a few. But Marietta's brand and call to action go well beyond people who are "the first," "the only" and "the best of the best" — they reflect alumni, current students, faculty and staff who are driven to use their education, their skills and their situations to make an impact today and pave the way for others tomorrow.
While the Bring Forth a Pioneer brand will remain how Marietta expresses its mission and values as an institution, the I, Pioneer series is a way for the College to help the community understand the dialogue and the visual message behind what it means to bear that name today.
"The challenge was to show that the term 'Pioneer' is still relevant, attainable and inclusive," says Marietta College President Dr. William N. Ruud. "The Office of Communication and Brand Management pulled its creative resources together and developed a comprehensive way for the College to tell our pioneer stories and to illustrate their diversity in order to reach not just our immediate community, our alumni and friends, but to also reach potential, future Pioneers."
One of the more inspiring stories that contributed to the messaging of the I, Pioneer campaign stemmed from a recent story in Marietta Magazine. Ashley Thomas '14 was featured for being the first African-American elected to a full term on Garfield Heights City Schools Board of Education. But the election was only the beginning for Thomas, a single mother of a young daughter. She began a community outreach program, Sevynteenth, to directly engage local youth, and with it she made a bold commitment:
"I, Pioneer of Garfield Heights City School Board, will help change the lives of every student in this district by making sure every child has access to exceptional educational opportunities," says Thomas, who earned a Bachelor of Arts in Sport Management and also holds a Master of Education from Cleveland State University.
For Thomas, quitting is not an option. Focusing only on her family's needs is not an option. She knows that the path to improving the Greater Cleveland area in the long term is to focus on the children — and children need attention every day.
"When we first began discussing this project, Ashley's name kept coming up," says Tom Perry, Vice President for Communication and Brand Management. "She is a young alumna who very easily could be focusing on building her own professional portfolio, but instead has decided to put her efforts into building her community by providing educational opportunities and mentorships to local youth. She is inspired and she is inspiring."
The paths pioneers take are vastly different and are made up of highly personal experiences that fuel their drive to do something special.
Adriana Roberts '90 had no idea how her life would turn out after earning a Bachelor of Arts in Radio/TV, an Art minor and a Theatre-based Oral Communication Certificate from Marietta.
"I throw parties for a living," Roberts says. "I jump up on stage, get everyone excited about having a good time and we have a dance party. You wonder, 'How the hell did MC prepare me for this?'"
Looking back now, it makes sense to Roberts, who is the owner and CEO of Bootie Mashup, a California-based company that throws nightlife and mashup dance parties around the world. Going to a small liberal arts college, she had her hands in so many different types of clubs, projects and jobs — from learning graphic design as a work study student to creating her own radio show — that eventually her skills translated into an interdisciplinary career.
"It's a confluence of skills that have been weirdly developed during my time at Marietta," she says. "I was able to do my own independent study, make my own film, direct a play. What I was trying to do was to create my own major: creative media. I run my own business and can do what I do, weirdly enough, thanks to that liberal arts education. McDonough was brand new at the time, and though I wasn't a part of it, the leadership and business aspects were trickled into different areas of the college. I run a team of DJs and performers across the world now. Because it was a small school, it was OK to be involved in a bunch of things. And if it wasn't there, you got to create it."
Building a unique company wasn't her only calling. Roberts, a trans activist who identifies as a trans feminine woman, was one of the first people in California to successfully change their gender to "non-binary" — and whose driver's license bears an "X" in the gender category.
"My career and my identity — my day-to-day life — are not wrapped up in gender politics," she says. "I'm a DJ and an entertainer and a business owner, and I want to normalize [gender rights]. Literally, we are only talking about humanizing people. … Awareness is half the battle. Most people are not aware of people other than themselves — whether that's gender, race, religion. The way that I have chosen to live my life, I always try to lead by example. No soapboxes. I try to be as good as I can to other people."
The I, Pioneer series includes a mix of stories, graphic design, videos, social media and podcasts that help create a fuller picture of the graduate, current student or employee. By taking this multimedia approach, the story of what makes a Marietta College Pioneer has a better opportunity to reach greater audiences."This can reach prospective students to show what they can be a part of, inspire current students to create their own paths — and it can also provide a tremendous resource for our featured pioneers to be able to use what we have created to promote what they are doing professionally," Perry says.
We had a lot of people tell us we were coming into an oversaturated area. We opened right on the heels of Planet Fitness, and there are so many other gyms in the area, but we felt really strongly about what we could bring to an area like Marietta.
— Rachel Worthington Burnham '12
What Scott '11 and Rachel Worthington Burnham '12 are doing professionally has been many years in the making — and truly is a passion project.
The two met at Marietta as students. Scott studied to be a petroleum engineer and Rachel was focused on working as a public accountant at one of the Big Four firms. Both graduated, left the Marietta area and reached their individual goals, as well as marrying in 2015. But the downturn in the oil and gas industry and another passion that the couple shared — fitness — soon led the couple to move back to the area. Scott, who is still a full-time engineer for a natural gas distribution company, and Rachel decided to start a company in downtown Marietta: Rockstar Wellness LLC.
"We had a lot of people tell us we were coming into an oversaturated area," Rachel says. "We opened right on the heels of Planet Fitness, and there are so many other gyms in the area, but we felt really strongly about what we could bring to an area like Marietta."
Outside of his 8-to-5 job, Scott is an avid runner who handles a variety of management and day-to-day operations at the fitness studio, which is located on Second Street. When the pandemic hit, the Burnhams were prepared to keep the fledgling business open.
"Mentally we were prepared," Scott says. "It was one of those times that you just had to roll with the punches. That's also how it is in petroleum engineering: you make the best decision with the best information that you have. Going remote was a challenge, but we navigated it very quickly. We knew there was a demand, and we just had to figure out how to provide it. Our clients were still there, and they still needed to have what we had to offer."
Rachel says walking away from her original plan to be a Big Four accountant in order to follow her dream of helping others achieve a healthy lifestyle was never a tradeoff. "My favorite story is of a young woman who came in for her very first class," she says. "She works for a nearby bank and she knew she'd have to walk by our place every day, so she let a coworker talk her into coming."
The woman had no idea what a fitness class would be like or how she would be treated. Rachel and staff learned her name the first day and got to know about the woman as much as she would share.
"She was a back row participant for a while and, within three months, she was shining in the front row," Rachel says. "Now, she's an instructor. It's my favorite success story — being able to watch her confidence grow, and now it flows out of her. To me, that's what this business is about; that's what makes Rockstar one of the most rewarding things. It changes people's minds and it changes the way people care for themselves. Can you imagine being able to help someone do that?"
Like the Burnhams, some current I, Pioneer profiles are people who have multiple passion projects.
Dr. Lauren Thompson '07 is an Assistant Professor of History and Director of Ethnic Studies & Gender Studies at McKendree University in St. Louis, Missouri. She also wrote her first book, Friendly Enemies: Soldier Fraternization Throughout the American Civil War, which was published in August 2020.
McKendree is a liberal arts institution — very similar to Marietta, Thompson says — where about 60 percent of the student body is made up of student-athletes and there is a heavy focus on the arts and theatre.
"About a quarter of our students are students of color, and one-sixth of our students are international, so we are lucky that we have a lot of diversity," she says.
In addition to teaching a Civil War course, her role at the university focuses on teaching race and ethnic relations, as well as some gender studies topics.
"I guess it's my passion, but also because of the need of society right now, that I teach African American history and race and ethnicity in U.S. history," she says. "But I'm also the Chair of Diversity Assessment and on the Social Justice and Equity Committee, and the advisor for the Black Student Organization. So, I guess I kind of made my mark on my university — not so much in Civil War, but a lot more in social justice and kind of using my privilege as a white woman to speak out about racial injustice and get a lot more people who look like me to listen and understand that Black history and Indigenous history is not something that you just study if you're Black or Indigenous, but it's actually American history. And until we understand the truth about what happened in our history, we will never learn; we will never grow as a society."
Thompson says the journey to earn her Ph.D. and write her first book was an isolating experience. While many of her fellow Marietta grads were entering their professions or starting their families, she was studying, and home was where she attended graduate school or interned. Though she often felt alone — especially during long winter breaks when she interned at the Fredericksburg & Spotsylvania National Military Park in Virginia and was sometimes the only person living in the park quarters — she knew the experience would inform her teaching profession.
Coming from a family of teachers and having incredible mentors at Marietta College, including Dr. Jim O'Donnell and Dr. Matt Young, she knew her career as a professor would be modeled after caring and effective mentors. Her professors opened their office doors and also opened their families up to Thompson, who had lost her father while at Marietta and who sometimes could not return to her family's Pittsburgh home because she didn't have a car."That's why I have a niche for not just history — which is obviously my passion — but for helping students like me who might not have everything figured out or who might not make really good decisions sometimes, but then sometimes really need somebody to sit there and say, OK, you can do this or you are going down this path of maybe not the best ideas," Thompson says. "Or just be somebody who can be a voice of reason who is not a parent or a direct peer, but more of a mentor."
Life will present many second or third chances, be it your education at Marietta or in life. Seize the moment, seize the opportunities when they present. Never leave yourself in a position to say, 'If I had only done ….'
— Dr. Kenneth Andrus '70
Like Thompson, Dr. Kenneth Andrus '70 also uses his educational and professional background when writing.
After he earned a degree in Biology from Marietta, he continued to medical school — following the medical path of his father, who was a physician, and his mother, who was a registered nurse. He completed his residency and was Board Certified in internal medicine at the Naval Hospital in Portsmouth, Virginia, and he decided to pursue a career in the U.S. Navy. After 24 years, he retired at the rank of Captain, and then worked for another dozen years with Veterans Affairs.
It was then that he almost retired.
Alumni like Dr. Andrus easily fall into the I, Pioneer-worthy category: Educated, passionate and interesting. Most of all, he is willing to share his interesting journeys and knowledge through his novels, which include the military-based thrillers Flash Point and Amber Dawn, which are part of his Defender Series, and his close-to-the-heart book, Congratulations, Your Daughter Is Engaged. Now What? A Father's Emotional Survival Guide.
"In retrospect, I backed into this latest chapter in my life," Andrus says. "I've always liked to read — Michener, Allen Drury, Allen Eckert, Forrester. I even plowed through Ayn Rand's tomes in high school, although I about died trying Atlas Shrugged again a few months ago. What really drove me, though, was my experiences in the first Gulf War, where I served as the command surgeon for the Navy medical forces in theater."
Though he didn't go into details, he says he was compelled to write a book that provided some insight into the incredibly difficult decisions that had to be made during that experience that could not be espoused in a 30-second sound bite on the evening news.
"I.e., those behind-the-scenes decisions that began with the President and how those decisions impacted the men and women on the front lines who had to execute the mission," Andrus says. "That rather well-intentioned, but naïve thought provided the foundation to write a novel — a project I had absolutely no idea how to do. But thanks to study over the ensuing years, writing conferences and a major assist from three phenomenal mentors, all New York Times best-selling authors: William Bernhardt, William Martin, and Jaquelyn Mitchard, I've managed to publish Flash Point and Amber Dawn, the first two novels of a five-novel set."
With the vantage point of someone who has delved into and succeeded in complex professional fields, Andrus offers his insight — with zero arrogance — into his ability to have fulfilling careers in medicine, the military and the publishing industry.
"Life will present many second or third chances, be it your education at Marietta or in life," Andrus says. "Seize the moment, seize the opportunities when they present. Never leave yourself in a position to say, 'If I had only done ….'  Make the most of where you are and leave everywhere you've been a little better for having been there. Learn how to learn; always have an open, active mind; and learn how to adapt and thrive in these changing times."
That guidance may be exactly what current and prospective students may need to hear as they determine which paths their careers and lives may take.
Emily Kinney '22 is one of those students who, though still an undergraduate, is taking on the easily identifiable traits of an I, Pioneer subject.
In a small lab sandwiched between two larger biochemistry/chemistry labs in Rickey Science Center, the Biochemistry and Mathematics double major works alone on a research project, trying to determine the effect of heptyl paraben on melanoma cells.
During her solitary research, she takes a break to participate in a photo and video shoot for the Office of Communication & Brand Management. She takes every opportunity to talk about what she would like to learn in her research, and is willing to stand in various spaces in the lab to set up the shot. Eventually, she knows, the guests in her lab will leave and she will be able to return to her real focus: determining how melanoma cells die when exposed to heptyl paraben — whether it's through necrosis or apoptosis.
So why does a student who has not yet determined her career path earn a spot as an I, Pioneer? Simply, it's her passion to work when no one is expecting her to or watching, and it's her understanding of how she can help others regardless of her "professional credentials."
"When I was a freshman, I would always walk by the doors of the research lab," Kinney says, "and there were always older students there doing research. Seeing students in the lab gave me a goal to aspire to. I hope to do the same for younger students. In the chemistry research labs, the more experienced students help to teach the less experienced students how to do research and how to carry out the experiments."
Gi Smith
"I, Pioneer of Garfield Heights City School Board, will help change the lives of every student in this district by making sure every child has access to exceptional educational opportunities.
—Ashley Thomas '14
The I, Pioneer Series is an ongoing project — and we need your help identifying great representatives of what it means to be a Marietta College Pioneer! Submit your nominations to marketing@marietta.edu.