Get Connected with Marietta
At Marietta, you will gain the education to become a perceptive reader, logical thinker and persuasive writer.
Whether you are analyzing Shakespeare or preparing an annual report, at Marietta you will gain the education to become a perceptive reader, logical thinker and persuasive writer. Our graduates are authors and English teachers—as well as attorneys, software engineers, hospital administrators, technical writers, public relations specialists, and CEOs. Majoring in English is about learning to interpret and analyze information, crucial and marketable skills in today's information-driven economy.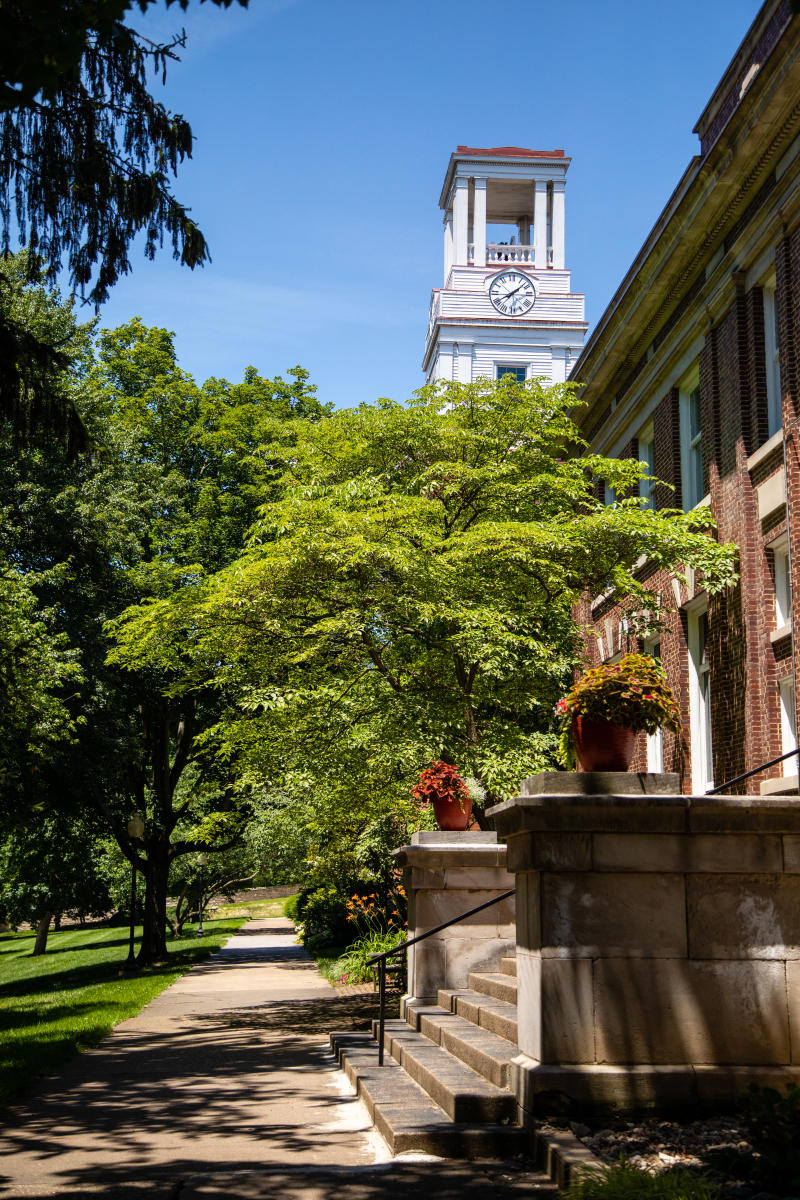 The English Major
At Marietta College
All of the English faculty at Marietta are writers, so you will learn writing skills from experienced authors. In your senior capstone project, you will work with professors and students as a community of scholars to apply cutting-edge theoretical approaches to literature, whether your focus is cultural studies, textual criticism, postcolonialism or cognitive psychology. Your project will demand the kinds of critical analysis and communication necessary both in graduate school and professional careers.
Other campus opportunities include workshops and readings with visiting writers; presenting your poetry or fiction at our Pizza, Poetry and Prose series; and submitting your work to Pulse, the literary magazine published by Marietta's chapter of Sigma Tau Delta, the national English honor society. The Department also brings in professional writers to conduct workshops with students and present public readings to the community. This includes Andrew Grace, Amy Irvine McHarg, Dan Chaon, Anthony Doerr (Pulitzer Prize Winner), Joni Tevis, Sharon Hatfield, Andrew Hudgins, James Harms and David Citino.
Earning a Degree in English
The English Department also invites all students to enter these contests every year:
The Lawrence M. Howard Memorial Scholarship
Value: approximately $1,400
Open to juniors and first-semester seniors
Applicants submit a portfolio of writing samples
Guidelines for submission are available at the English Department office
The Stephen Schwartz Prize for Poetry
Value: $100
For the best poem submitted by a student
The Emerson Prize
Value: approximately $140
For the best poem or group of poems by a student, representing a substantial creative effort
The Margaret Ward Martin Prize
Value: approximately $115
For the junior or senior submitting the best original piece of creative writing
The Burton E. Stevenson Prize
Value: approximately $100
For the best essay devoted to American literature
Further information and printed guidelines are available at the English Department office (Thomas 216).
Interested in English?
Contact this Undergraduate Program
Dr. Nathan Anderson • 740.376.4638 • npa001@marietta.edu
PROFILES OF PIONEERING SPIRIT
I, Pioneer
Blazing New Trails
Read stories of people who are committed to making an impact in their professions, their communities and beyond.
Our pioneers have the knowledge, the passion and the courage to pursue change for the greater good, to make a difference in the lives of others, and to pave the way for generations to come.
Related Programs
See More of Marietta