Get Connected with Marietta
Driven and adventure-seeking students make use of their abilities and take charge of their future in Marietta College's Petroleum Engineering Program. This competitive major prepares students to thrive in careers in upstream oil and gas operations, specializing in reservoir engineering, drilling engineering, production engineering, completions engineering, and upper-level management. Our talented professors have extensive industry experience and are wholly dedicated to providing a comprehensive, in-depth education that is based in the liberal arts.
Marietta's Petroleum Engineering degree is one of the top of its kind in the country.  With our state-of-the-art facilities, leadership-focused courses, and abundant study abroad opportunities, this program is unlike any other in the nation. Over the course of their education, our students evolve into effective communicators, analytical problem solvers, and globally-minded professionals ready for the demands of an international career in petroleum engineering.
Students gain insight into every aspect of the oil and gas industry from experts in the field and conduct groundbreaking research with leading faculty. This Bachelor of Science program produces some of the most sought-after graduates in the nation. At Marietta College, you have the power to blaze a new trail in the competitive field of engineering.
More Department Info and Data
Department of Petroleum Engineering Vision, Mission, Educational Objectives, and Student Outcomes
Department of Petroleum Engineering Annual Enrollment and Graduation Data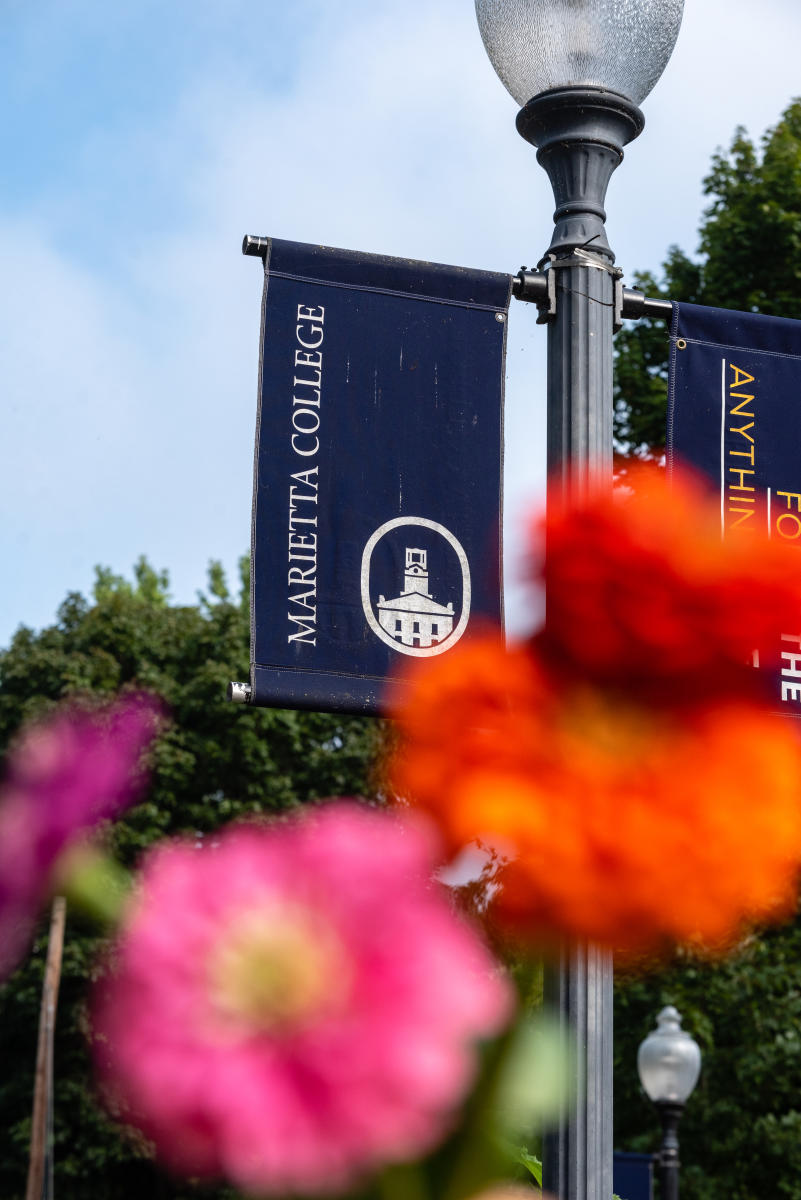 The Petroleum Engineering Major
At Marietta College
Our comprehensive curriculum establishes a firm core foundation of concepts required by all engineering disciplines, with the first two years of the major exploring courses such as advanced calculus, chemistry, and engineering reasoning.
As students progress to a higher level, they dive into the advanced and specialized concepts unique to petroleum engineering through classes on thermodynamics, reservoir engineering, and the details of drilling and completion fluids.
At the close of senior year, students complete the senior year capstone: a rigorous team project in an industry-style setting, designed to simulate the realities of a career in petroleum engineering. This comprehensive, integrated engineering design project moves through every technical aspect of the petroleum business—from a discovery well to shale play evaluation addressing related social, economic, and environmental issues or reservoir management through reservoir simulation study using a commercial black oil simulator.
All students in the program have access to our state-of-the-art facilities including the drilling and completion fluids lab, core fluids and analysis lab, and natural gas lab. They also carry out field studies at oil and gas wells located throughout the region.
The Edwy R. Brown Department of Petroleum Engineering and Geology offers a B.S. degree program in petroleum engineering that is accredited by the Engineering Accreditation Committee (EAC) of ABET, Inc., a federation of 35 professional and technical societies that is recognized as a U.S. accreditor of college and university programs.
We are a highly respected department and have been continuously accredited since 1984, the first petroleum engineering program at a liberal arts teaching college to receive accreditation. Our focus is on student learning, allowing each student to receive one-on-one help from professors to ensure academic success. Our faculty has considerable industry experience.
In addition to top-quality classroom instruction, there are summer internship opportunities. Beginning with freshman year, students have the chance to gain hands-on experience in exciting internships from the Ohio Valley to California -- and sometimes even abroad.
Students also have the opportunity to develop professional abilities in the chapter of Society of Petroleum Engineers, the American Association of Drilling Engineers, and the Society of Women in Engineering. These organizations meet regularly and students participate in conferences regionally, nationally and internationally.
Earning a Degree in Petroleum Engineering
The Petro program at Marietta College is widely regarded as one of the most focused in the nation. If you are considering Marietta for your undergraduate studies, request more information below.
Interested in Petroleum Engineering
Contact this Undergraduate Program
Dr. Ben Ebenhack • 740.376.4547 • bwe001@marietta.edu
Career opportunities
High Salary Potential
According to Payscale.com, Marietta College's Petroleum Engineering graduates earn on average $100,800 in the early part of their careers (No. 1 among all engineering schools), and $162,100 in mid-career salary (No. 2 among all engineering schools).
PROFILES OF PIONEERING SPIRIT
I, Pioneer
Blazing New Trails
Read stories of people who are committed to making an impact in their professions, their communities and beyond.
Our pioneers have the knowledge, the passion and the courage to pursue change for the greater good, to make a difference in the lives of others, and to pave the way for generations to come.
What You Can Do With a Petroleum Engineering Degree
Our students forge careers for themselves that extend to all four corners of the globe, often taking positions with international corporations that allow them to utilize the full scope of their skills. This degree program prepares you primarily for a lucrative career in the oil and gas industry, though our graduates have used their degree to find openings in a diverse range of industries.
Petroleum engineers often work in the field, implementing improved methods for oil and gas production, supervising wells, and facilitating daily operations. Office work can include positions as consultants or advisors to corporations large and small.
Further graduate study can focus on gaining more in-depth knowledge through master's and doctoral level degrees. Additionally, some professionals may return to school for leadership and executive focused degrees to continue their career trajectory.
Starting salaries for petroleum engineers are among the highest of the engineering disciplines. Our graduates have been hired full-time by companies including Anadarko, Baker Hughes, Chesapeake Energy, Chevron, Conoco Phillips, Consol Energy, Energy Corporation of America, Halliburton, Noble Energy, and Southwestern Energy.
Students who earn their Bachelor of Science in Petroleum Engineering can expect to find career security and lucrative positions with companies around the globe. According to the Bureau of Labor Statistics, the median annual salary for a petroleum engineer in 2017 was $132,280. Career opportunities in this sector are expected to grow 15% from 2016-2026, signally strong growth potential for our future graduates.
Related Programs
See More of Marietta