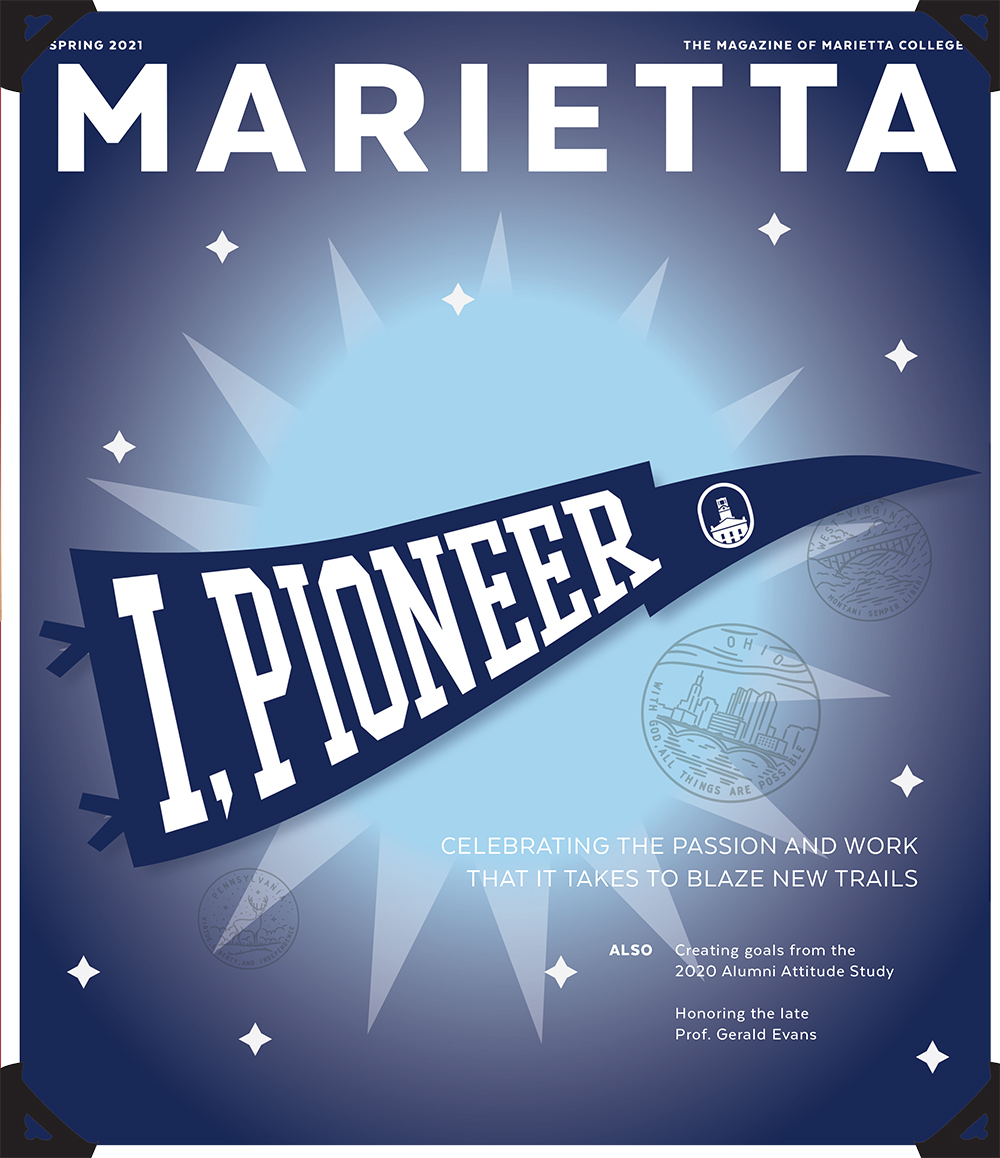 Spring 2021
After taking a yearlong break from printing the Marietta Magazine due to the pandemic, it is with great pleasure that we can return to that format.
This issue unveils a new and exciting series — I, Pioneer — which highlights alumni, students and employees who are committed to making their marks on their industry, their communities or in their personal lives. Coming to you in a multimedia format, this new series is designed to grow — showing how expansive, dynamic and evolving The Long Blue Line truly is — by adding new profiles each month to the special I, Pioneer section of the College's website. We invite you to nominate a current student, alumna/us or employee for consideration for this section via email at marketing@marietta.edu.
The magazine includes the story of the determination of student-athlete, Kate Liston '22, a member of the women's basketball team who overcame both a life-threatening medical incident at age 12 during at an AAU game and a season-ending knee injury last year during a Marietta basketball game. You can also read Paul Adams' tribute to Professor Gerald Evans and catch up with alumni who shared updates in our Class Notes section. As always, you are welcome to share your personal or professional updates with your fellow Pioneers.
New and Notable
Marietta Scene
Ben Heckathorn '22 (left) and Logan McPherson '22 are among the 16 brothers in the recently re-chartered Lambda Chi Alpha fraternity.
First-year Physician Assistant student Kathryn Kissner PA'22 volunteered to give COVID-19 vaccine shots at a drive-through clinic with Memorial Health System in Marietta.
Featured soloist Joanie Owen '23 (left) and Victoria Hughes '21 perform "Turn Back, O Man" during the Theatre Department's production of Godspell, which is set to stream on April 2nd and April 3rd. Get your free tickets at https://www.showtix4u.com/event-details/47750.
Track and Field's Laura Pullins '21 won the OAC Indoor Championship in the women's high jump for the second straight season, clearing a height of 1.64 meters (5 feet 4.5 inches). Her team finished sixth in the conference.
Feature
Defining A Pioneer
There is no set profession, achievement, financial status or age that defines a Pioneer. Marietta's trailblazers follow their own passions and impact communities throughout the country and the world in a variety of ways. This issue unveils the College's new I, Pioneer multimedia series.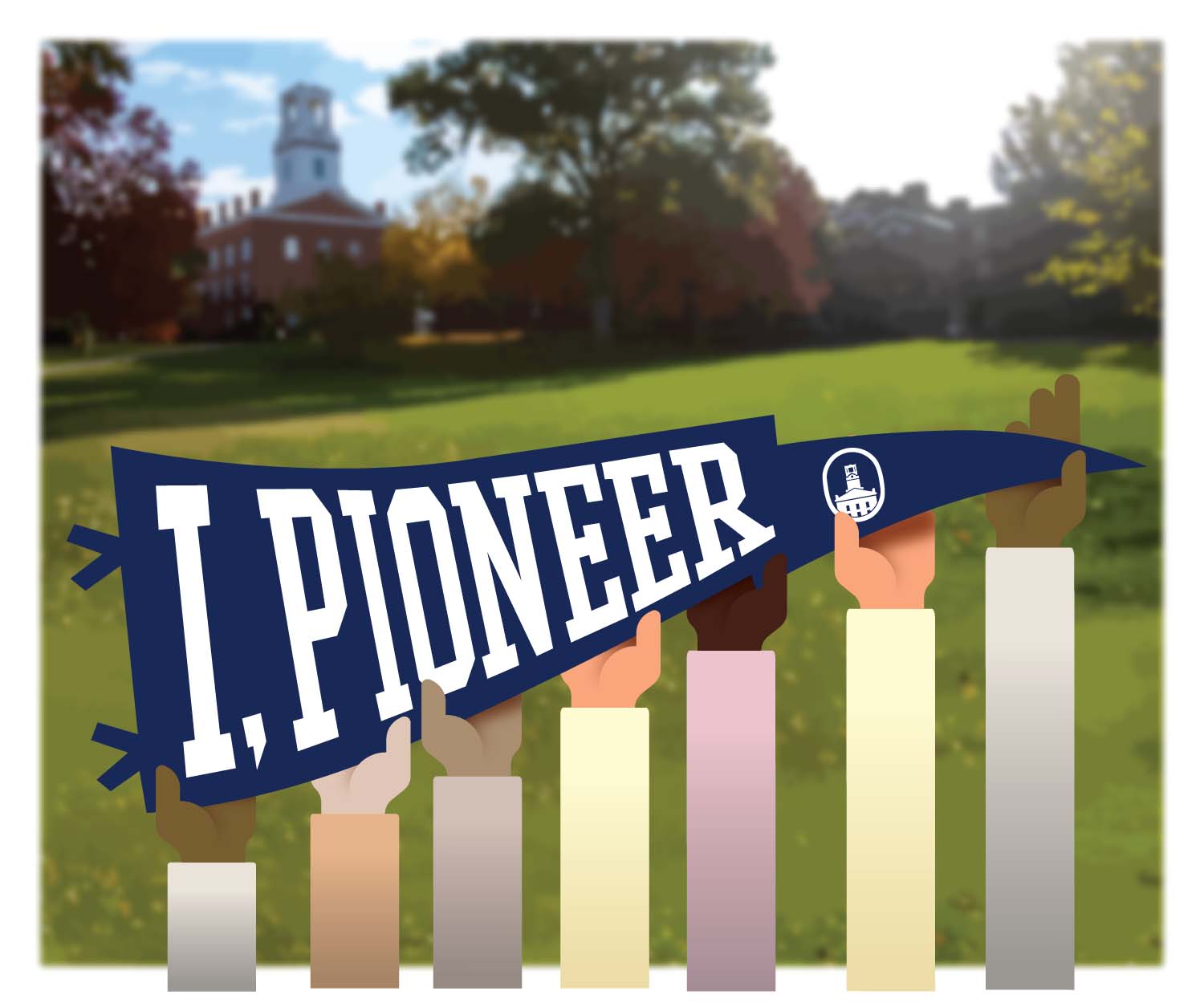 Stories of Marietta
Features
Longtime Physical Plant Director Retires
Fred Smith can talk about what it takes to plan and construct a massive residence hall, science center, athletics complex, library and planetarium. He can talk about fully renovating a building that was constructed in 1850 or the process of adding solar panels atop an athletic building. But if you ask about his own personal accomplishments during his 20-year tenure as the Director of Marietta College Physical Plant, his response has very little to do with him.
"I've been blessed and supported by a really strong team," says Smith, who retired on March 15th. "I've been so pleased with our Building Services crew for keeping us safe during COVID-19. Paul [Miller] and his team have done an excellent job installing plastic barriers in classrooms and offices to add COVID-19 protection and have managed HVAC to maintain a high volume of air exchange in our buildings. And, of course, our Grounds team continues to improve the quality of our outdoor living spaces. I also have to give a special mention to Melissa (Tornes), Jason (Mader) and Cindy (Nutter) for what they have done to make sure we've maintained a good PPE supply, and to our Building Coordinators, who are our eyes on the ground."
Smith, a professional engineer, took on the directorship role in 2001, midway through the Dyson Baudo Recreation Center construction project, which was completed in 2003. It was the start of a building boom on campus that included the Rickey Science Center, Legacy Library, Anderson Hancock Planetarium, Harrison Hall, Lindamood-Van Voorhis Boathouse and Don Drumm Stadium, as well as the major renovations of Irvine, Erwin, Fayerweather and Andrews halls, the Chuck McCoy Athletic Facility and the Don and Sue Schaly Field at Pioneer Park. In fact, every building and space on campus has received some level of renovation or upgrade — from installing elevators and adding new roofs to installing FieldTurf to athletic playing fields during Smith's tenure.
"All the projects were fun because they were exactly what I enjoy doing," Smith says. "The most challenging project would probably be Harrison Hall. It involved having deep foundation systems, adding bridging over a culvert over Goose Run and it was the most significant residence hall on campus. It also came with a tight construction deadline and involved the demolition of Parsons Hall."
His retirement plans are to focus on enjoying his family, which includes his wife, three adult children and two grandchildren.
Building Services staff member Gill Keeley says Smith laid the groundwork for Physical Plant staff to excel in their roles, even during the pandemic.
"We all know what we've got to do, but he's the captain of the ship," Keeley says. "During this pandemic, he was always checking to see how everybody was doing, and made sure that we had masks and proper safety equipment. Fred really cares about his staff. … When one of us is ill or if we have lost a loved one, Fred himself will make a meal for the family. That's quite compassionate, but that's Fred."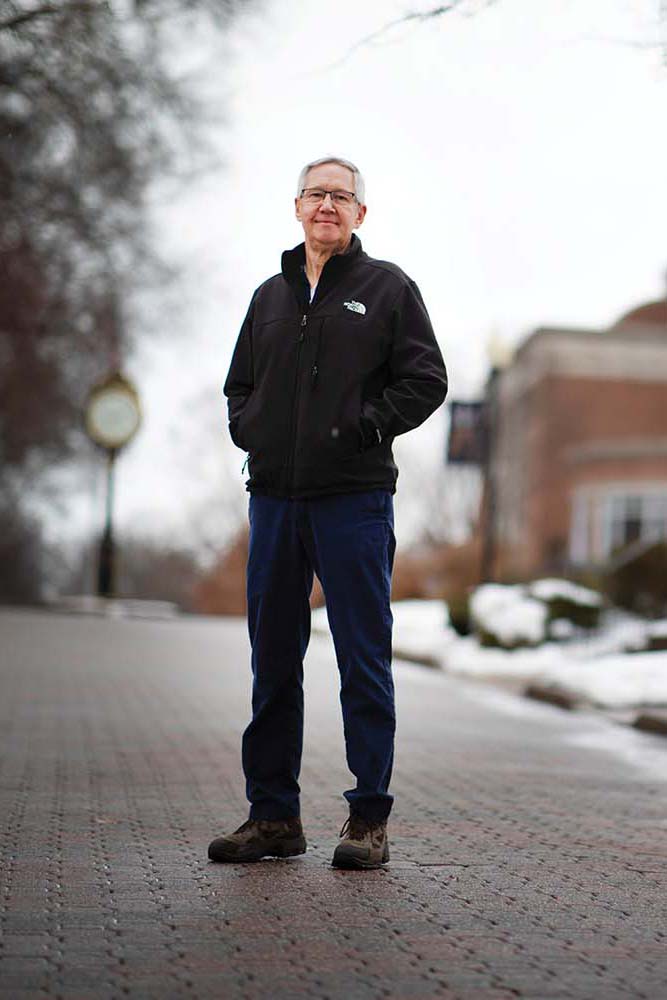 Celebrating Founders Day
With COVID-19 restrictions eliminating an in-person Founders Day celebration, Marietta College maintained as much tradition as possible and honored its 186th birthday with a virtual party that included much-deserved recognition of faculty and staff.
Edward G. Harness Outstanding Educator Award:
Dr. Charles Doan
Dr. Alexandra Perry
Dr. Mark Schaefer Innovative Teaching Award:  
Beth Nash & Jolene Powell
Douglas Putnam Faculty Service Award: 
Ben Cromwell
Douglas Putnam Collaborative Staff Service Award: 
Roseanne Nicholson
Major Advising Award:  
Dr. Linda Lockhart
First-Year Advising Award:  
Dr. Jaclyn Schwieterman
Staff Award for Mentoring:  
Franci Bolden
Betsy Knott
Dr. Jean A. Scott Staff Award for Distinction: 
Amanda Reynolds
Dr. Suzanne Walker
The Progressive Pioneer
Michael Fahy '15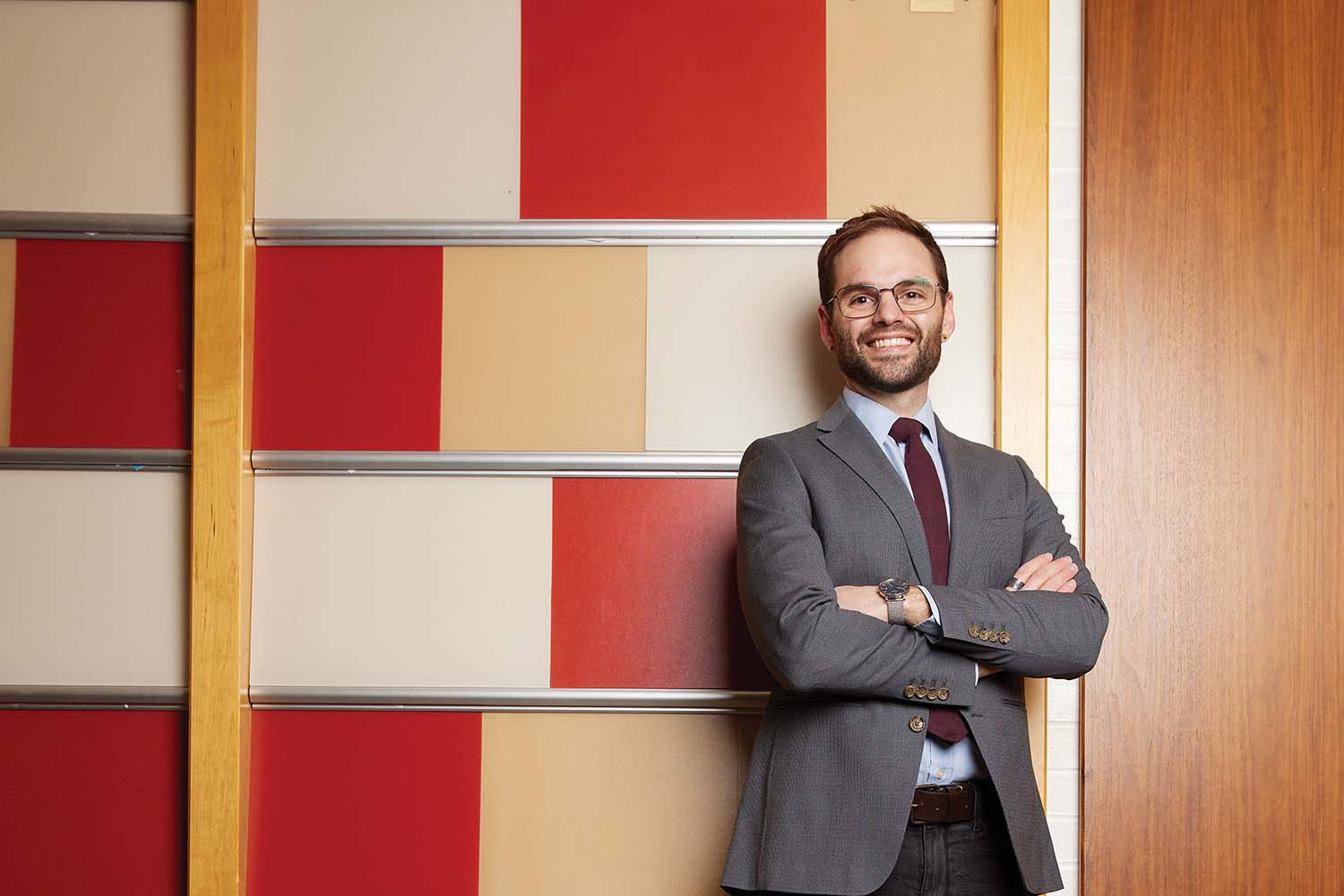 I had to do a gut-check on what I care about in my life and what I wanted to do long-term. I felt like I was doing things that I was interested in but I never really found a core reason why I was doing it. After reading books like Just Mercy and The New Jim Crow, I made the decision to go to law school so I can dedicate myself to social justice and work with people affected by incarceration.
Biography: After graduating Phi Beta Kappa in 2015 with Bachelor of Arts degrees in Political Science and Asian Studies, Michael earned a Master of Arts in Security Studies from Georgetown University in 2017. Following internships with the U.S. Department of State in Chengdu, Sichuan, China and Washington, D.C., he eventually landed a job as a policy analyst with the U.S. Government Accountability Office. In 2018, he moved to Columbus, Ohio, to become an intelligence analyst with the Ohio Department of Public Safety. He is now in his second semester at The Ohio State University's Moritz College of Law and he plans to graduate in May 2023.