Paul Fearing was a meticulous record keeper — and thankfully, the local attorney and the assistant to the marshal of the state of Ohio believed in backing up his work.
Anyone who has visited the Special Collections Department in Marietta's Legacy Library knows it's a treasure trove of history. This summer, the department made available a digitized copy of the only complete county census for the state of Ohio in 1810. Ohio, which had gained statehood in 1803, participated in its first U.S. census in 1810. Those handwritten records were sent to the newly constructed Capitol in Washington, D.C., and became an unfortunate casualty during the War of 1812 when the British burned the Capitol.
"Paul Fearing was the first attorney in the Northwest Territory," says Special Collections Associate Linda Showalter. "Fortunately for us, Paul Fearing kept a copy of his work. His son, Henry, deposited it here at Marietta College probably in the later part of the 19th century."
Showalter, Amanda Nicholson Fletcher and Ann Anderson each created a transcription of Fearing's handwritten work, and Sally Norton compared the transcriptions for consistency. To aid researchers, the document is also searchable. In addition to each page being digitized, there is a transcription for each page plus a pdf of the complete volume.
"This is the only complete census in existence for Ohio in 1810, and we needed to preserve it," says Dr. Douglas Anderson, Professor and Director of Legacy Library. "The best way to preserve it is to keep it in the vault. Now that it's digitized, we can make it accessible worldwide."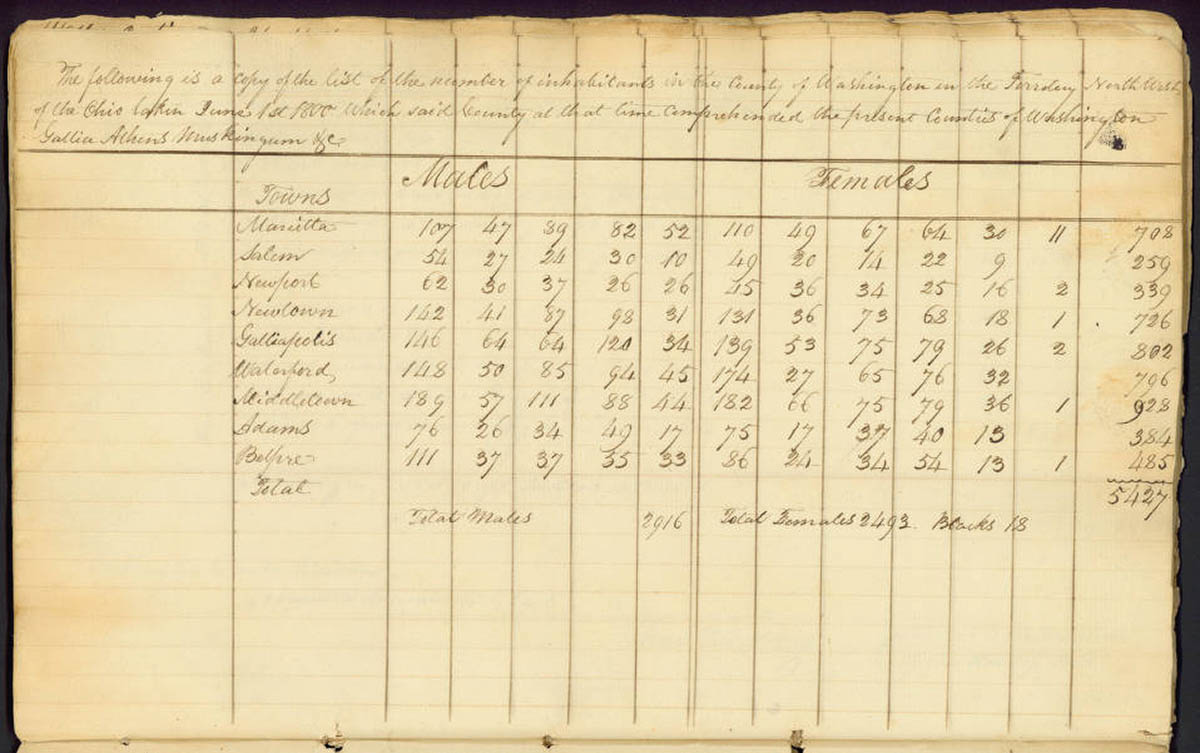 According to the census, there were 5,991 people and 1,001 heads of household listed in the county, which was much larger at that time because Noble County and parts of Monroe County were created out of it.
"The census not only contains that information on the individuals. In the back of it, there is information about the number of tanneries, distilleries, fulling mills, carding machines, sawmills, potteries and hat factories, so that gives historians information about businesses and crafts and that type of thing that was going on at that time, in addition to the names of the heads of the household," Showalter says.
Gi Smith