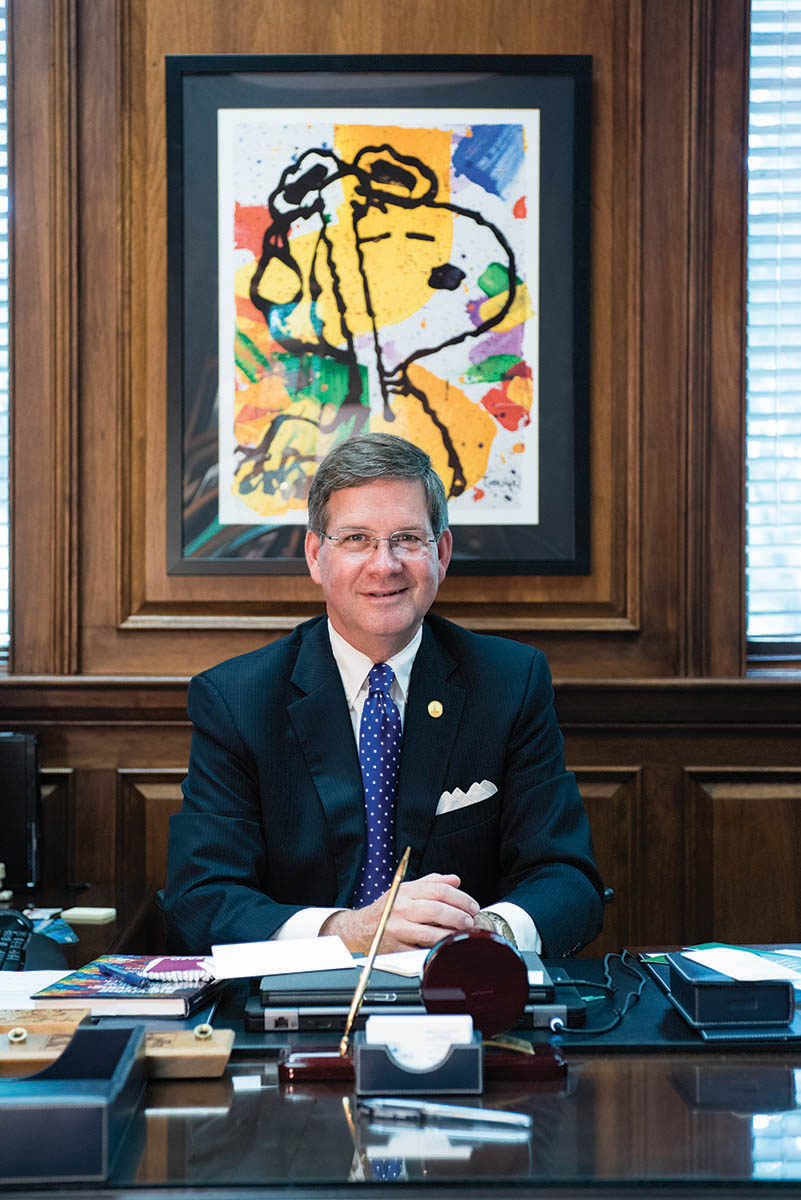 Homecoming weekends are very fun, exciting and busy for a college president. We get whisked around from event to event doing our best to greet as many alumni as possible over two, three and sometimes four days. For this reason, I do not always recall every detail of the celebration.
That is not the case for Homecoming 2021.
It was our first in-person Homecoming in two years, and more than 900 alumni and friends registered for at least one event. I am proud to say that I stopped by a total of 34 events from Thursday through Sunday, and at each stop, everyone was so welcoming. The consistent message I heard was they were pleased to be back on campus interacting with students, faculty and friends. You will learn more about Marietta College's incredible Homecoming celebration later in the magazine. And after Homecoming 2021, I cannot wait for Homecoming 2022!
I also encourage you to read about the 150th anniversary celebration for Marietta rowing that took place over the remarkable weekend — spearheaded by Brent Haney '76, who was not deterred when the pandemic postponed the original plans.
As with most memorable moments, there is a twist to this story. The past two years have been a time of remarkable change on our campus and in the world. That is what a worldwide pandemic will do. In the face of restrictions and other measures taken to ensure everyone's safety, we at Marietta College remained focused on our future.
That future became even clearer on Friday, October 22nd, as I was pleasantly reminded how much our alumni, faculty, staff, students and parents cherish the College. During the annual All Alumni Welcome on The Christy Mall, we announced the public phase of "This is the Time," the College's $100 million comprehensive campaign. Just minutes before making the announcement, two alumni in attendance agreed to match each other's $1 million pledge to help build a modern student center in the heart of campus. That was truly outstanding!
Our alumni and donors never cease to amaze me, and I know more of you will do the same as we diligently work to raise the final $30 million of a campaign that will provide scholarships for talented students in need, support academic programs, support our faculty and staff, and assist with our facilities — all while securing Marietta College's place among the elite private colleges in the U.S.
I will not be on campus as much in the coming months as I hit the road to meet with alumni and other donors. I am excited to learn more about why Marietta College is so important to these most dedicated alumni and friends — supporters of all ages, from a wide range of backgrounds, with the ability to support the College at different donation levels.
I am deeply grateful to everyone who has already supported the campaign, and I look forward to the journey ahead.
This is the Time

---
Follow the President Online
twitter.com/President_Ruud
instagram.com/presidentruud
facebook.com/MariettaCollegePresident