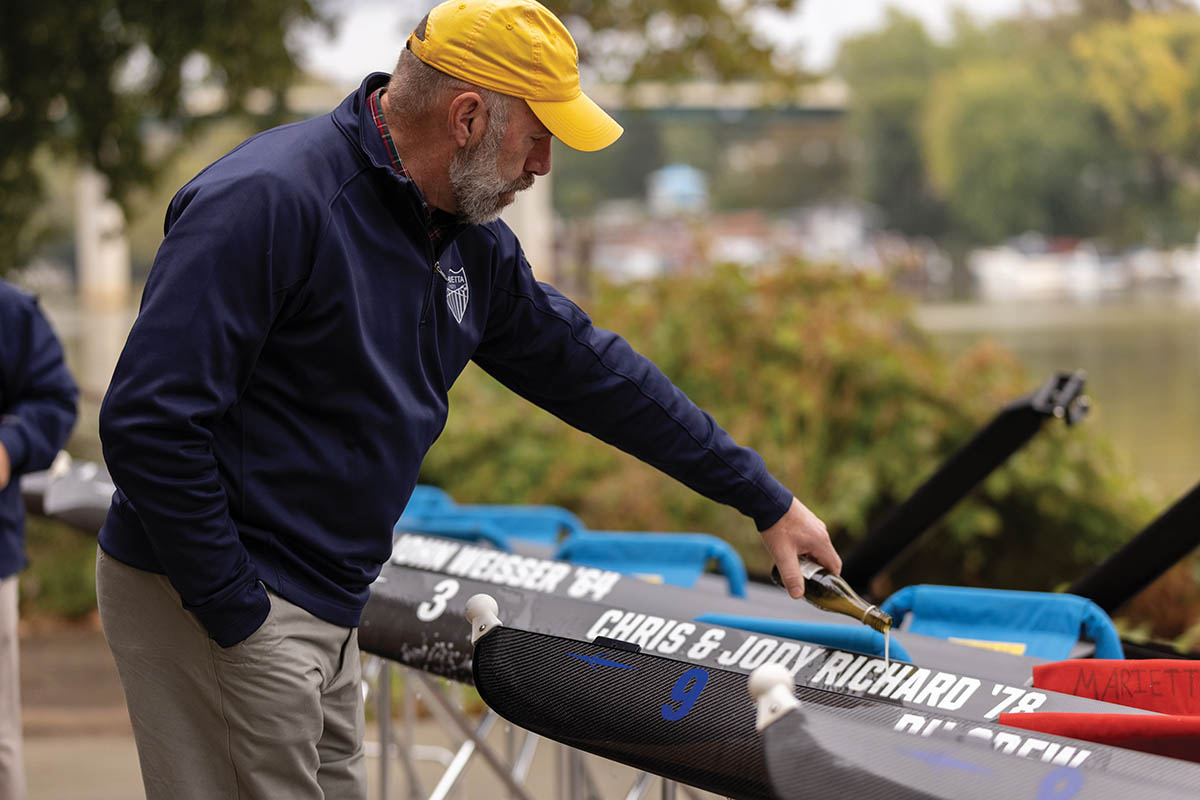 Clearly sleep deprived, Brent Haney '76 arrived at the Lindamood-Van Voorhis Boathouse a solid hour before the sun appeared in the misty Marietta sky.
It was Homecoming weekend, so a late Friday night was to be expected — but Haney had a long day ahead, as Marietta College rowing was celebrating 150 years of crew. Originally scheduled for the annual Dad Vail Regatta in Philadelphia last May, the gala was moved to October on campus.
Haney emceed the dedication ceremony for 15 of the 20 shells that he and his wife, Christine, funded in the summer of 2020. That was followed by the traditional alumni row on the Muskingum River. In the evening, more than 100 current and former rowers — along with family members — returned to the boathouse for the anniversary party.
No one went home disappointed.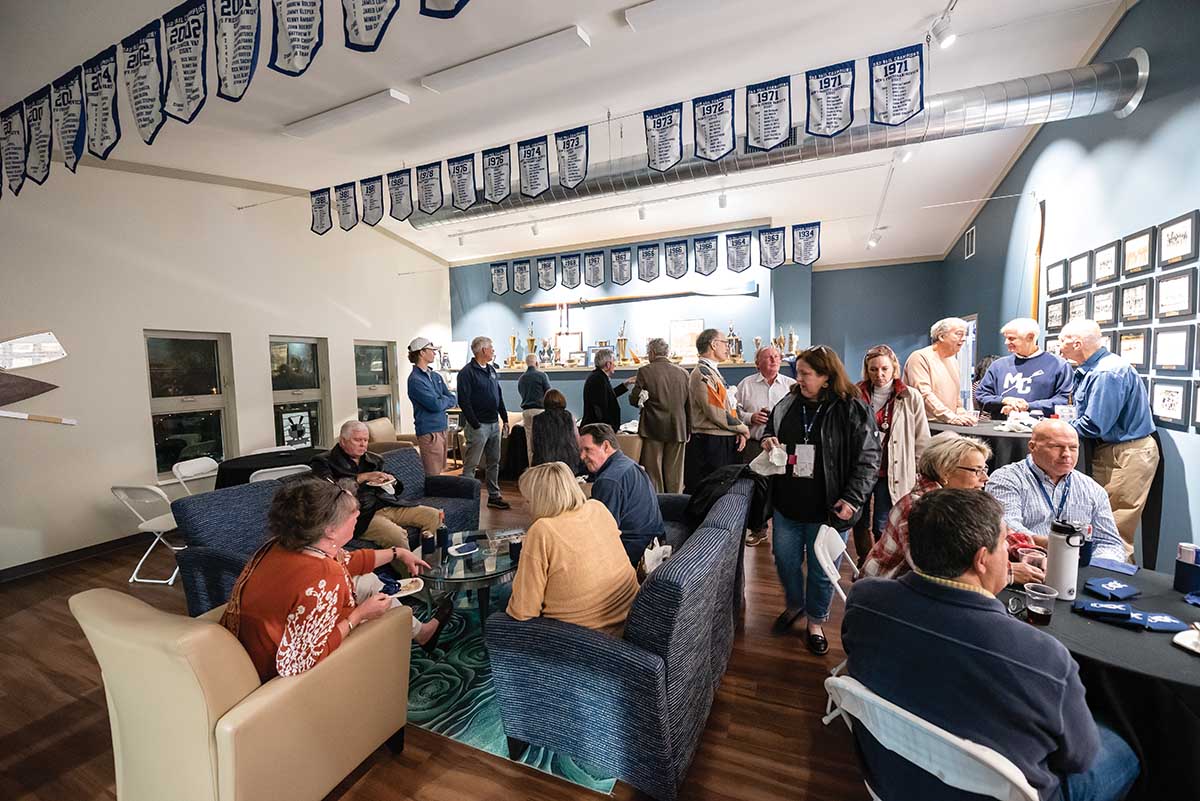 "It exceeded everyone's hopes and expectations," Haney says. "I know everybody was ready to go to the Dad Vail in the spring, but because of the pandemic, we had to adjust. Thanks to communication, social media and emails, we got the word out, and this turnout is the best that I have ever seen. People wanted to come back because it was a milestone."
It was a landmark moment that included Marietta's 19th President, Dr. Bill Ruud.
"My schedule during Homecoming is always busy. I want to get to as many events and speak with as many people as I can," Ruud says. "However, I made it a point to carve out a little extra time to hang out with my crew friends. I loved hearing how excited they are about the future of Marietta College rowing. They are passionate about the College and crew, and their support was on full display all Homecoming weekend."
What made this celebration so much fun for me and for others was getting to see everyone come together to honor the long history of rowing at Marietta College.
Jeff Hugel '77
Haney and the other members of the 150th Crew Campaign Committee worked with the College's Advancement Office to raise money for the men's and women's programs. Through consistent communication, which included a monthly newsletter that looked back at Marietta crew milestones, the committee was able to raise $885,927 from 286 donors. Now Marietta's rowing program boasts an endowment of around $4.7 million.
"I have deep gratitude for the passionate alumni who were willing to partner with our team to advance the program," says Dr. Josh Jacobs, Vice President for Advancement. "They are a group of dedicated Pioneers who worked tirelessly to support our student-athletes."
Wearing his 1967 Henley Royal Regatta sports coat, Tom Feaster '69, says he enjoyed hearing other alumni speak about the resurgence of rowing at Marietta.
"The program really reached its peak during my era [in the 1960s]," he says. "There have been some ups and downs, but the momentum died off for a while. This 150th celebration has gotten people back who have not only heard the message but have also read the message. … When you get a whole group of people together like this and you are able to sit next to them and start asking questions — and we're having conversations that we would have never had — it's a good thing."
Many former rowers credit Jeff Hugel '77 with providing the spark alumni needed to reengage with the men's and women's programs. About two years ago, Hugel committed to giving $253,000 annually in order to establish the Marietta Rowing Coaching Fund and the Marietta Rowing Operations Fund. Also, upon his passing, his estate will provide a gift of at least $3 million to support the two funds.
Hugel has a different perspective.
"I've done what I've done because I feel like I owed it. I think if I didn't do it, I wouldn't be much of a person," Hugel says. "What made this celebration so much fun for me and for others was getting to see everyone come together to honor the long history of rowing at Marietta College. What an amazing evening."
Director of Athletics Larry Hiser says the celebration far surpassed his expectations, mostly because of the hard work of the 150th Campaign Committee. He specifically credited Haney with being a strong leader.
"Brent is passionate and industrious. He has worked with the coaches, the College and me for the last 13 years creating a vision for what culminated in the celebration we executed at Homecoming," Hiser says. "All of our major rowing initiatives have Brent's fingerprints on them. As a result, the energy is high and positive throughout both the programs."
Much like Haney, Marietta's men's coach Greg Myhr was also operating on fumes during the celebration. On Friday, October 22nd, Myhr competed in the Men's Grand Master Singles at the Head of the Charles Regatta in Boston. He caught a flight to Columbus and drove to Marietta to attend Saturday's alumni row and the celebration in the evening. He returned to Boston on Sunday to coach his rowers.
"For many students and alumni, crew isn't something you discard the day you graduate," says Myhr, who is in his third season at MC. "Everyone who has ever rowed at Marietta has a tremendous respect for each other because they understand the hard work and dedication it takes to be successful. Without our amazing alumni we, wouldn't have the connection between present and past teams. This celebration made that bond even stronger."
Women's coach Abby Lord '13 rowed on two Dad Vail champion Varsity 8 shells and believes the celebration was an eye-opening experience for her current team.
"They have heard me talk about the amazing rowing history of Marietta College," says Lord, who is in her fourth season. "Being in the same room with rowers from the '60s, '70s, '80s and so on, and also speaking with former women rowers from the '80s and '90s, I was able to help them understand what they are representing and the legacy they are expected to uphold."
Even though the party had to end, it was clear the energy from the evening would continue. Now, Brent Haney can get some rest.
Tom Perry
---
See More
Photos From the Event
150th Crew Campaign Committee
Dale Van Voorhis '63
David Nystrom '67
Tom Feaster '69
Brent Haney '76
Jeff Hugel '77
John Strotbeck '79
Andrea Haynes-Perry '82
Mary Studders Korn '82
Kevin Suter '85
Nancy Sanders Hanniford '96
Marc Ponchione '96
Joan Dalton '97
Zach McGurk '11
Kelli Barnette '12