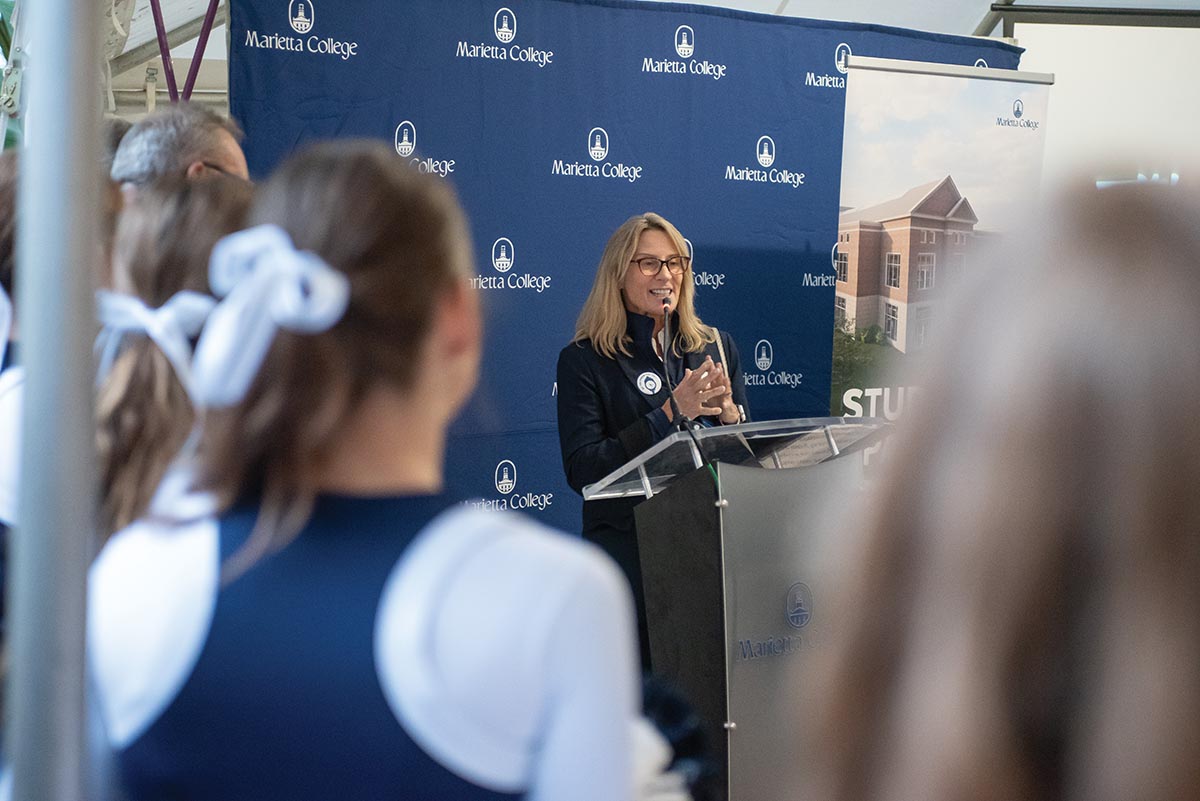 As the pep band played Neil Diamond's "Sweet Caroline," and cheerleaders fired up the crowd of alumni and friends, there was an excitement building on The Christy Mall that had been missing.
Of course, it was the first time in two years that Marietta College was hosting a Homecoming celebration; but at this moment on a late Friday afternoon, the buzz on campus was different. It was a blend of joyful optimism and appreciation of everything navy blue and white.
When President Bill Ruud reached the podium, he provided everyone attending the All-Alumni Welcome a reason to be enthusiastic about the future as he proudly announced that at that moment, Marietta College was kicking off a $100 million comprehensive campaign. Titled "This is the Time," the campaign is the largest in the College's history, and it has far-reaching plans that include advancing the College's distinctive academic programs and constructing a modern student center.
I am not surprised anymore when I hear about the generosity of our alumni and donors. We still have a lot of work to do, but we are brimming with confidence because we know there are so many individuals who were positively impacted by Marietta College, and they want to make sure we continue to influence others for the next century.
— President Bill Ruud
"This is the time for us to embark on an exciting and historic $100 million comprehensive campaign to drive our college forward — reaffirming our commitment to our students, making good on our promise to transform lives for the better, and taking bold steps to make the world a better place," says President Ruud, who was flanked by banners touting the campaign priorities. "We are doing this at a moment when higher education is being challenged to reinvent itself, and this has inspired us to embrace several priorities for the campaign."
The campaign seeks $100 million in gifts and commitments from alumni, parents, friends, and current employees and students, and it will be a historic investment that will help elevate Marietta's ambitions to make a lasting, positive impact on the region and the world. The College is already more than two-thirds of the way toward its fundraising target, with gifts and pledges totaling nearly $70 million from more than 6,800 donors during the past four years. Marietta raised $52.5 million in its last campaign, which ended in 2009.
"Announcing that we will raise $100 million in this campaign sends a clear message that our students, our faculty, our staff and our alumni belong in select company in American higher education," President Ruud says. "It is about how big our aspirations can become and how this great college can further support the dreams of our students."
Don '81 and Leslie Straub Ritter '85, who are serving as This is the Time campaign co-chairs, were pleased to address the crowd on The Christy Mall.
"We firmly believe that this is the time for great growth and transformation of our campus. This is the time to be a part of something bigger than ourselves. This is the time to embrace a remarkable and transformative future for our College," Leslie says. "And it's the time to make our collective mark on the trajectory of this place we all call home for current and future Pioneers for generations to come."
Kevin O'Neill '87, '12 attended the launch announcement and joined the Ritters in elevating the excitement a bit as both agreed to pledge an additional $1 million toward the construction of a new student center in the heart of campus.
"When I was a student at Marietta College in the 1980s, the faculty and staff looked out for me. I didn't realize it at the time, but those relationships and experiences had a big impact on my life," says O'Neill, who serves on the College's Board of Trustees. "These people saw something in me that I didn't yet see in myself. And it made all the difference. I can't think of a better time than now for every member of The Long Blue Line to show their gratitude for the College and to do our part to make sure the next generation of students have the opportunity to enjoy their own Marietta College experience."
President Ruud was momentarily left speechless when he learned about the additional $2 million.
"I am not surprised anymore when I hear about the generosity of our alumni and donors," Ruud says. "We still have a lot of work to do, but we are brimming with confidence because we know there are so many individuals who were positively impacted by Marietta College, and they want to make sure we continue to influence others for the next century. We will reach $100 million because of these amazing people — as well as through corporations and foundations."
This is the Time campaign will run through 2024, and when fully funded, its highlights will include the following:
The Marietta Fund: Touching every aspect of campus life, The Marietta Fund and the strengthens the College's ability to make sure the needs of today's students are met.
Endowed Scholarships: A Marietta College education will be more accessible through scholarships and aid. Merit and institutional need-based aid often mean the difference in the life of a promising student who wants to attend college. The College will grow the endowment to a level that will allow it to provide an additional $1.7 million per year in new scholarships.
Student Engagement: Marietta College will enhance and expand the experience of living on campus. The College has an opportunity to make meaningful connections with future generations of Pioneers in a way that will nurture their passion for learning as they mature into educated citizens during their time at Marietta College.
Student Center: The most notable addition is a new student center (renderings pictured left) in the heart of campus. It will feature a new career center, indoor and outdoor eating areas, a technology-equipped meeting and learning space for Greek Life, student organizations, student government and a team store. 
Distinctive Academic Programs: Maximize the reach of the Bernard P. McDonough Center for Leadership and Business, and create new academic centers for thought and exploration.
Faculty Development: Gifted and diverse faculty are paramount to achieving the quality, student-centered education that defines the Marietta experience. Through endowed chairs and professorships, the College will provide dedicated faculty the highest distinction.
Marietta Pride: Aging buildings like Erwin Hall and Irvine Hall will be renovated to increase accessibility, while other visible parts of campus will be updated with new wayfinding signage and other improvements to make campus even more beautiful.
Because overall involvement is also important to the success of the campaign, the College invites everyone to support one of the seven priorities. Alumni, friends and others can support the campaign and learn about naming opportunities by contacting Marietta's Advancement Office at 740.376.4711 or giving@marietta.edu or by visiting thetime.marietta.edu.
"Real fundraising success is about participation, and we want every member of The Long Blue Line to be part of this historic campaign," says Dr. Josh Jacobs, Vice President for Advancement. "Every gift — large, small, individual and corporate — adds up to make a huge impact."
Tom Perry
---
See More
Photos From the Event