February 2023
Students have returned for spring semester — and there are a number of exciting things happening before we reach spring break. Just as you receive this digital magazine, campus will welcome back a number of outstanding former student-athletes for Winter Weekend; also, we will celebrate Founders Day with a Day of Giving, which you will learn about from Kat Gloor in the opening message in this issue.
The main feature, which TP spent months researching, delves into Marietta College's history as it relates to the passage of Title IX. The issue also includes a look at how the campus community honored the late Rev. Dr. Martin Luther King Jr. with a day of education.
As always, I invite you to share an update for our Class Notes section (marketing@marietta.edu)  and ask that you share stories you enjoyed on your social media — it helps us market Marietta College to prospective students.
---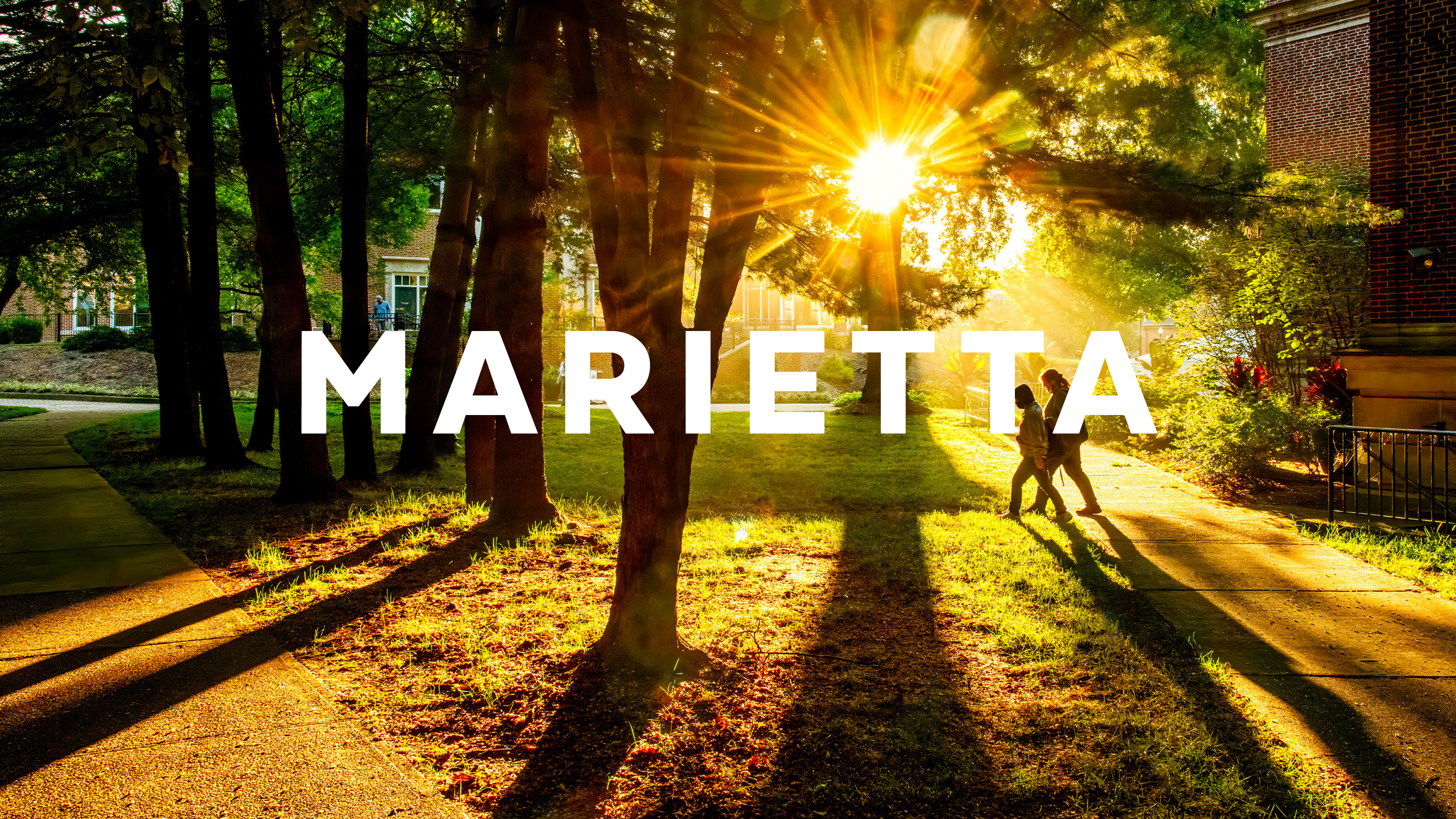 December 2022
The holiday season is here, as is the December issue of your digital Marietta Magazine!
The main feature in this issue celebrates the four seasons on campus. We spent a year working with nature photographer Bruce Wunderlich to capture images of campus and added captions to each photo that gives a bit of history about this historic institution.
Readers may also be inspired by an alumnus who established a scholarship in memory of a fellow classmate who became a treasured friend, as well as the story about how a talented petroleum engineer also created successful artistic ventures.
As always, if you have an interesting story to share or would like to include a class note in an upcoming edition, we invite you to email your ideas to marketing@marietta.edu — we would love to hear from you.
---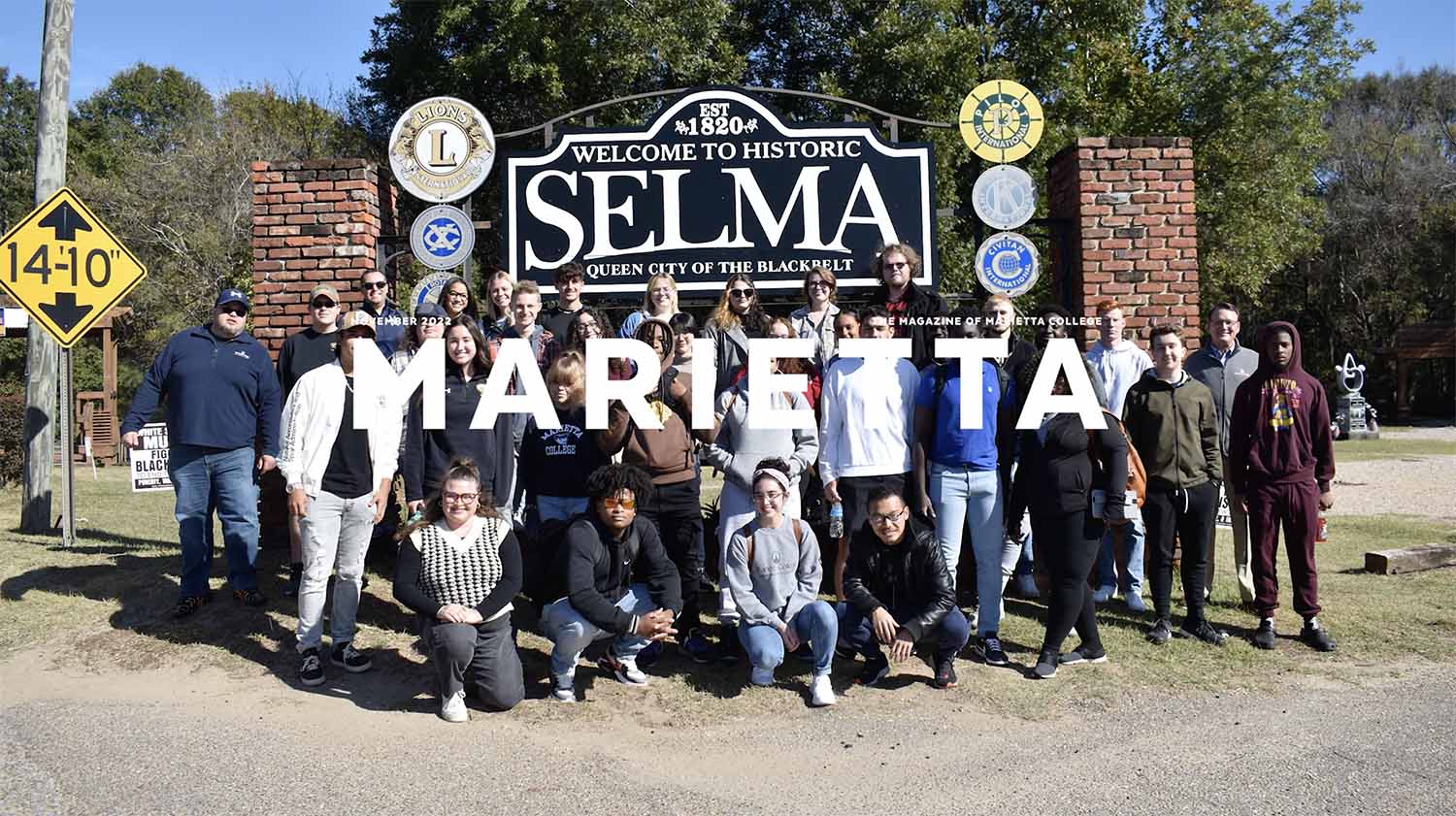 November 2022
It's almost turkey season, which means the College has already celebrated Homecoming 2022 — one of my favorite times at Marietta.
Tara Meagle, Dr. Erika Smith and Erica Starr Delaney (aka: the Erik/cas from Alumni Engagement), and the whole Advancement team planned an amazing 100th celebration that spanned from campus to downtown Marietta. This issue of your digital Marietta Magazine includes plenty of photos and quick interviews with the alumni who were gracious enough to take time out of their fun to talk with me.
Also in this issue is Marietta's effort to become a Student-Ready College. This initiative is crucial to both our students' success and our enrollment. The story includes a video from our beloved Dr. Suzanne Walker, who explains the impetus for this effort and the impact it will have on future generations of Pioneers.
As an update to Day of Giving, we included a story about the WCMO-TV project, which was supported by your generosity. If you are interested in supporting these types of projects or student aid, please visit marietta.edu/give.
This issue also includes other stories about Marietta and our alumni, as well as Class Notes. Next issue will have the In Memoriam section.
Please remember, if you especially like one of our stories, share it on social media. Help us celebrate Marietta College to a larger audience. Thank you so much for all you do to support Marietta.
---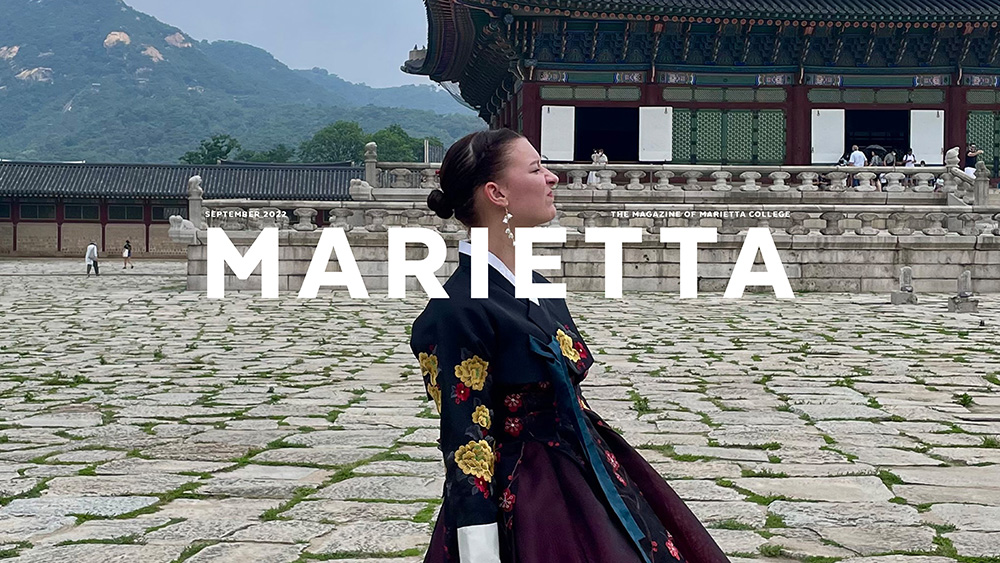 September 2022
This year, we welcomed more than 350 new students to campus — and they are full of promise. And while their first day living on campus was filled with personable interactions with staff, faculty and administrators, the Marietta College tradition means that those students will continue to have meaningful relationships and experiences that will continue well beyond their last day on campus.
---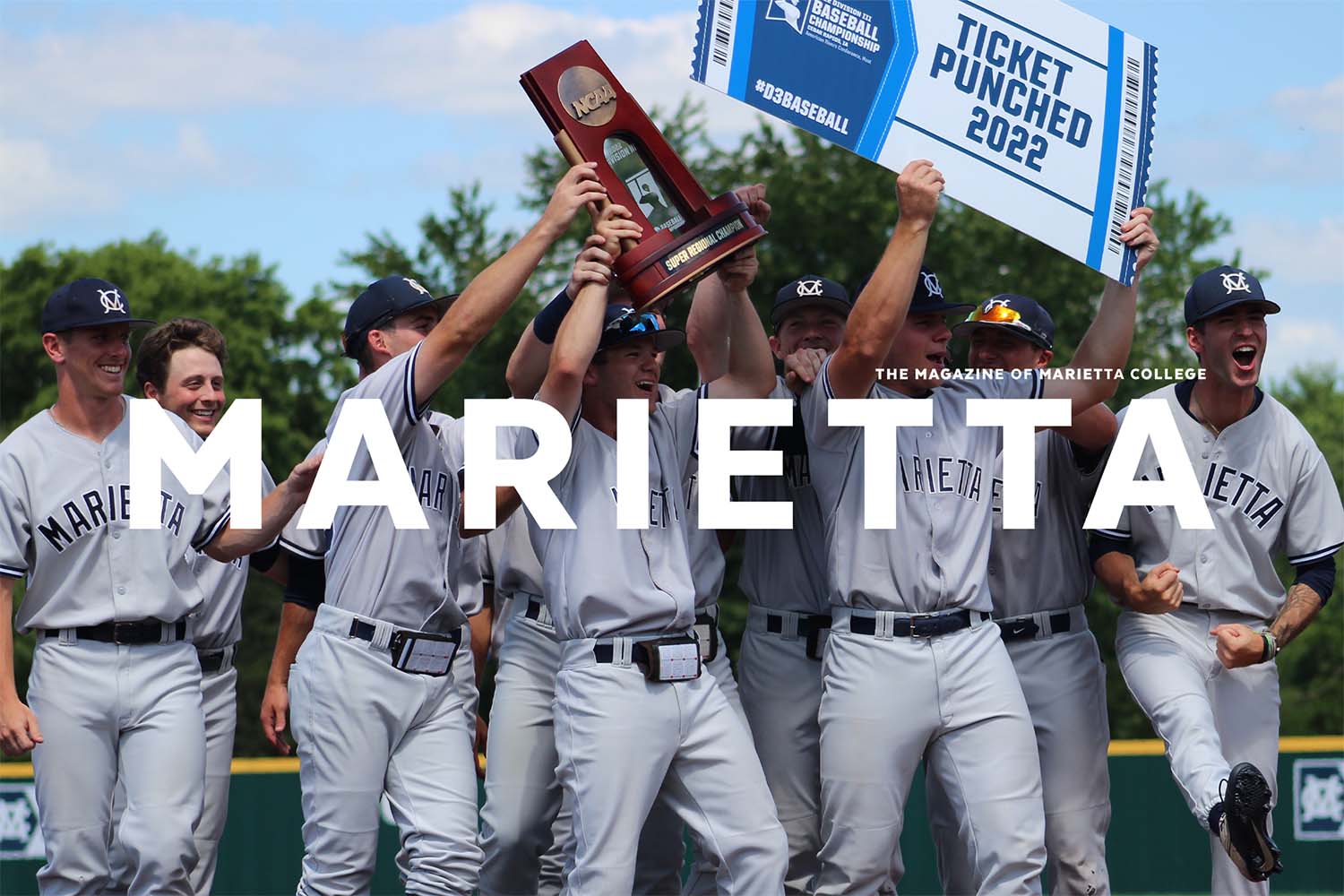 August 2022
With summer break nearing its end and fall semester just a few weeks away, we think it's a great time to catch you up on what's happening within the Marietta College community.
In this issue of Marietta Magazine, we cover the amazing season that the 'Etta Express had, as well as what has been happening on campus over the summer. In this issue, we have included Class Notes.
---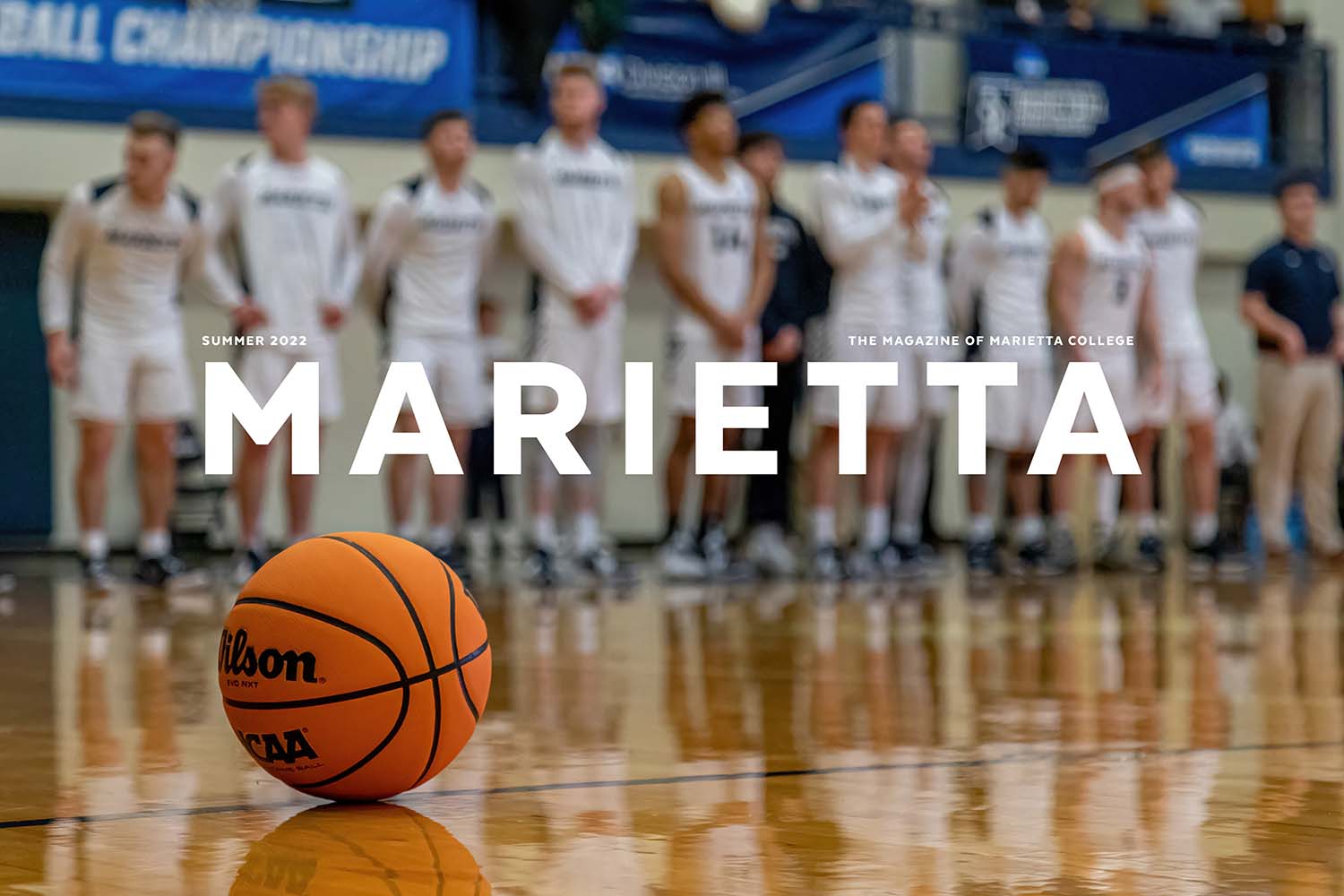 Summer 2022
Coming from a journalism background — newspapers, to be more specific — I remember how commonplace it was to open the front door on a Saturday morning, pick up the morning paper, and start my morning off with a cup of coffee and a bit of news, some of which I covered personally. Now, I read my news on my phone.
Times change … and usually for the better.
Yes, your Marietta Magazine has returned to its digital format, which we first introduced at the start of the pandemic. And while some prefer to hold a physical copy of this special publication, we know it is time to remain in the digital age. First, it reduces our carbon footprint. Second, we can produce digital publications more frequently with little cost. As you will read, in this issue, we focus on the incredible accomplishments of our men's and women's basketball teams. The next issue will look at the Etta Express's amazing run in the World Series. And third, with this new format, you can easily share the stories you love by clicking the social media icons at the top of each story — which enables you to help with our efforts to market Marietta College.
We know that marketing Marietta to the digital community will help us recruit and retain talented students and grow The Long Blue Line. We also know that more communication with alumni, students, and the full Marietta College community will help keep you invested in this timeless institution. As we've come to appreciate over the past two and a half years, communication is a vital tool in every aspect of society — and we aim to provide more communication about Marietta to you by producing more digital publications. We would love to have your input on what stories you want to see and ways we can improve.
Thank you for readership and support — and enjoy your digital Marietta Magazine!
---
---
---
---
Fall 2020
---
Spring 2020
---
---
---
---
---
---
---
---
---
---
---
---
---
---
---
---
---
---
---
---
---
---