Get Connected with Marietta
Marietta College's Music Therapy major takes your love of learning and builds it into a fulfilling career of holistic therapy and healing. 
Explore the power of music to heal and rebuild
The Music Therapy Major at Marietta College can transform your love for music into a lifelong calling and provide you with the opportunity to pursue a career helping others. This bachelor's program develops musicians into dedicated therapists, pairing each student's love of music with their desire to give back and empower others.
This program is divided into four years of academic study at the Marietta Campus in Ohio and a half year of internship. Graduates are eligible to take the national examination of the Certification Board for Music Therapists to qualify for professional work in the field upon completion of all the requirements.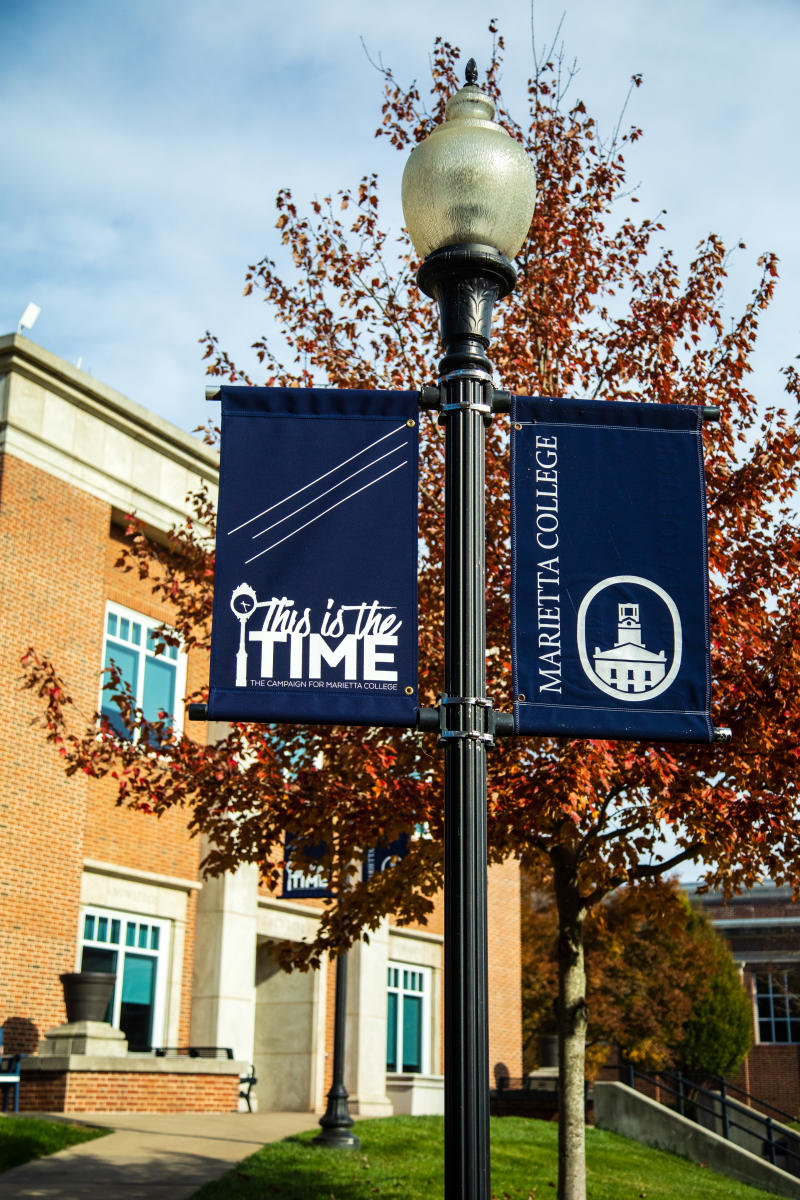 The Music Therapy Major
At Marietta College
At its core, the Bachelor of Music in Music Therapy degree focuses on the development of competent music therapists. Students will be provided with high-quality academic and clinical training experiences designed to prepare them for professional practice within institutions or in their own private practice. 
Educational instruction will be grounded in evidence-based practice and students will be introduced to a variety of theoretical approaches within the field of music therapy. Students will also be exposed to a diverse range of clinical populations.  
Through academic coursework and clinical training the degree will: 
provide personalized instruction within a liberal arts environment; 
challenge students to develop music and therapeutic skills, as well as an understanding of the issues and theories that impact the future of music therapy in the United States; 
provide competency-based instruction grounded in evidence-based practice;
integrate academic and clinical experiences to expose students to local, regional, and national communities by music therapists.
Overall, this program prepares students to transform their passion for music into a career focused on promoting the health and well-being of at-risk populations through music therapy. 
Earning a Degree in Music Therapy
Discover The Transformative Power of a degree in Music Therapy
Financial support for establishing the Music Therapy program at Marietta College came from important donations from Donald '81 and Leslie Straub Ritter '85. Due to their donation and understanding of music therapy, a campus building was renovated and opened in the Fall of 2017 to meet the academic and administrative needs of the program, and its future clinic is designed to meet the therapeutic needs of clients and the community.
Marietta College's Music Therapy major takes your love of learning and builds it into a fulfilling career of holistic therapy and healing. To learn more about earning your Bachelor of Music degree in Music Therapy and how it can help you reach your goals, request more information today.
Marietta College's Music Therapy program is currently accredited by the American Music Therapy Association (AMTA).
Interested in Music
Contact this Undergraduate Program
Dr. Jay Dougherty • 740.376.4689 • jay.dougherty@marietta.edu
PROFILES OF PIONEERING SPIRIT
I, Pioneer
Blazing New Trails
Read stories of people who are committed to making an impact in their professions, their communities and beyond.
Our pioneers have the knowledge, the passion and the courage to pursue change for the greater good, to make a difference in the lives of others, and to pave the way for generations to come.
What You Can Do With a Music Therapy Degree
Music Therapy is an exciting profession that provides musicians with the opportunity to use their musical skills to support the empowerment and development of others. As a board-certified music therapist (MT-BC), you will use a wide variety of instruments and musical experiences to help people of all ages work toward goals related to education, health, rehabilitation, and wellness needs.
Music therapists are in high demand and usually work in general hospitals, schools, prisons, psychiatric facilities, rehabilitation centers, geriatric facilities, hospice programs, training institutes, private practices, schools, and universities, as well as in social-community settings. 
According to Payscale, the average annual salary for a music therapist is around $41,000. The top-earning therapists receive closer to $70,000. Your annual salary will depend on many factors, including your years of experience, education level, location, and work setting.
Related Programs
See More of Marietta